What is AnyLogic?
AnyLogic is the standard in multimethod modeling technology, delivering increased efficiency and less risk when tackling complex business challenges. The unmatched flexibility found in AnyLogic allows users to capture the complexity of virtually any system, at any level of detail, and gain a deeper insight into the interdependent processes inside and around an organization.
AnyLogic has a GSA Contract schedule #47QTCA18D007Q. Government agencies of the USA may purchase through GSA Advantage.
Who Uses AnyLogic?
AnyLogic models enable analysts, engineers, and managers to gain deeper insights and optimize complex systems and processes across a wide range of industries.
Where can AnyLogic be deployed?
Mac (Desktop), Windows (Desktop), Linux (Desktop)
About the vendor
The AnyLogic Company
Founded in 2002
Phone Support
Chat
Countries available
United States
About the vendor
The AnyLogic Company
Founded in 2002
Phone Support
Chat
Countries available
United States
AnyLogic videos and images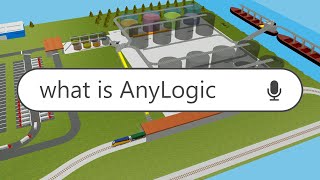 Compare AnyLogic pricing with similar products
Features of AnyLogic
3D Imaging
Agent-Based Modeling
Continuous Modeling
Direct Manipulation
Discrete Event Modeling
Dynamic Modeling
Graphical Data Presentation
Mathematical Modeling
Motion Modeling
Presentation Tools
Reporting/Analytics
Stochastic Modeling
Charles R.
Fellow, Operations Research in US
Verified LinkedIn User
Transportation/Trucking/Railroad, 10,000+ Employees
Used the Software for: 1+ year
Alternatives Considered:
Anylogic is excellent for simulation
Comments: We are using AnyLogic to model our cross docks and yard operations. I love using this software for this purpose. The support for modeling "pedestrian" like congestion/etc on our docks and yards is amazing. I know of no other simulation modeling environment that does this.
Pros:
AnyLogic is an incredibly flexible platform for creating very sophisticated simulation models. I love it's integration with the Java programming language. Also, I like how they separate the visualization from the logic of the modeling.
Cons:
To do all that AnyLogic does, it is an extremely complicated modeling tool. It takes a while to learn.
Jonathan R.
Student in Mexico
Electrical/Electronic Manufacturing, 10,000+ Employees
Used the Software for: 1-5 months
Infinite possibilities
Comments: Experience is great and recomended to students or to people that do simulations for a living. The possibilities inside Anylogic are endless.
Pros:
Agent modeling, system dynamics and discrete modeling are a core part of simulation that is possible in Anylogic. It is an accurate tool of simulations that integrates mathematics and java propgramming. It is straightforward to use only if you have knowledge about the meaning of the different features available for every type of simulation.
Cons:
It does not tell you how to solve error when they appear. Sometimes it is fixed with a ; or by deleting it.
Mohammad reza R.
Student in Malaysia
Computer Networking, Self Employed
Used the Software for: Free Trial
Comprehensive Simulator
Comments: Simulation of traffic monitoring. There are many shortage and limitations for monitoring tools .
Pros:
Various kinds of areas are possible to simulated.
Cons:
Add more things and feature. I want to add drone or UAV but there is no possibility.
Kaitlyn D.
Coffee Processing Intern in US
Verified LinkedIn User
Food & Beverages, 10,000+ Employees
Used the Software for: 1-5 months
Useful, but Hard to learn
Comments: I like how it is helpful with all my projects and allows me to properly visualize my data. It is just hard to learn and can be not so user-friendly at times.
Pros:
Customer support is very helpful and AnyLogic is extremely versatile enough for any project. I can simulate anything in manufacturing to traffic on actual GIS maps. The possibilities are only limited by what I know about using AnyLogic.
Cons:
It can be super difficult to learn how to use and remove errors.
Food & Beverages, 2-10 Employees
Used the Software for: 1-5 months
Good for simulation
Pros:
Easy to learn how to model within the software, able to provide a lot of insights into what I am simulating
Cons:
Sometimes frustrating when working with a team to work on different versions, would be nice to have multiple run setups within the same file