What Is BrandMaker?
BrandMaker is the leading SaaS provider of effective and scalable marketing operations management solutions. The company delivers the visibility, control, and agility that enterprise marketers require to optimize their marketing operations. BrandMaker tames the complexity of multinational marketing campaigns, budgets, and team workflows, enabling companies to work across borders, cultures, and silos for efficiency and value. Independent research firms recognize BrandMaker as a leader.
Who Uses BrandMaker?
BrandMaker helps marketing leaders get on top of the five key elements of their marketing operations: marketing & campaign, finance & budget, work & resource, digital asset, and brand management.
BrandMaker Details
BrandMaker
Founded in 2008
BrandMaker Details
BrandMaker
Founded in 2008
BrandMaker videos and images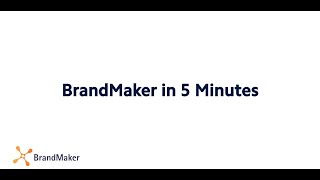 Compare BrandMaker pricing with similar products
Starting price
N/A
US$22.00/month
US$20.00/month
US$9.49/month
BrandMaker deployment and support
Support
Email/Help Desk
Knowledge Base
Phone Support
Chat
Deployment
Cloud, SaaS, Web-based
Mac (Desktop)
Windows (Desktop)
Linux (Desktop)
Chromebook (Desktop)
Android (Mobile)
iPhone (Mobile)
iPad (Mobile)
Training
In Person
Live Online
Webinars
Documentation
Videos
Marketing & Advertising, 11-50 Employees
Used the Software for: 1+ year
We use BrandMaker for managing assets, planning activities, and lead gen for our clients.
Comments: Using BrandMaker, we have better control over corporate assets in terms of knowing where they are and what's current. The core benefit is improved brand management by everyone in the company. Also, using the BrandMaker shared calendar, we've benefited from greater transparency into marketing efforts like events that are coming up, lead gen scheduling, etc. And the BrandMaker Customer Engagement Cloud module gives us a way to control content distribution to sales prospects that we don't get with any other system.
Pros:
We wouldn't be able to perform our job without BrandMaker. It has become an essential platform for managing brand assets like company brochures, media, stock images, etc. Plus, we maintain entire marketing calendars in BrandMaker so that everyone knows what's happening and when. Using BrandMaker is so much better than DropBox or email... sales teams have access to what they need as well, and no one uses out of date content. The new Customer Engagement Cloud is incredibly powerful in terms of making content available to our sales prospects at their own pace. We can see exactly which content pieces are the most useful in the buying cycle and can optimize new content. We are an agency and use the tool on behalf of our clients who also seem to really find it invaluable.
Stefan G.
BRAND CONSULTANT in Germany
Used the Software for: 2+ years
Powerful suite to create one-stop-shop solutions for brand-management & marketing ...
Pros:
Brandmaker delivers a very powerful suite of modules to cover all Marketing Automatization needs with a holistic approach. Planning, production, distribution and reporting are working very well together. The new portal module (including a standalone CMS) enhances the options dramatically. The system can be completely branded and turned into a unique Marketing Information Platform - a one stop shop for everything relevant in Marketing (with potential for multiple extensions) that helps to streamline clients processes, save capacities, strengthen the brands and also save money of the companies.
Cons:
Though it's rather a plus for us as external consultants and implementation partners, it can be pretty challenging for a customer to align the requirements of the brand and the options of the system. Due to the complexity and the huge set of features you will need professional support during the implementation.
Marion M.
Global Brand Assistant in UK
Used the Software for: 6-12 months
Good experience, sometimes the platform is not intuitive enough
Pros:
Once used a couple of times, I think the platform is quite easy to use and straightforward. It allows you to narrow your search quickly and going back the main menu is easy which is essential. It looks clear and clean and I adopted it very quickly.
Cons:
Non-flexibility. If you type a key word with a mistake in the spelling, if you choose to filter your search but then type in a key word, it erases your first filter... It creates confusion and makes searches harder. Also, although I believe the uploading tool works really well in general, I find it confusing that once the process is done, we stay on the uploading page instead of seeing the message 'upload completed' to confirm it's been done. I always have to check to ensure my uploads are done to be sure. Finally, the scroll down option is strange because you can only see one row at a time and the assets do not even appear entirely: I would like to be able to scroll down seeing at least two rows.
Sebastian M.
Communication & Branding in Germany
Machinery, 1,001-5,000 Employees
Used the Software for: 2+ years
Broad solution, flexible to configure and adapt to our specific needs.
Pros:
Moving from spreadsheets and manual reporting to a system based approach has truly been transformative for our marketing operations, and the ability to have a single source of truth for all our marketing and sales assets is a core requirement for marketing. A next step in 2018 will be to expand our scope to further interesting MRM functionality BrandMaker offers such as integration with Salesforce (CRM) and unleashing the full power of marketing performance measurement.
Cons:
As with every enterprise software it needs a bit of practice and change management to get the processes and structure right and it is also important to include user feedback along the way and to continuously further fine tune and evolve the system. BrandMaker offered comprehensive training and consulting services to ensure fast and sustainable user adoption.
Saskia D.
Coordinator Global Marketing Portal and Print Media Projects in Germany
Machinery, 1,001-5,000 Employees
Used the Software for: 6-12 months
Digitalisation of marketing thanks to Media Pool & Web-to-Publish modules!
Comments: The Media Pool as a database saves us double maintenance on drives (saving time and storage capacity) and enables all users to always have access to the latest version of a file. Thanks to the many search options, the search effort for media has been significantly reduced. We are now able to implement our corporate design and product campaigns/launches fast and very efficient. Through intuitive templates, every employee worldwide can now create locally adapted and corporate design compliant marketing materials without incurring additional costs.
Pros:
Not least because of the very good first-level support of the BrandMaker colleagues, we were able to implement the system within the set budget and time frame. Finally, thanks to the Media Pool, we have managed to give all our colleagues worldwide access to our marketing materials. Also we have the possibility to see via reporting which marketing materials are used by which subsidiaries.
Cons:
Some functions in the system could still be made more user-friendly. However, we are not yet using the latest system version - we are confident that some optimisations have already been made when we update to the latest version.