What Is ProjectManager.com?
ProjectManager is an award-winning SaaS project and work management software solution that supports the unique needs of hybrid teams. By uniting team members in different locations, with varying work styles and diverse roles, in one solution, ProjectManager enables faster delivery, better resource management and more engaged workers. ProjectManager is simple enough for anyone to use, yet powerful enough for managers to make data-driven decisions. Start a free 30-day trial.
Who Uses ProjectManager.com?
ProjectManager is ideal for hybrid teams that span many locations, work styles and roles, and who need a better way to organize, collaborate on and accelerate their work.
ProjectManager.com Details
ProjectManager.com
Founded in 2008
ProjectManager.com Details
ProjectManager.com
Founded in 2008
ProjectManager.com videos and images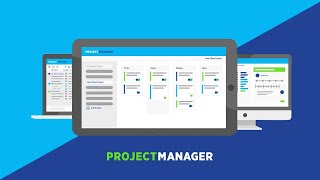 Compare ProjectManager.com pricing with similar products
Starting price
US$14.00/month
N/A
N/A
US$9.49/month
ProjectManager.com deployment and support
Support
Email/Help Desk
FAQs/Forum
Knowledge Base
Phone Support
24/7 (Live rep)
Chat
Training
Live Online
Webinars
Documentation
Videos
Features of ProjectManager.com
Cesar C.
Docente asociado in Venezuela
Verified LinkedIn User
Education Management, 501-1,000 Employees
Used the Software for: 1-5 months
Efficient management tool to develop projects online
Comments: Among the many advantages with which ProjectManage has our organization has allowed: Manage the workload of the team more efficiently can solve the difficulties at the time they arise, manage multiple projects without major inconvenience and even achieve coordination between several simultaneous teams promoting healthy competition, Produce and send reports in real time to strengthen the proposed goals from the general management of projects.
Pros:
The different applications that the management tool has as it is The customizable project control panel allows us to know if the programmed activities are being fulfilled in real time, in addition the other multi function that is quite useful is that through this system it is possible to create, monitor and share several simultaneous plans of the online projects required by the organization, and this can be done quickly and easily and with multiple views for your team. On the other hand, the various teams that are formed to develop the projects can be created their lists of personal tasks, even if you have assigned several tasks at once and this will show the progress that each of the assignments that they have.
Cons:
Like any program that manages the project, this is a complex system of monitoring resources, managing time and the activities carried out by our company's staff, so the complicated task is to automate the weekly tasks so that we can follow up with a margin of time. optimal and for that a team of developers is required that is very familiar with ProjectManager, also in a totally online program that depends on the internet service that you have since if there is instability in the service the online supervision as well as the sending of multiple documents of interest is affected by this situation.
John M.
Manager in New Zealand
Marketing & Advertising, 2-10 Employees
Used the Software for: Free Trial
The Worst Customer Support Experience in 11 years of ONLNE Marketing!
Comments: Read above. Arrogant customer service. Deleted my account without any warning left me hanging and would not return calls or emails. I lost E V E R Y thing. Files, creative, videos, and cost me a full day of staff not having access to their data.
Pros:
This software is great. I spend a whole day looking for an alternative to Asana. I spent two days setting it up and was super excited. I did this cause the price point looked fantastic. However, when I went to connect the API, which is mentioned in the FAQ's how to set this up, I was told I had to upgrade to ENTERPRISE. My costs would go up to x4.
Cons:
Customer service. There is no phone only and an answerphone. And the guy Derek on the end of the emails decided to delete my entire account without warning. He did this as I said the API is not mentioned in any of the features and it's in your development section and when I went to ask how to connect it he wanted me to upgrade to ENTERPRISE - then he said, 'I'll let you have it if you join to Business and pay IN FULL ONE WHOLE YEAR? Arhhhhh, that's not the way business is done? The issue I have is there is NO mention of the API connection in any of the plan features when you read through the FAQ's and Developer section, you will see clearly the system has an API. No mention that you have to pay extra. I then said its not on and there's an error in this case. I received the following email. You are not a good fit. And with that, my entire data and account was deleted. No warning, nothing. Just see you later and all the best finding another platform. Unbelevieble.
Verified Reviewer
Administrative officer in Nigeria
Verified LinkedIn User
Government Administration, 501-1,000 Employees
Used the Software for: 2+ years
My choice in project management
Comments: It has been a detailed project management software for our organization which is suitable for team management, time tracking and effective collaboration. Additional features will definitely make it more appealing to the loyal users.
Pros:
This application possesses some many advanced features which makes it stand out as a very resourceful tool in project management. It is easy to monitor in realtime the ongoing projects from the project control panel which is easily customized.
Cons:
Some manual resources are very long and stringent especially when assigning resources against tasks. The customer service is also terrible as you only get to speak with Derek if there are existing issues,there is no other phone number to call to assistance to speak with a human.
Jenna N.
Product Developer in Australia
Apparel & Fashion, 201-500 Employees
Used the Software for: 2+ years
It is a good software, however there are still features that could be added to improve it.
Pros:
It is fairly easy to use are the reports you can make are good and it definitely helps with managing of projects. The support team are very responsive and are goods at figuring out the problems and communicating solutions.
Cons:
There are still quite a few glitches in it that don't allow you to get the full potential out of the software. Also there are some things like inputting and assigning resources against tasks that are long and very manual processes that then have many exceptions to the rule. There are also a couple of reports that do not give the required outcomes.
Project Manager Online CA Response
4 years ago
Thank you for your feedback Jenna. We're glad you are happy with our support team! We appreciate your feature feedback as well!
Isaac I.
Regional Manager in Nigeria
Information Technology & Services, 201-500 Employees
Used the Software for: 2+ years
Source: SoftwareAdvice
A Top Notch Customer Relationship Management Tool.
Comments: It was wonderful using this wonderful software. Simply Splendid
Pros:
It is a classic Project management tool which is very user friendly and is easy to use. This tool is one of its kind
Cons:
I like all the features of this software but wont mind if other features are added in this fast paced technology world