What is AxisTV Signage Suite?
AxisTV Signage Suite gives you 100+ content sources, smart playlists, flexible scheduling and multi-user licenses to attract viewers, connect people and drive results. Drag-n-drop widgets and templates make creating content fast and easy, and scheduling and playback tools take the burden off signage managers. Real-time automated feeds, robust data-mapping tools and built-in interactivity ensure you have a steady flow of fresh and relevant content to keep viewers interested. Cloud or on-premise.
Who Uses AxisTV Signage Suite?
Higher Education, Corporate, Government, Finance, Healthcare, Hospitality, Manufacturing, K-12, Convention Centers, Houses of Worship
Where can AxisTV Signage Suite be deployed?
Cloud, SaaS, Web-based, Mac (Desktop), Windows (Desktop), Windows (On-Premise)
About the vendor
Visix
Located in Norcross, US
Founded in 1980
Phone Support
Chat
Countries available
Canada, United States
Languages
English, French, German, Spanish
About the vendor
Visix
Located in Norcross, US
Founded in 1980
Phone Support
Chat
Countries available
Canada, United States
Languages
English, French, German, Spanish
AxisTV Signage Suite videos and images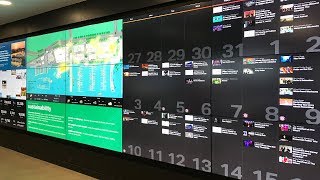 Compare AxisTV Signage Suite pricing with similar products
Features of AxisTV Signage Suite
Audit Trail
Auto Update
Content Scheduling
Customisable Templates
Layout & Design
Media Library
Multi-Screen Support
Playlist Management
Remote Display Management
Visual Editor
Alternatives to AxisTV Signage Suite
Reviews of AxisTV Signage Suite
Wade
Audio Visual Engineer in US
Higher Education, 10,000+ Employees
Used the Software for: 2+ years
Easiest Workflow for the End User and Enterprise Administrator
Comments: At a large University with over 50,000 students, Visix has been a turn key solution to be able to communicate quickly across our entire campus. We even utilize Visix at our outside campuses that can be 1.5 hours away by the click of the mouse. There are other options out there that seem very simple for cheaper, but from a management standpoint, Visix is hands down a great solution! It is all about the end user and they have told me the system is so easy to use.
Pros:
Ease of use and Enterprise Management of all of our players is extremely simple from the Web Interface.
Visix Response
4 years ago
Wade, What a great review! I know we've been in touch since this post, but we're finally getting some online savvy and wanted to reply here, as well. It's always great to hear how our product is being used by our clients, especially those with large deployments. I love the fact that you guys are really exploiting the centralized management feature, but still tailoring content for each location. It's so important to localize communications to engage viewers, and you guys are nailing it. Looking forward to our continued partnership. Sean Matthews, President and CEO, Visix
Alex
Student Engagement and Development Coordinator in US
Marketing & Advertising, 51-200 Employees
Used the Software for: 2+ years
Constantly approving and adapting to our needs!
Comments: Our goal was to implement a complete Digital Signage platform that connects the individual business buildings under a cohesive brand (through wayfinding) and to set the culture for the School of Business at College of Charleston. The Visix platform allows us to do just that. The Customer Support team and our Client Relationship Managers are always quick to get back to us if we ever have a concern about the platform and applications. Additionally, Visix is constantly approving and adapting, specifically, to our needs. As we all know, technology and its users are constantly in flux, so we need to be quick to adapt -- the Visix team and Digital Signage platform has done a great job with this!
Pros:
Easy to use once you know the system. Many applications that keep up with the times. Conference. Wayfinding Technology.
Cons:
Getting Admins excited to use it - we have 18 screens and still have an issue of not enough content and people on the platform. The new app that we use - Conference - has a couple of bugs.
Visix Response
4 years ago
Alex, We reached out to you after your thoughtful review, but never thanked you publicly. Thank you! We love working with the College of Charleston, and believe you guys have really embraced the engagement possibilities of your digital signs since we reached out to you. If you ever need more help getting people excited about your digital signage, we're here to help. Just reach out to us anytime. Also, be sure to check out our resource library on our website. We have lots of free videos, articles and white papers with ideas for digital signage content and audience engagement that might inspire your team. Ellyce Kelly, Client Relationship Manager, Visix
Higher Education, 5,001-10,000 Employees
Used the Software for: 2+ years
Decent Digital Signage software but there are probably better alternatives out there
Comments: It displays slide shows effectively around campus
Pros:
They offer good technical support and the person who manages our account is very helpful. We've had their products at my workplace for over 10 years.
Cons:
It is very expensive. A license to use the software for one digital signage player! Also the software is pretty clunky and not intuitive to use. I guess it is basically ok for displaying slide shows on TV screens. But if you want to do something more flashy with it: ie stream videos, social media, dynamic content, etc. it is a very difficult and complex to get it working.
Visix Response
4 years ago
Matthew, Thanks for reviewing AxisTV a second time! I'm sorry we didn't reply here sooner. I especially appreciate your recognition of our terrific support team and your account manager. We believe we have great people driving our success, and it's nice to have customers acknowledge that. I understand you've run into some limitations in the software. We should talk about what version of AxisTV you're using, because later releases address some of the issues you're having. Our new platform, AxisTV Signage Suite, has even easier workflows with drag-n-drop widgets to place streams, social feeds, etc. into your layouts. And, we have some attractive pricing for migrating to the new platform - it's even free to some customers. I'm going to ask your account manager to reach out to you to talk about your specific concerns. We want to be sure you're getting the most from your Visix system, and look forward to working with you on this. Trey Hicks, Chief Sales Officer, Visix
Tom
Assistant Director of Creative Services in US
Education Management, 5,001-10,000 Employees
Used the Software for: 1+ year
Reliable with a learning curve
Comments: We use AxisTV to display content on screens in our academic buildings on a college campus. It is extremely reliable and updates almost instantly when new content is uploaded. However, it is a bit challenging to use the online interface. It is also very picky on the format of videos used in playlists, and can shut down an entire playlist if a video is not the right codec or format.
Pros:
AxisTV is very reliable to continue playing slides and more advanced content when you need it. It takes very little time for the system to update content to each screen and can effortlessly broadcast to hundreds of screens.
Cons:
It's not the most user friendly interface. A few steps need to be taken to publish content, and some of the steps aren't exactly clear. We try to only have a few people publish to our screens because we would need to train others on how to use the interface. It also only handles a few types of advanced content like videos. Videos need to be of a certain codec and format before being displayed properly on screens. This makes it more difficult when working from a mac background.
Visix Response
4 years ago
Tom, Thanks for reviewing our software. I'm glad that our technology is helping your campus communications. I'm sorry to hear you've had some challenges with the UI and formats. I believe you're using a previous version of AxisTV. You should know we have a brand new platform - AxisTV Signage Suite. The UI, content types and workflows are more intuitive, and it has a more robust feature set than our legacy product. It's also free of charge for clients with a support subscription. Even if you're not comfortable moving to the new product, I'm sure we can help address some of the issues you're having. We also have trainers standing by to help you fill in any knowledge gaps for your team. We'd like to learn more about your specific situation and give you the help you need. You can expect a call from your Visix account manager in the next couple of days to discuss your concerns and how we can address them. Thank you again for being a Visix customer.
Mark
AV Media Specialist in US
Education Management, 1,001-5,000 Employees
Used the Software for: 1-5 months
Amazing Experience
Comments: When we chose Visix for our digital signage I already had an idea of what to expect. The service and training I received while going through the selection phase of which company to go with was amazing. Now that we have it up and running I couldn't be more pleased. The training, support and overall performance of the system has been the best experience I have had with any company. The only thing I wish was different is an easier solution to do social feeds and better weather and clock functions. Overall, I would highly recommend.
Pros:
I like the end user simplicity with the use of templates, etc. It makes it easy for someone who is not very technical to use it.
Cons:
I don't like how you have to get a social media module and weather module made for you. Other companies have drag and drop modules that are much easier to use.
Visix Response
4 years ago
Mark, Your review rocks! Thanks so much for posting, and I'm sorry we didn't acknowledge this review earlier. I'm thrilled you find our products and our people to your liking. We work hard to meet customer expectations, and our stellar employees go above and beyond in their customer service. Thanks so much for recognizing them here. I understand your note about the social and weather modules in our older AxisTV software. Our new AxisTV Signage Suite platform has drag-n-drop widgets to easily insert social, weather, time/date, event schedules and more. We'd be happy to show you a quick demo to see if it's something you're interested in. Feel free to reach out to us at [email protected] Ellyce Kelly, Client Relationship Manager, Visix