What Is ActiveCampaign?
ActiveCampaign's category-defining customer experience automation platform (CXA) helps over 130,000 businesses in 170 countries meaningfully engage with their customers. The platform gives businesses of all sizes access to 500+ pre-built automations that combine email marketing, marketing automation and CRM for powerful segmentation and personalization across social, email, messaging, chat and text. Over 75% of ActiveCampaign's customers use its 850+ integrations.
Who Uses ActiveCampaign?
ActiveCampaign is ideally suited for small and medium sized businesses looking to grow through better customer relationships.
ActiveCampaign Details
ActiveCampaign
Founded in 2003
ActiveCampaign pricing
Starting Price:
US$9.00/month
Yes, has free trial
No free version
ActiveCampaign does not have a free version but does offer a free trial. ActiveCampaign paid version starts at US$9.00/month.
Pricing plans
get a free trial
ActiveCampaign Details
ActiveCampaign
Founded in 2003
ActiveCampaign videos and images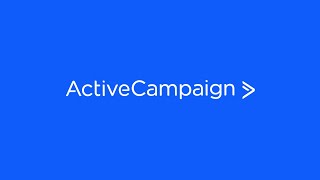 ActiveCampaign deployment and support
Support
Email/Help Desk
FAQs/Forum
Knowledge Base
Phone Support
Chat
Deployment
Cloud, SaaS, Web-based
Mac (Desktop)
Windows (Desktop)
Linux (Desktop)
Android (Mobile)
iPhone (Mobile)
iPad (Mobile)
Training
In Person
Live Online
Webinars
Documentation
Videos
Features of ActiveCampaign
Alejandro T.
Bachelor of Digital Marketing in Mexico
Verified LinkedIn User
Marketing & Advertising, 2-10 Employees
Used the Software for: 2+ years
Activecampaign Best email marketing software
Comments: My overall experience has been very good. It has excellent customer service when you have problems. In digital marketing we use it every day and it is necessary to have an easier way to do reports / analysis, and ActiveCampaign is difficult to read the reports, also at the beginning it is difficult to use the platform in the first weeks.
Pros:
It is an excellent platform, the CRM is very intuitive and the follow-up it gives to customers through automations is excellent, it is capable of sending automated emails or mass emails, since it has some add-ins that are very much in line with the job. . I am dedicated to digital marketing and this system has been very useful for me to be able to organize myself without the need for more paper or old Excel techniques. I highly recommend it for different types of businesses because it is also very adaptive to whatever you want to do. Highlights are CRM and sales automation, marketing reporting and analytics, contact management, and A / B testing
Cons:
It is difficult to use at the beginning, I would say that it has a learning curve of medium difficulty
Alternatives Considered: Mailchimp
Reasons for Switching to ActiveCampaign: I chose ActiveCampaign because it is the most complete of all email marketing software on the market at an affordable price.
Joshua V.
Email Copywriter & Soap Opera Sequence Expert in US
Marketing & Advertising, Self Employed
Used the Software for: 2+ years
Active Campaign is the best email marketing software for startup brands & solopreneurs
Comments: The business problem I'm solving with Active Campaign is I needed email marketing software to collect the leads my business attracts, and place them in various different autoresponder sequences so my message can be delivered to my audience. Uplifting my readers until they feel comfortable becoming a buyer. Active Campaign has helped me create numerous buyers by spreading my message in a dependable way.
Pros:
What I like most about Active Campaign is for the incredible power it gives you, it is fairly simple to use. Active Campaign allows you to deploy the most complex and profitable email marketing strategies known today such as deploying Soap Opera Sequences. They have a very convenient mobile app that they improve every year. They are also run by passionate people, that care about making an impact. It also doesn't hurt that getting started with Active Campaign is very affordable.
Cons:
What I like least about this software is the email editor is still fairly clunky to use. It's not terrible. But recently there have been a few other new contenders with much more fun to use email editors such as Convertkit. However, Active Campaign's power and development roadmap keep me using Active Campaign over Convertkit. Active Campaign integrates with almost everything.
Diana R.
Owner / Nutrition Coach in US
Health, Wellness & Fitness, 2-10 Employees
Used the Software for: 1-5 months
CDL AC Review
Comments: So far AC hasn't been the magically amazing switch I wanted it to be. I've experienced more frustrations than positives and I'm not entirely convinced I'm going to finish out my paid year on it (but I also don't want to deal with migrating yet again to another platform, so I'm willing to continue to try it for a little longer).
Pros:
I moved to AC because it provided more data and insight than my prior platform - FloDesk. At this point I'm still too early to get much out of the data provided and utilize it.
Cons:
Oof the AC platform has not been my favorite. There is a massive learning curve to using it, and I feel like my Virtual Assistant and I are constantly putting out fires. The emails themselves aren't aesthetically pleasing and quite difficult to make them as I would really like them to look. We are on the most basic level which is about the cost of other platforms, but I feel like we get less for this $$. For one, I got beautiful landing page capabilities on FloDesk but not so much for AC. Sure I could pay more for it, but the cost is astronomical compared to competitors and hard to justify when I'm barely happy with the product as is. The person who onboarded us was hitting up my phone daily to remind me to sign up and pay, but then when we eventually reached out to her for questions after she was unavailable (and now seems she's not even at the company any longer? Idk)
William S.
Owner in US
Verified LinkedIn User
Health, Wellness & Fitness, 11-50 Employees
Used the Software for: 2+ years
Source: GetApp
Best CRM for HIPAA
Comments: It's immensely positive. Their support is quick when you have questions. They are very helpful. They have teams of people there to help educate you on how to improve your implementation of the product. It's very special and encouraging.
Pros:
I went into ActiveCampaign knowing nothing about CRM's. I figured it out and implemented it with ease and that's quite a contrast to Salesforce, SugarCRM, KEAP. The interface is easy to understand and setup is intuitive. Support is incredible and they are constantly improving the product and hiring good people. When they add new products they are well planned out and tested.
Cons:
I wish they would add conditional logic to forms. Their API support for developers could also be improved. They could also add more form types to allow a question by question path like Typeform but that's minor.
Alternatives Considered: SugarCRM, Keap and HubSpot CRM
Reasons for Choosing ActiveCampaign: Google Forms could not be a CRM for us. It was helpful in the early days of getting going but
Switched From: Google Forms
Reasons for Switching to ActiveCampaign: HIPAA compliance, easy of use, cost, and available features. AC is just an incredible product at the right price for small businesses.
Management Consulting, 2-10 Employees
Used the Software for: 1-5 months
Una herramienta potente, simple y de rápida implementacion.
Comments: Logré armar un proyecto complejo en tiempo récord gracias a AC pues debía incorporar en un plazo muy breve a un grupo de empresarios/as participantes. Antes era un trabajo enorme llamando y explicando el proyecto uno a uno. Esta vez, el embudo completo lo gestionamos con AC y me sorprendió lo rápido que pudimos avanzar.
Pros:
Es una herramienta muy potente. Estoy muy contento con la decisión. El UX es muy agradable y simple. Subir y limpiar mis bases de datos fue simple y muy rápido, así como usar uno de sus muchos formatos tipo para lanzar mi primera campaña. Todo el sistema de reportes es un completo y tienes información en tiempo real sobre el desempeño de las campañas. Las pruebas A/B me fascinaron: pasé de 28% de apertura a +55% ajustando solo el "subject". Por otro lado los webinars son muy potentes: específicos, agiles y muy detallados. También la asistencia, la biblioteca de ayuda y los mailings de seguimiento.
Cons:
Me costó un poco entender la diferencia entre "listas" y "contactos" para realizar las segmentaciones. He realizado algunas integraciones básicas que funcionan muy bien, aunque creo que el potencial es enorme, me falta dedicar más tiempo para eso.
Alternatives Considered: Mailchimp, Ubersuggest and HubSpot CRM
Reasons for Choosing ActiveCampaign: En relacion al tiempo que dediqué para aprender a usar y lanzar una campaña en mailchimp, no logré nunca estar cómodo, sólo lo usé para el mail de fin de año. En cambio, AC es una plataforma completamente superior, más simple, más profunda, completa y que te ayuda a entender cómo ir gestionando a tus prospectos y clientes.
Switched From: Mailchimp
Reasons for Switching to ActiveCampaign: Porque la automatización de procesos es increiblemente potente y personalizable full por que me permite crecer junto a mi negocio integrando CRM posterior. porque su manera de monetizar es más simple y clara que Hubspot