What Is Smartsheet?
Smartsheet, an online work execution platform, empowers organizations to plan, track, automate, and report on work. Over 80,000 brands rely on Smartsheet for project and work management because of its easy-to-use interface, real-time gantt charts and dashboards, and work automation features.
*2018 Awards: Named a Leader in Enterprise Collaborative Work Management by Forrester Research, Selected to Deloittes Fast 500 List, Recognized for Technology Innovation & Vision by 451 Research
Who Uses Smartsheet?
Smartsheet's intuitive online project management app is used broadly across organizations to track and manage diverse types of work for teams large and small, from enterprise companies to SMB's.
Smartsheet Details
Smartsheet
Founded in 2012
Smartsheet pricing
Starting Price:
US$7.00/month
Yes, has free trial
No free version
Smartsheet does not have a free version but does offer a free trial. Smartsheet paid version starts at US$7.00/month.
get a free trial
Smartsheet Details
Smartsheet
Founded in 2012
Smartsheet videos and images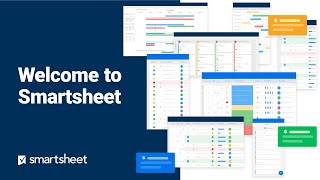 Smartsheet deployment and support
Support
Email/Help Desk
Knowledge Base
Phone Support
Chat
Deployment
Cloud, SaaS, Web-based
Android (Mobile)
iPhone (Mobile)
iPad (Mobile)
Training
In Person
Live Online
Webinars
Documentation
Videos
Mohamed E.
Compliance Analyst in Egypt
Verified LinkedIn User
Banking, 501-1,000 Employees
Used the Software for: 1+ year
The best workflow Automated tool
Comments: Overall experience with smartsheet is amazing it saves alot of time for me and my team as now there are specific users responsible for submitting sales tickets for new vendors and once they make it an automated mail send to the reviewers for reviewing and once they finish it another automated mail send to the Manager for approval and after final approval there's mail sent to all partners in the ticket having the approval of this request or rejection and reason of approval or rejection, all of this is done automatically with recorded workflow which is amazing tool
Pros:
The amazing features in smart sheet are many but we can say that automated mails for specific un completed tasks and the workflow for creating automatic mails send to specific users that tasks had assigned to them automatically is fantastic, as no need to see the new tasks and assign it manually, once the ticket created it will be assigned by default according to the workflow ro the specified mentioned users
Cons:
I consider Smart sheet one of the best tools in last 2 years which related to ticketing and analytical purposes however if the data in the sheet increased this may lead to hanging and taking too much time in reloading however it needs high internet connection speed for stability and good performance
Alternatives Considered: Excel Analyzer and Google Analytics 360
Reasons for Switching to Smartsheet: Smartsheet having good cost and can be integrated to company software beside the customer support of smartsheet if there's any sudden issue and finally smartsheet having some features like work flow and automation process which showed easily in the interface and not complicated so any of the team can start doing his own workflow process
Whit B.
Director of Marketing and Communications in US
Higher Education, 51-200 Employees
Used the Software for: 1+ year
Good, if you have the resources to get started
Comments: We use Smartsheets as a way to connect our small team and manage projects while many of us are virtual. We loved the features so much that we continued to use the system well after we returned to the office. We create project tracking spreadsheets with milestones and deadlines where we can assign each other tasks. If any of us were trained in Project Management, we could probably get quite aa bit more about of the software but being a small team, we only have the capacity to scratch the surface.
Pros:
Smartsheets is a really straightforward Project Management software that is easy to use and helpful in tracking projects and assigning tasks. The spreadsheet-based tracking works like excel with added views and features that allow you to manage projects across a team with ease. I love the calendar views and the ability to prioritize and set deadlines.
Cons:
We are a small team without a dedicated project manager and had to set everything up ourselves. This was fine for very simple project tracking and the templates are helpful, but it got very complicated when trying to customize the templates.
Alternatives Considered: monday.com and Trello
Reasons for Choosing Smartsheet: We wanted something with more tracking and reporting features. Smartsheets was not the only option out there but it met our needs and our budget.
Switched From: Trello
Reasons for Switching to Smartsheet: For the simplicity of the UX. The spreadsheet-based project tracking was familiar and simple to implement. We loved the additional capabilities but may have overestimated our capacity to implement them.
John M.
Operations Supervisor in US
Consumer Services, 10,000+ Employees
Used the Software for: 2+ years
Decent Software for Project Tracking
Comments: The best way to sum it up is to say that once you have a project manager who is familiar with using this software, it can be a nice tool to use. However, inexperienced users will slow you down. It can be cumbersome to share and open in weekly meetings for example. So, don't plan on having too many hands in the updating process.
Pros:
This software gives you a very nice visual snapshot of the progress your team has made in various phases of projects.
Cons:
The software is not as user-friendly as we would like. And, sharing can sometimes be cumbersome.
Omar O.
Director of IT in US
Food & Beverages, 51-200 Employees
Used the Software for: 2+ years
Source: SoftwareAdvice
Smartsheets for everyday management
Comments: To me, the best combination of the ease of use and familiarity of a spreadsheet with the complexity of a project management tool. Very satisfied
Pros:
The tool is more than a project management tool. I use it to manage my department's budget, collaborate with internal and external team members. I like that I can access it from anywhere I am
Cons:
Could use some of the more advanced functionality like automatically keeping track of KPIs such as Earned Value, schedule variance, etc. I would like it if I could "play" with effort vs duration without affecting the main baseline until I am ready and obviously, I would like to keep history of baseline changes
Alternatives Considered: monday.com, Clarity Software and Wrike
Reasons for Choosing Smartsheet: Looking for something affordable, cloud-based that would allow us to collaborate and manage projects in one single repository
Switched From: Microsoft Project and Asana
Reasons for Switching to Smartsheet: The right balance of cost, ease of use, and functionality
Pamela D.
Business Analyst in US
Verified LinkedIn User
Professional Training & Coaching, 2-10 Employees
Used the Software for: 6-12 months
Source: GetApp
I've used Smartsheet for many projects over the years
Comments: I use Smartsheet to track my projects using the Agile paradigm and I love it for that. I have also used Smartsheet to track expenses, create customer feedback forms and the like. When I am on a consulting gig like I am currently, I find this helps me stand up an Agile PM solution quickly, where there may not already be one in place at my client's business. Smartsheet is a great solution for me when engaging with small business clients who may not have an Agile platform already in place.
Pros:
I love all of the templates that are available for free, which makes getting up and running with project tracking very fast and easy. I have used both sets of Agile project management templates, as well as some of the GANTT-based templates. All are very easy to use. I especially like that the Agile templates allow you to switch between card view and list view so you can get a more true Kanban experience. I also like the many integrations, especially with Gmail. They also have a very generous 30-day trial period, which in my experience is more than enough to evaluate everything Smartsheet has to offer.
Cons:
One of the Agile template sets is a bit clumsy in that there seem to be two Backlogs -- there aren't, but the Backlog does appear where I would expect it to be out-of-the-box, in card view, so I had to rework the template a bit to get it the way I wanted. This doesn't really have to do with the Smartsheet platform itself however, just a little bit of an inconvenience but nothing more.
Alternatives Considered: Google Sheets
Reasons for Switching to Smartsheet: Smartsheet makes it super easy to stand up an Agile project management solution quickly. This is a critical capability for me as I do BA/PM consulting with small-medium-sized businesses that may or may not have a solution of their own already in place.