Local product
What Is Huddle?
Huddle makes it easy for teams, partners and clients to work together in a secure shared environment. When collaborating externally, Huddle gives users greater control over the sharing, editing, management and storage of sensitive documents. Teams can execute projects fully confident that the data of all parties is protected, and all activities are audited, making it the perfect platform for collaborating in heavily regulated environments.
Who Uses Huddle?
Huddle supports highly regulated industries such as technology, finance, and public sector companies to complete client engagements and government projects in a secure and easy way.
Where can Huddle be deployed?
Cloud, SaaS, Web-based, Mac (Desktop), Windows (Desktop), Android (Mobile), iPhone (Mobile), iPad (Mobile)
About the vendor
by Ideagen
Located in Nottinghamshire, UK
Founded in 1993
Phone Support
Chat
Huddle pricing
Starting Price:
US$10.00/month
Yes, has free trial
No free version
Huddle does not have a free version but does offer a free trial. Huddle paid version starts at US$10.00/month.
About the vendor
by Ideagen
Located in Nottinghamshire, UK
Founded in 1993
Phone Support
Chat
Huddle videos and images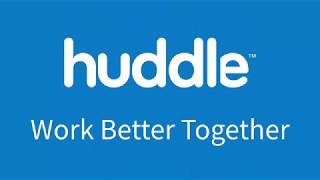 Verified Reviewer
Business Analyst in US
Verified LinkedIn User
Higher Education, 501-1,000 Employees
Used the Software for: 2+ years
Secure site for file sharing
Pros:
We use this software to share files with our auditors. It has been very convenient to upload items in different folders that can be accessed from anywhere. I like that we can upload big files very fast.
Cons:
The only con I can think of is that when you export files from Huddle to your computer, it saves them as a zip file and for some reason, when you open the folder, you can just copy and paste the subfolders to your drives, you need to do it twice (copy the zip file again and then open it to save the subfolders as regular files and not zip format)
Huddle Response
3 years ago
Thanks for the review! We're delighted to hear from users! If you open or download a file from Huddle it downloads in its native file format. It's only when you use our export feature to download folders that it zips the file (to speed the export). Please don't hesitate to contact our support team if they can assist you! Again - thanks for reviewing!
Verified Reviewer
Financial Analyst in US
Verified LinkedIn User
Management Consulting, 10,000+ Employees
Used the Software for: 1+ year
Intuitive interface and good support.
Comments: Huddle is a simple tool in which its implementation has brought positive benefits to the organization improving performance in terms of time as well as productivity in general terms, offering a better customer service, and simplifying tasks based on internal collaboration between colleagues.
Pros:
Huddle is a social collaboration tool that has a great technical support, its tools are very practical, you can work online and offline, it is easily integrated with Microsoft Office where you can use the same Huddle. In the consumer and their needs as well as their costs are profitable, this software is recommended for medium and large companies.
Cons:
It is applicable to companies that have no regulations regarding security, however it is not a limitation of the whole but it must be taken into account, with respect to the management of documents in the browser is limited to the basics only.
Hanna C.
Risk & Compliance Analyst in US
Banking, 1,001-5,000 Employees
Used the Software for: 1+ year
Huddle Review
Comments: Our experience with Huddle has been exceptional between the customer support and the ease of use for our users. Huddle has greatly impacted the work we do on a daily basis in being able to easily collaborate and share files with other users.
Pros:
Huddle is a great software to allow for collaboration between internal and external users. The tool is simple to use and very efficient for the work that we do on a daily basis.
Cons:
The coauthoring feature between multiple people could be enhanced, but overall we have no issues with Huddle.
Nari S.
Support Manager in UK
Used the Software for: 2+ years
Fab tools for sharing files and collaborating with colleagues and partners.
Pros:
File Management - strength is in its file-management features, which are surprisingly capable. In addition to supporting folders and subfolders. You have tools to see options to add comments to files and notifications, or even request user-specific approvals. The best is that Huddle encourages you to work with a number of files at a time. Surprisingly Files are uploaded fast. have since signed up to a full package for 1 year and so far my team has found Huddle very useful. Before finding documents and having to ensure it's the latest version with all the updates made by others was difficult and time consuming. Huddle makes this simple for us. It also helps us work with clients more efficiently as we can create separate workspaces for each client so files are secure and only viewable between us and them. Huddle made project management much easier and can't understand how we did without this collaboration and file management system.
Cons:
It dosent have full collaboration features including group chat and interactive whiteboard like some other systems do.
Verified Reviewer
IT Manager in US
Verified LinkedIn User
Internet, 5,001-10,000 Employees
Used the Software for: 1-5 months
Great tool for collaboration and project planning.
Comments: I am fairly happy with it so far. Once we got it up and running the improvements we saw in our teamwork was clear. I would definitely recommend looking into it if you are on the market for something like this.
Pros:
I really love the version control feature in this. It makes it really easy to both keep track of changes and move between different states. Its also got good tracking capabilities. I also liked how simple it is to share files/folders between different teams. That lets multiple people from different teams collaborate much better than normally. It really simplified a lot of our communication and got rid of endless back and forth emails. And the fact that it works without downloading or installing anything means we could involve people offsite to be a part of the project.
Cons:
There is definitely a learning curve. It wont take you or your teams long to get used to this but it will require a few days. It is still easy to use once you get the hang of it though. Lastly, it also can be a little sluggish and slow to respond at times. Not very frequently but the lag is there.
Huddle Response
3 years ago
Thanks for your great review! We're sorry to hear that you had some issues with lag. This could be your internal network / connection - but do contact our support team and I'm sure they'll be able to solve!