What Is POS Nation?
CAP Retail by POS Nation offers a complete point of sale solution to streamline your small or medium-sized retail business.
We support retailers with a turnkey solution so you have the hardware, software, and payment processing needed to improve checkout, create happier customers, and grow your business.
POS Nation's 10,000+ customers are backed by our dedicated customer service team, including 24/7 US-based support.
Who Uses POS Nation?
Small business owners in a variety of industries, including 10,000 retailers in liquor, tobacco, grocery, garden center, hardware, lawn care, apparel, and hardware stores.
POS Nation Details
POS Nation
Founded in 2001
POS Nation Details
POS Nation
Founded in 2001
POS Nation videos and images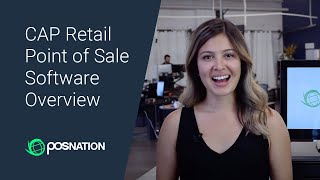 Compare POS Nation pricing with similar products
Starting price
US$99.00/month
US$79.00/month
N/A
N/A
POS Nation deployment and support
Support
Email/Help Desk
Knowledge Base
Phone Support
24/7 (Live rep)
Chat
Deployment
Cloud, SaaS, Web-based
Windows (Desktop)
Linux (Desktop)
Windows (On-Premise)
Linux (On-Premise)
Training
In Person
Live Online
Documentation
Videos
Verified Reviewer
Ministry Director in US
Verified LinkedIn User
Restaurants, 51-200 Employees
Used the Software for: 2+ years
Life made easier
Comments: This system has benefited us so much at McDonals, because it helps keeps us organized and up to date with everything that we may need help with or inventory on. It also makes it a lot easy for our crew too.
Pros:
The most that I like about this software is that I am able to manage everything on this system at McDonald's. I can check times, check products and look at all the orders that had came through that day. Also with this system you are able to do schedules and make sure that the inventory is put in. With this system you can do just about anything even knowing the total sales for that day and month. This system helps keep everything together.
Cons:
The only thing that I did not like was the fact that sometimes when I was trying to do an order, it automatically started rebooting itself and doing an update. It did not happen too often.
Sean G.
Program Director in US
Retail, 2-10 Employees
Used the Software for: 6-12 months
Alternatives Considered:
POS Nation Review
Comments: I have enjoyed using POS Nation. With each fix or call to the tech team, I learn the system more and more. The POS Nation employees have been wonderful, and the hardware has held up well for the time we have had it.
Pros:
I enjoyed the setup process. The instructor was great to work with, and very informative. The features within the system fit just about any scenario we run into. The ease of learning the system was also a relief.
Cons:
I will occasionally run into issues finding the correct reports to run for specific information. Also, I have experienced "speed" issues with the system taking many seconds to finish transactions and open the drawer. However, both of these issues are resolved fairly quickly after calling customer support.
POS Nation Response
2 years ago
We're happy you're enjoying your system, Sean! Thanks for the review.
Retail, Self Employed
Used the Software for: 1-5 months
Source: SoftwareAdvice
Intuitive, comprehensive, easy to learn, with a great team behind the product to offer help!
Comments: 5 stars from day one!
Pros:
The whole system rocks. It's easy to learn, the features are exactly what I need - I don't think there is a single feature I would add. Checking customers out is easy, credit card processing is seamless, and the features, like the hot keys, discounts, and ability to examine the data and make decisions based on real time information is key to my profitability.
Cons:
The only thing that I would alter is the search feature when looking up an item - the "search" button is above the entry field - when intuitively - most people go to their right where the return button normally is - it's a small thing - but annoying when you're in a hurry. When programming the hot "add" button - which intuitively you'd think would add a hot key - adds a "set" - you have to use the "change" button to add a hot key to a "set" - that is also a bit weird and not as easy to grasp when you're starting out. It's not a deal breaker in any way shape or form - as the hot keys themselves are an awesome feature - it's just two little things that I find a bit annoying.
POS Nation Response
last month
Reviews like this really make our team proud. Thank you so much for your kind words, and for being a valued POS Nation customer!
Retail, 11-50 Employees
Used the Software for: 2+ years
CAP for Grocery store
Pros:
The promised ability to use my existing hardware which was not possible with any other grocery specific POS program.
Cons:
It was not specific to the grocery industry and is not flexible in changing to changing needs within the grocery industry. For example, when an additional tax was imposed for telecommunication cards this program did not have the ability to differentiate it which would be required in order for me to report taxes to the state. Also, my own personal, custom gift cards cannot be processed through the system nor can I scan and process Major gift cards through this program.
POS Nation Response
last year
Lorraine, We are sorry to hear you have not had a good experience in regards to some areas within our software. Please give us a call at your earliest convenience so that we can assist you at 704-405-5089.
Margaret jane B.
Manager in US
Retail, 11-50 Employees
Used the Software for: 1+ year
Manager
Comments: I love it..
Pros:
I like that it is very organized, and easy to make reports, if no one else is logging in from another location . I know yor employee was right letting me know all has access to my store. I have had numerous problems,but i think its because our company has several locations in which all have access to my location which has been very disturbing. I appreciate all that you guys have done for me and I am hoping my boss gets employee numbers to keep this from happening again.. Thank you so much for helping me today.. Best, Jane Brady
Cons:
I like it all Basically.. I think its awesome..
POS Nation Response
last month
Thank you for your kind words, and for taking the time to share your feedback of our company! We greatly appreciate you and your business.