What Is Procore?
Procore is the leading cloud-based construction management platform with a comprehensive set of products spanning the construction lifecycle, from pre-construction to project completion. One of the core benefits of Procore's platform approach is that products are deeply integrated, providing a streamlined user experience and centralised access to project information. Procore's mobile application allows customers and collaborators to access project data from the office or site.
Who Uses Procore?
Procore is used by over 8,500 construction businesses worldwide, including main contractors, subcontractors and property developers.
Procore Details
Procore Technologies
Founded in 2001
Procore pricing
Starting Price:
Not provided by vendor
Yes, has free trial
No free version
Procore does not have a free version but does offer a free trial.
Pricing plans
get a free trial
Procore Details
Procore Technologies
Founded in 2001
Procore videos and images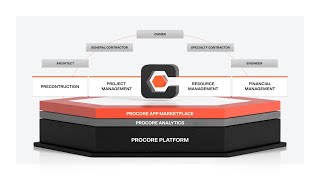 Procore deployment and support
Support
Email/Help Desk
FAQs/Forum
Knowledge Base
Phone Support
24/7 (Live rep)
Chat
Deployment
Cloud, SaaS, Web-based
Android (Mobile)
iPhone (Mobile)
iPad (Mobile)
Training
In Person
Live Online
Webinars
Documentation
Videos
Ruth M.
Director in
Verified LinkedIn User
Design, 11-50 Employees
Used the Software for: 1-5 months
Source: GetApp
Excellent full-on project management software
Comments: This is a package aimed at construction professionals and provides a thorough means of managing multiple projects across multiple people and teams including architects, designers, and subcontractors. It is a significant investment not a simple free app, and needs to be approached as such. The implementation is pretty straightforward and the customer support excellent.here remain some annoying features, but the support team are responsive and it is clear that significant investment if still being made into improving the software.
Pros:
Much better than the competition at managing a range of projects across the things you need in construction - RFI,s , punch/snag list (we use this for internal "to do" items) and critically the main contract variations- this is a bit clunky but REALLY effective when you get the hang of it - meetings recording is again a trifle clunky but very effective so I forgive it For the first time in 15 years I have proper oversight across all projects (typically around 40-60) and can manage the progress of each from my iPad wherever I am. Site logging app very powerful Clients love the visibility Document handling with version control is brilliant
Cons:
The only really annoying feature is that the company level information (ie visibility across projects, personal "open items" lists and financials) is only available on the browser version not the app. The directory and permissions systems are well intentioned but actually you have to subvert them a bit as to do anything useful people really need full admin rights (even to add a contact to a directory- if this is to be used as the main shared company contacts directory we need everyone to be able to do that). I am happy to give my people that, but I can imagine a lot of companies where you don't want all your staff to have access to budgets and financials. It is expensive- we think it a great investment at this time, but it is nonetheless expensive. if you are looking for a cheap app this is not the one for you. The us-centric language and set up is a minor irritation- the partial attempt at making it Anglophile (changing a few of the function names) is actually worse than useless as the changes just confuse people- the training videos refer to the US terms for things and you can get used to pretty fast, but then they are not called that on your screen. I would love to be able to customise some of the standard PDF outputs Drawings handling a bit clunky, particularly markups- brilliant idea and conception but difficult to use as you can't undo markups once you have done them which makes people risk averse in case they cock it up- I am confident this will improve
Patrick B.
Construction Administrator in US
Architecture & Planning, 51-200 Employees
Used the Software for: 2+ years
An Architect's Perspective
Comments: Overall, I'm lukewarm to the idea of using Procore, but when a contractor offers a credit to the Owner to use their already established program versus setting up the project in a different software package it's hard to argue with that benefit. I still do not use Procore for field reports and punch lists as I think there is other software out there better suited for those applications.
Pros:
Admittedly, I fought the use of Procore by my firm for a while. As it became a more prevalent tool used by contractors on my projects on a regular basis I was more or less forced to learn how to use it. In the end, I'm moderately satisfied with the functions that I'm most concerned about as an architect such as tracking RFI's and submittals, creating custom logs and tracking field issues. The bulk of the set up work was performed by the general contractors in each instance as they are using the software for accounting purposes as well. The ability to track drawing changes and updates is also very handy.
Cons:
While I am still happy to use this software to make the contractor's life easier, it is still a bit cumbersome. The ability to apply multiple sorting fields to RFI's and submittals is a nice feature, but cumbersome to load on the webpage. At times it seems that there are perhaps too many options, especially when trying to create something simple such as a "Open RFI" template to use for meetings. And speaking of meetings, the meeting minute layout within the program is, to put it mildly, garbage. The software is clearly written with the contractor in mind, as if the CA process on the design team side is almost an afterthought. On my most recent project, I had to work with the GC and Procore in order to have the proper RFI and submittal routing established so items don't sit in limbo and become late.
Richard R.
estimator in US
Construction, 11-50 Employees
Used the Software for: 2+ years
Source: SoftwareAdvice
Procore for Project management
Comments: I liked it very much and it had all the functions needed to get a project up and running smoothly
Pros:
The data base for subcontractors and drawing distribution
Cons:
It took to long to upload the drawing and project inforamtion
Chaya K.
Director of Operations in US
Construction, 11-50 Employees
Used the Software for: 1+ year
Procore for Mid-Size General Contractors
Comments: The project management tools do allow for strong collaboration on issues and to have a lot of the pieces of a construction project in one place. Perhaps if Procore would have had a more flexible subscription option, and allow for use of the PM tools without paying for the tools we couldn't implement, we would have wanted to continue our subscription longer.
Pros:
Strong Project Management capability including Contact Management per job, Submittal & RFIs workflows and approvals with ease of communication on mobile devises. Also, syncing with Microsoft Project schedules is a time-saver, and allows views for updated project schedules in calendars. On a customer support level, I did find the live chat very helpful as well as all the Procore tutorials on the various features. I also greatly valued how documents could be uploaded and the system would recognize the drawing page references and label accordingly when saving.
Cons:
Insufficient as a sole source for accounting services, and does not support information transfers in/out of QuickBooks desktop versions (even with support of Procore connectors). Therefore, accounting team needs to duplicate efforts and manually update prime contracts. Additionally, the accounting module does not really communicate with the project management module so challenged to know as a team what stage project is in, and no easy way to get budget forecasts. Also, navigation around the program was not very logical and user-friendly for many staff members. Lastly, when we experienced a big hurdle with the accounting features, it took months to speak to a support representative who could talk through the issues. Perhaps if Procore would have had a more flexible subscription option, and allow for use of the PM tools without paying for the tools we couldn't implement, we would have wanted to continue our subscription longer.
Construction, 201-500 Employees
Used the Software for: 2+ years
Great Platform for all your needs
Comments: AWESOME. It is used daily company wide from Top to bottom .
Pros:
The ease of use. Able to track multiple projects, financials and or other daily task items . The ease of use being able to go back to old projects to look at information is awesome.
Cons:
Do not have any dislikes. A few bugs or kinks are able to be worked out.