Who Uses BPAQuality365?
Quality, risk, compliance teams from any sector and size, with focus on manufacturing, medical device, and industrial sectors.
What Is BPAQuality365?
--Office 365 App-- BPAQuality365 is an innovative software for integrated quality, risk and compliance to run in your secure Office 365 environment. The app runs on your preferred Microsoft tools, like Teams or SharePoint. With Teams, you have a single point of access to instant discussions, video conferencing and QMS. Frontline users and workers on the field can use the app on any device, to report incidents or lead inspections, including photos. Shift to Quality 4.0 with BPA and Office 365.
BPAQuality365 Details
http://www.bpa-solutions.net/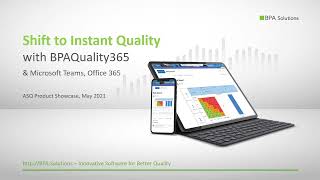 Play
BPAQuality365 offers a free trial.
---
BPAQuality365 deployment and support
Support
Email/Help Desk
FAQs/Forum