What is WorkTogether?
WorkTogether is an intranet solution that allows businesses to redesign the internal communication, engage people, build knowledge base, create approval processes without writing code, manage workgroups, team projects & office activities, More than 40 full-configurable modules, to cover every business needs.
Who Uses WorkTogether?
From small to large companies, banks. Best for companies with more than 100 employees.
Where can WorkTogether be deployed?
Cloud, SaaS, Web-based, Mac (Desktop), Windows (Desktop), Linux (Desktop), Windows (On-Premise), Linux (On-Premise), Chromebook (Desktop), Android (Mobile), iPhone (Mobile), iPad (Mobile)
About the vendor
WorkTogether
Phone Support
Countries available
Italy
About the vendor
WorkTogether
Phone Support
Countries available
Italy
WorkTogether videos and images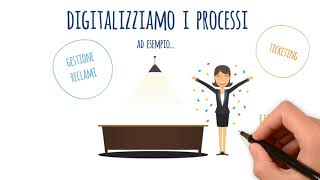 Compare WorkTogether pricing with similar products
Features of WorkTogether
API
Access Controls/Permissions
Activity Dashboard
Activity/News Feed
Alerts/Notifications
Approval Process Control
Archiving & Retention
Autofill
Budget Management
Business Process Automation
Calendar Management
Cataloguing/Categorisation
Collaboration Tools
Communication Management
Contact Management
Content Management
Cost-to-Completion Tracking
Create Subtasks
Discussions / Forums
Document Capture
Document Classification
Document Management
Document Storage
Drag & Drop
Electronic Forms
Electronic Signature
Employee Database
Employee Photos
Feedback Management
File Sharing
File Storage
Forms Creation & Design
Forms Management
Full Text Search
Gantt/Timeline View
Graphical Workflow Editor
Group Management
Interaction Tracking
Knowledge Base Management
Member Directory
Milestone Tracking
Mobile Access
Moderation
Multi-Language
No-Code
Nominations
Percent-Complete Tracking
Performance Metrics
Policy Management
Private Network
Process/Workflow Automation
Project Planning
Project Planning/Scheduling
Project Tracking
Pulse Surveys
Real Time Editing
Real Time Notifications
Real Time Reporting
Recurring Tasks
Reporting & Statistics
Reporting/Project Tracking
Rules-Based Workflow
Search/Filter
Status Tracking
Task Editing/Updating
Task Management
Task Progress Tracking
Task Scheduling
Task Tagging
Text Editing
Third Party Integrations
Time & Expense Tracking
Time Tracking
Version Control
Workflow Configuration
Workflow Management
Alternatives to WorkTogether
Matteo
Impiegato in Italy
Verified LinkedIn User
Financial Services, 501-1,000 Employees
Used the Software for: 2+ years
Alternatives Considered:
Una intranet veramente smart
Comments: Utilizzando Worktogether siamo riusciti a raggruppare tante funzionalità che prima erano delegate a varie e diverse applicazioni. All'interno dello stesso ambiente siamo riusciti ad avere la gestione di documenti, processi, reportistica utente giusto per citarne alcuni.
Pros:
Prodotto semplice da usare, versatile, si presta molto bene ad essere modellato sulle esigenze degli utenti.
Cons:
La GUI per la creazione dei workflow non è di immediata fruibilità.
WorkTogether Response
last year
Grazie per la sua recensione! Nella prossima release la GUI per la creazione dei workflow sara ulteriormente migliorata per facilitare la gestione di processi piu complessi.
Marketing & Advertising, 11-50 Employees
Used the Software for: 2+ years
Alternatives Considered:
Un tool multipurpose, decisamente agile e anche conveniente.
Comments: Utilizziamo WorkTogether da 15+ anni su diversi progetti, come CMS per sviluppare siti internet strutturati di aziende ed organizzazioni, per realizzare extranet, sofisticate aree documentali riservate e intranet.
Il nostro team dedicato al suo utilizzo è snello e sempre ben supportato dalla Software House.
Si tratta di una "suite" polivalente, non usarla significa per forza usare più tool contemporaneamente senza però consolidare la soluzione, oppure devi scegliere "big solutions" problematiche per i costi indotti degli specialisti necessari e per i tempi di implementazione.
Pros:
WorkTogether è molto facile da usare, sia per implementatori come noi che per i nostri clienti diretti. Il prodotto è molto stabile, ha numerosi moduli disponibili che estendono le già articolate funzionalità di base e con le verticalizzazioni ad hoc arrivi a risolvere le specifiche più particolari. I tempi di sviluppo sono veloci, così come la formazione ai nostri clienti. L'assistenza è sempre puntuale.
Cons:
Da parte nostra l'unico neo è che non è molto conosciuto e non risulta "cool" come le alternative più pubblicizzate o quelle open-source mainstream.
WorkTogether Response
last year
Grazie per l'ottima recensione!
Beatrice
Costumer Service Assistant in Italy
Mechanical or Industrial Engineering, 51-200 Employees
Used the Software for: 6-12 months
WorkTogether - Work Better
Comments: Maggiore efficienza con la gestione di problemi, richieste di vario genere.
Ha permesso una maggiore condivisione di idee e pensieri.
Pros:
Possibilità di caricare documenti e averli sempre a portata di mano con un semplice "cerca". Un maggiore controllo su documenti in scadenza. Condivisione di news ed eventi. Poter gestire pratiche e richieste tutte su un unico portale senza scambio di email continue.
Cons:
I bug un pò troppo spesso presenti nel sistema
WorkTogether Response
last year
Grazie Beatrice per aver dedicato del tempo a fornire una recensione per WorkTogether: i bug rilevati sono dipesi dalle personalizzazioni richieste e sono stati prontamente corretti in un'ottica di costante collaborazione e supporto.
Francesca Elisa
Impiegata in Italy
Mechanical or Industrial Engineering, 51-200 Employees
Used the Software for: 6-12 months
Con Intranet non si torna più indietro!
Comments: L'esigenza di avere una intranet è nata durante il primo lockdown con lo scopo di digitalizzare i processi, condividere notizie interne e unire ancora di più i vari reparti aziendali. Abbiamo contattato Thinsoft, azienda leader del settore, che da subito ha capito le nostre esigenze e con pazienza e professionalità ci ha seguito nello sviluppo del progetto. Oggi a distanza di un anno, è diventato uno strumento di lavoro quotidiano, con creazione di flussi e documenti visibili a tutti, dando anche voce a tutti i collaboratori, indipendentemente dal ruolo. Siamo molto soddisfatti del lavoro eseguito e siamo certi che con l'aiuto di Thinsoft andremo sicuramente a migliorare e digitalizzare ancor di più i contenuti, le notizie e i processi aziendali.
Pros:
Facilità di installazione, comprensione e utilizzo. Ottima comunicazione con team di sviluppo. Digitalizzazione dei processi e unico posto comune per la ricerca di documenti aziendali.
Cons:
Al momento non abbiamo riscontrato nessuna problematica.
WorkTogether Response
last year
Grazie per l'ottima recensione!
Construction, 11-50 Employees
Used the Software for: 2+ years
BUON PRODOTTO
Comments: usiamo worktogether per la intranet aziendale, principalmente per la rassegna stampa e la bacheca aziendale, sono funzioni semplici che funzionano bene, abbiamo un archivio di documenti consultabili da tutti i colleghi, non usiamo per niente i commenti e le chat previste ma questo dipende dalla dimensione della azienda più che dal programma.
Pros:
il software è facile da usare e da implementare, una volta capito come si imposta non è difficile fare modifiche e adattare il software ai propri bisogni
Cons:
l'interfaccia grafica è un pò antiquata e per i programmi di scrittura ci sono poche possibilità di formattazione del testo
WorkTogether Response
11 months ago
Grazie per la recensione! Se l'interfaccia della intranet non e piu adatta alle esigenze dell'azienda possiamo fare un redesign per renderla piu accattivante ed aggiornata. Siamo a disposizione