What Is Teamcenter?
Product lifecycle management software that unites product knowledge with process innovation.
Who Uses Teamcenter?
Lifecycle management solution for all businesses that helps with product requirement engineering, analytics, project execution and document publishing.
Where can Teamcenter be deployed?
Cloud, SaaS, Web-based
About the vendor
by Siemens
Founded in 1847
Chat
Countries available
United States
About the vendor
by Siemens
Founded in 1847
Chat
Countries available
United States
Teamcenter videos and images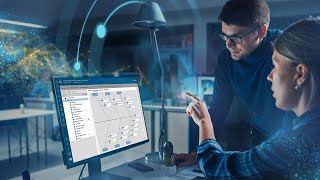 Compare Teamcenter pricing with similar products
Starting price
N/A
US$20.00/month
N/A
N/A
Features of Teamcenter
API
Accounting
Accounting Integration
Activity Dashboard
Activity Tracking
Barcode / Ticket Scanning
Bills of Material
Compliance Management
Customisable Reports
Customizable Fields
Data Import/Export
Distribution Management
Document Management
ERP
Financial Management
Forecasting
Inventory Management
Inventory Tracking
MES
Maintenance Management
Material Requirements Planning
Monitoring
Multi-Currency
Multi-Location
Order Management
Planning Tools
Production Management
Production Scheduling
Production Tracking
Project Management
Projections
Purchase Order Management
Quality Control
Quality Management
Quotes/Estimates
Real Time Analytics
Real Time Data
Real Time Reporting
Reporting & Statistics
Reporting/Analytics
Safety Management
Sales Orders
Shipping Management
Supplier Management
Supply Chain Management
Third Party Integrations
Traceability
Warehouse Management
Work Order Management
Workflow Management
API
Activity Dashboard
Alerts/Notifications
Approval Process Control
Audit Management
Audit Trail
Bill of Material Analysis
Bills of Material
Calendar Management
Change Management
Collaboration Tools
Commenting/Notes
Compliance Management
Configurable Workflow
Cost Tracking
Customizable Fields
Data Import/Export
Data Visualisation
Design Management
Document Management
Document Storage
Drag & Drop
File Management
Ideation
Lifecycle Management
Milestone Tracking
Monitoring
Planning Tools
Portfolio Management
Prioritisation
Product Data Management
Production Tracking
Progress Tracking
Project Management
Project Planning
Project Workflow
Projections
Reporting & Statistics
Requirements Management
Role-Based Permissions
Status Tracking
Supplier Management
Task Management
Task Planning
Task Progress Tracking
Task Scheduling
Template Management
Third Party Integrations
Version Control
Workflow Management
Özgür E.
Product Development Supervisor in Germany
Verified LinkedIn User
Automotive, 10,000+ Employees
Used the Software for: 2+ years
The best and wide software for 3D CAD model management; but not perfect
Comments: Teamcenter is a very good software with several capabilities lots of tools and being used most of the global companies e.g. Bosch, Ford, Siemens to manage the 3D data or simulation. It connects all the global footprints even from different continents. It is widely used by engineers and designers to keep, analyze and categorize the CAD in 3D. VisMockup is the most often used desktop tool to visualize the 3D models or data. There are some up and downs sure; but in overall I think it increases the efficiency at work. It is very easy to use even for beginner users. Some tools are hard to use or not accurate (e.g. measurement tool) but it's acceptable when you consider so many tools to work with...It is the best so far I've used in automotive industry for 12 years...However developers really need to work more on import/export features.
Pros:
I really like to use VisMockup for reviewing 3D CAD. It is very easy to use and has variety of tools for a viewer. Most of the tools such as sectioning, transformation, positioning or rotate/pan/movement works very well. So the navigation is very easy. Interface is easy and can be customized (however it may be hard sometimes to find the tool bars after you close them). Teamcenter client (web/browser based) also good to use. It allows a custom folder management for each user. BOM management is in a product tree logic, so you can easily access the data you're looking for, as it is well categorized. Revision control capability is very good.
Cons:
Including myself, generally users struggle with some tools, such as measurement. There are variety of measurement tools such as point, line or surface measurement. You need to pick carefully otherwise the result is not accurate. If you want to import .step files (or something different than .jt format) it can be really painful as it can take several minutes - or even it freezes. Exporting files with .step format can create some corrupted data. Another issue VisMockup can be really frustrating as it does not respond if you try to open big files.
Emel K.
PD Chassis Supervisor in Turkey
Verified LinkedIn User
Automotive, 10,000+ Employees
Used the Software for: 2+ years
A reliable tool for 3D model visualization
Comments: The biggest advantage of Teamcenter is that the tool is being used for most of the big global companies and their suppliers as well. This makes it priority choice. It is easy to use and helps engineers to do most of the job without interfering with complex tools such as Catia or Solidworks. There are some drawbacks for sure; but it gives advantage for CAD management work and helps companies create their complex CAD models and assemblies such as a vehicle model with all parts included. It is widely used can work with different CAD formats.
Pros:
Siemens Teamcenter or VisMockup is a great tool for reviewing 3D CAD models. I can say it is a user friendly software; so you can easily become en average level user even after no/limited training. There are several tools to manage the data: such as you can rotate, transform, get section cut, make measurement etc. Models can be exported as a single or assembly data and saved as a different 3D format as well. Navigating in the workspace is quite easy. You can use web based Teamcenter client through your browser and then visualize the downloaded data.
Cons:
Probably biggest issue is that web client performance while trying to download or similarly opening big files with VisMockup. Issue is that program may not respond for a while - at this point you should avoid any integration; and just need to wait. Otherwise it will stop working. There are lots of tools as mentioned; but some of them are difficult to find from the menu; so you need experience here. Another issue is having visualization issues when opening different formats than .jt. You may probably view the model with some surface problems in this case.
Verified Reviewer
CAD Supervisor in US
Verified LinkedIn User
Sporting Goods, 51-200 Employees
Used the Software for: 2+ years
Love/Hate
Comments: If you don't have a team of top level computer programmers, flexlm license experts, highly skilled IT professionals, and LOTS of money, I would stay away from this software. Teamcenter is an absolute nightmare to set up and administer, and Siemens training and support are completely worthless. There is ZERO useful documentation. You will find nothing but documents containing general overviews of every topic and no examples. It literally seems as though they don't want you to understand or have the ability to administer their software. I'm convinced they scrub the internet of any useful information so they can charge you thousands of dollars for their useless training that will leave you with more questions than answers. The admin training I attended consisted of cramming what takes years to learn into one week. My company has spent millions on Seimens software over the last ten years and we are still in PLM limbo. For nine years our Teamcenter was nothing but a glorified CAD vault. We are only now starting to scratch the surface with a few simple workflows. The only companies I have ever known to successfully use this software are giants like General Motors and Boeing. If you are a small to medium size company, forget it. It will be the costliest mistake you will ever make.
Pros:
From a CAE user/client perspective it is an extremely powerful and versatile software. Works with any CAD system and supports many file types. Data management, revision control, security, and the ability to integrate across teams is excellent. From CAD & engineering to manufacturing to quality, purchasing, etc. it can manage live data across all areas of your company. But...........
Cons:
Configuration, administration, and support are horrible.
Serkan Y.
Product Development Engineer in Turkey
Verified LinkedIn User
Automotive, 10,000+ Employees
Used the Software for: 2+ years
Lightweight PLM and 3D Viewer
Comments: Teamcenter PLM is of the best software for wide range companies distributed all over the world and connects everybody on a platform. Visualization is a lightweight and simplest 3D viewer software which offers all essential tools for reviewers.
Pros:
I've been using Teamcenter PLM and Visualization softwares on automotive industry for many years. You can access to PLM over web-client or desktop application. It's quite easy to find any kind of data even from another server and review on Visualization tool which offers various features essential such as measuring, sectioning, comparison, transformation, adding motion data for dynamic envelope, etc. All these features can be learned by a short training. It also works in accordance with your needs of BOM (bill of material).
Cons:
Integration with Catia may not work properly. When you click to see a big data on Visualization software, there is no way to stop process which gets software stucks. You need to start from scretch for your session. There is not any section in option to switch your display mode from simple to ribbon design. You need to change it on Environmen Variables on Windows operating system.
Luiz henrique P.
Tools specialist in Brazil
Verified LinkedIn User
Automotive, 201-500 Employees
Used the Software for: 2+ years
Safe and simple
Comments: Teamcenter made my life so easier, because before it was very common to lose a file, or its location. With Teamcenter everything is easy to find, to edit, and to find out the changes (reviews, log, who made the last modification, etc.).
Pros:
Teamcenter is so easy to work with. It has many useful tools for managing drawings, 3D models, NC-programs, used in engineering projects. The files are stored very securely. Everything is well integrated.
Cons:
When working as a DBA, sometimes it's difficult to delete some 3D models or drawings (I need to close the app and open again to solve the problem).