What Is Sofvie?
Collaborative Intelligence platform that gives every level of the organization a voice in safety and risk management. It enhances communication and redefines hazard and risk management in the workplace by intelligently analyzing data gathered from the front-line. Built on industry 4.0, Sofvie creates an accessible point of reference which aids in critical decision making processes.
Sofvie is designed to align your culture, reduce incident and accident severity, and ultimately saving lives.
Who Uses Sofvie?
We currently specialize in heavy industry. We have been working well with mining, construction, transportation, exploration and warehousing.
Sofvie videos and images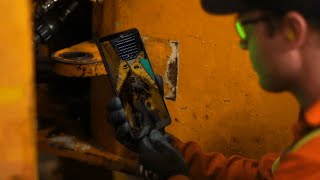 ▶︎
Compare Sofvie pricing with similar products
Starting price
N/A
N/A
N/A
US$1,500.00
Sofvie deployment and support
Support
Email/Help Desk
FAQs/Forum
Knowledge Base
Phone Support
Deployment
Cloud, SaaS, Web-based
Mac (Desktop)
Windows (Desktop)
Chromebook (Desktop)
Android (Mobile)
iPhone (Mobile)
iPad (Mobile)
Training
In Person
Live Online
Documentation
Videos
Tyler N.
COO in Canada
Verified LinkedIn User
Mining & Metals, 201-500 Employees
Used the Software for: 6-12 months
Alternatives Considered:
Game changing software
Comments: The benefits of having transparency into the organizations of problems areas allows for faster solutions. Secondly, as the employees see management in action on the issues, they report more issues. This reporting energy allows us to "listen" to the employees on a larger scale by looking at overarching issues that can be present in the workplace.
Pros:
This software is made for the workers. It has a high adoption rate due to the ease of functionality and UIUX. It also offers transparency in safety across the organization. It ensures that all levels of the company can hold each other accountable to get issues resolved, both from employees to managers and managers to each other.
Cons:
Nothing, they keep upgrading and adding value to the software. We have yet to implement all the features as we role it out!
Sofvie Response
10 months ago
Thank you for the detailed review. We appreciate your support and outlook. We look forward to continuing to add value as we progress on roadmap and journey with your teams.
Mathieu L.
Asset Manager in Canada
Mining & Metals, 201-500 Employees
Used the Software for: 2+ years
Makes Processes Simple & Easy
Comments: I have had the pleasure of working with Sofvie since its early development. It's been a pleasure to work with the team at Sofvie and help this platform mature. Sofvie is designed for the user, it has eliminated boundaries in our industry and is paving the way for a new paradigm in Mining.
Pros:
This software allows both front line and second line management connect directly with the workforce. Sofvie's best attribute is the ability to give the worker a voice and be heard. Focused on the wellbeing of the worker, the tools allow any concerns, opportunities and recommendations to be reported, log and queued for action! It removes the risk and delay of paper processes to create a real time interaction.
Cons:
At this time, I am still awaiting the Risk Management module however the release is scheduled for Q1 2021!
Sofvie Response
10 months ago
Thank you for the great review! As per your request the Risk Management module has been released. We look forward to the implementation of this module with your teams!
Kyle S.
Site Supervisor in Canada
Mining & Metals, 201-500 Employees
Used the Software for: 2+ years
Sofvie
Comments: Going from Paper to Sofvie was a great change. As a supervisor trying to manage my monthly compliances or working through incidents it saves alot of time, effort and most importantly...paper. WIth Sofive its easy to have support from remote locations and off site because they can work through the documents with you via the web application and it makes sharing easy with the download PDF feature.
Pros:
I like that I can pull up my training records incase I am unsure of my qualifications on a certain unit. I can also ask my guys to pull up theirs on their tablet as well. Its handy for performing investigations or tracking completed work through the incident tool and pre-task tool. During lineup I can verify who has read my lineup and they can download it to always have it on hand.
Cons:
Some of the features that could be improved would be the notification software - Similar to Facebook or other social media platforms theres no mistaking when someone tags you or prompts something. It would be great if you could see a daily notification such as "XXX reviewed your lineup" or something similar.
Sofvie Response
10 months ago
Thank you for your positive review and suggestions. We have a few things on our development roadmap that I am sure you will enjoy as per your request! :)
Chris H.
Operations Manager in Canada
Mining & Metals, 51-200 Employees
Used the Software for: 1-5 months
Health and Safety Everywhere
Comments: This program is worth the time. Once the back end work is done, the maintenance work is minimal. Implementation is a net benefit in terms of saving time/resources.
Pros:
I can be anywhere (home, office, on the road) and have access to Operations and H&S deliverables (time sheets, workplace inspections, pre ops, job observations, production tracking). Sofvie makes life easier for all divisions of a company (Ops, HR, H&S, Accounts) Sofvie eliminates chain of custody issues with critical documentation like pre ops, workplace inspections, line ups. This program is worth the time. Once the back end work is done, the maintenance work is minimal. Implementation is a net benefit in terms of saving time/resources.
Cons:
Slight learning curve with new technology in the field. However, it is overcome quickly.
Mining & Metals, 201-500 Employees
Used the Software for: 6-12 months
Digital Transformation at Technica Mining
Comments: Exceptional. Their customer support is world-class. Price point is reasonable and their development roadmap is 'off the charts' and in-line with where we want to go as an organization. Using the latest technology in collaboration with an in-tune workforce to use data to be in predictive and prescriptive state in safety vs. reactionary.
Pros:
What I enjoy most about the software is that it is giving me something that I never thought was possible. We originally implemented Sofvie based on what it can do for us from an EHS standpoint, but we got more. With every employee using Sofvie every shift (we are a 24/7 operation) and the ability for people to easily acknowledge their co-workers, I am able to measure/gauge the soul of my company. It were as if I was a fly on the wall or present in conversations between workers....seeing and reading the positive recognitions is incredible. When I see workers acknowledge their supervisors or acknowledgments moving upstream (I fully expect supervision to acknowledge their subordinates great/outstanding work)I know that the culture of my organization is in tack. It is the way I had it set out be 21 years ago when I was 25! A place were people cared for one another. That we were more than just a place to work; we are family. Never in my craziest dreams did I think I could find a software that could help me measure this. Unintendedly, I am using Sofvie for that as well and it makes my morning coffee!
Cons:
The cons are not so much Sofvie, but digital transformation and the adoption rate of technology. Thankfully we have a very young (or at least young at heart!) management team that are true leaders and champions of positive change. Regardless of the software, this will any organizations' biggest challenge.
Sofvie Response
2 months ago
Thank you for sharing this view of how we have been able to partner with your team. Your kind words speak to how things can become as well as how the impact can resonate in many ways with the leadership truly engaged. Thank you for believing is us and your team.