What is H2X?
Revolutionary plumbing design app, which automatically sizes pipes for water, sewer and gas systems. Save time, increase quality.
Who Uses H2X?
MEP & Multi-discipline design firms, or any of the following; Plumbing Design Engineers, Public Health Engineers, Hydraulic Engineers, Building Services Engineers. Plumbing Contractors on D&C projects
Where can H2X be deployed?
Cloud, SaaS, Web-based
H2X videos and images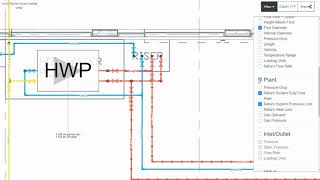 Compare H2X pricing with similar products
Features of H2X
Cost Database
Cost Estimating
Estimating
For Plumbing Industry
Job Management
Quotes/Estimates
Takeoff
Visual Assemblies
Joe K.
Building Services Consultant in UK
Construction, 2-10 Employees
Used the Software for: 6-12 months
MEP Deisgn - UK Building Services Consultants
Comments: H2X is a fantastic software. I foundH2X very intuitive. It feels like a 21st century software and has an app like appeal, It is very easy and quick to use and takes a lot less time to teach new engineers how to use the software. I have used H2X on several projects . Generally I have used it for sizing domestic water systems and the associated plant items, the speed and simplicity in using the software defiantly makes my life a bit easier. It's a very comprehensive design software which I would recommend anyone to try.
Pros:
Personally I found H2X very intuitive. A computer literature engineer could pick up the software in a day with no training. I like the flexibility in design, for example you can change the piping material or velocities across the whole project in a few clicks, alternatively you can manual change individual sections. Being cloud based and not being tied down to a specific desktop is very useful. The ability to output to Revit is a fantastic time saver.
Cons:
The way it outputs the notes in the results page is limiting. Ideally you would be able to drag and drops the notes so it's cleaner, as in a busy drawing it can be difficult to read. Sometimes the error warnings may not be pertinent to the project for some reason, but there is not an option to hide or turn these off. However, if you submit the calcs to the client and their is a big yellow safety warning, it makes them nervous. I think it should be possible to turn on/off the warnings.
H2X Response
5 months ago
Hi Joe, Thanks for the detailed review, it's been great working with your team to date. I'm pleased to let you know that we listened to your feedback and in our recent release, we incorporated a warning review section with the ability to turn off warnings if you don't think they are relevant. I will let you know once we have a solution to the positioning on the pdf export. Thanks again!
Richard B.
Senior Hydraulic Design Engineer in Australia
Construction, 11-50 Employees
Used the Software for: Free Trial
H2X calculates
Comments: H2X has proved to be a useful and powerful tool to add to our office. The basic operation of the program is easy to adopt and the learning curve is reasonably linear. Like every program, there are tricks a tips to increase productivity and ease of use. The friendly and helpful staff are more than willing to help you adapt and progress with your operation of H2X.
Pros:
H2X is an easy program to learn and use. The user interface is designed with an intrinsically logical progression of functions and operations. The calculations can be performed at any point during the design development to capture design errors and the effects of alterations immediately. The ability to select and fix pipe, fitting and fixture details and selections is very useful for design proofing and fault finding in new and existing service designs. Uploading and manipulating .pdf background documents is also easy and hassle free. New levels and relevant information are easy to add into the project. Scaling of .pdf background documents is easily done with a high degree of accuracy. Bearing in mind that a .pdf document is an image file with little intrinsic data relating to line accuracy or drafting limitations, H2X willingly creates usable design models with limited fuss. H2X is capable of calculating pressure systems to many different national and international design standards. The selection of design standard can be changed and recalculated at any point within the design process, the projects can be copied and saves as parallel models thereby allowing for side-by-side comparison calculations as required.
Cons:
There are no warnings within the planning tab advising of the potential to move .pdf backgrounds within the H2X model, nor is there an option (that we found) to lock the .pdf back grounds into place. While we understand that H2X is a stand alone calculation program with output drawing frames to showcase H2X, it would be useful to have more flexibility with regard to drawing output framing and title blocks. The output drawings are centered about the H2X model as a standard and do not allow for nonstandard drawings or plot layouts that have additional information that displaces the model information. We understand that this is a web based program that enables H2X to be centrally controlled and located, however this is also an issue for those users with unstable / unreliable internet connectivity. H2X does not offer (within the trial version) an option for local installation, work and save on and of models.
H2X Response
10 months ago
Thank you for the detailed review Richard. We are glad you enjoyed using H2X and we are looking forward to working with you again on your upcoming projects.
Milly M.
Hydraulic Engineer in Australia
Civil Engineering, 11-50 Employees
Used the Software for: 6-12 months
A software that makes calculation easier
Pros:
This software provides different calculation methods and can provide all the calculation result that may be rrequired.
Cons:
Sometimes it's a little bit hard to change things. For example, if i want to increase the pipe size to minimise the friction loss, i will need to select all the pipe one by one ( they are separated by the fittings).
H2X Response
2 years ago
Hi Milly, Thanks very much for your feedback, we really appreciate it! We remember you mentioning this to us and because of the inefficiencies you experienced we have added a 'minimum pipe size' feature that will mean you never need to do this again. You can edit the minimum pipe size in Settings > Flow Systems. Also, using our 'select similar' feature, you can quickly edit the properties for multiple pipes or fixtures all at once. To select similar, firstly left click on the fixture or pipe and then right click and the select similar box should appear, here you can enter properties for fixture groups or pipes. I hope this helps, don't hesitate to reach out if you need anything or have any other ideas for new features.
Construction, 2-10 Employees
Used the Software for: 1-5 months
BS EN 806 Residential Care Home, England, UK.
Comments: I had the pleasure of a free trial for the software after seeing it advertised on LinkedIn and having a positive discussion and interactive training with both [SENSITIVE CONTENT]. I have used the software on two projects, a residential project and a care home, it has been a pleasure to use and I will defiantly not be changing back to previous pieces of software I have used.
Pros:
The complete software package was a breath of fresh air compared to alternative hydraulic calculation software's on the market. The usability of the system was effortless compared to it's competitors in the UK. It is a free flowing piece of software which allows the user (on the basis the user have a good knowledge of Public Health Engineering) to design, distribute and calculate domestic water services simply with a few clicks of a button.
Cons:
The only piece of the software which confused me slightly was the hot and cold water defaults on the appliances, however I believe this is a regional thing. Once I was aware that I need to allow a hot connection to the outlet (rather than warm), the issue was easily resolved and caused no delays.
H2X Response
10 months ago
Hi Daniel! Thank you for taking the time to leave us a review. It's great to hear that H2X is providing positive benefits to your design process in the UK.
Kane B.
Hydraulic Engineer in Australia
Construction, 10,000+ Employees
Used the Software for: 1-5 months
H2X Review
Comments: Very, very useful tool that is likely to make a real impact in the industry. The dev team are extremely helpful, proactive and knowledgeable - able to provide general hydraulic design advice as well as that pertaining to the software itself. Can see this type of software eventually making its way into the Autodesk suite and becoming as ingrained in the industry as CAD or Revit
Pros:
The versatility of providing instant calculations using a variety of methods. This allows us to instantly compute different pipe sizing methodologies and showcase the subsequent cost and time savings that can be achieved by using alternative standards. This can streamline workflows in the order of days depending on the size of the project and has the potential to be a big driver in a revolution in material and engergy usage in plumbing installations in Australia
Cons:
The markup/drawing UX is still in development, however this is being continually improved. Minor discrepancies in usability between H2x and more typical modelling/drawing software (AutoCAD/Revit) can hinder markups of larger projects. Just needs some more in-built toold to really bring upo the fluidity of drawing and modelling
H2X Response
10 months ago
Hi Kane! Thank you for the review. Great to hear you can appreciate the long term vision for H2X's design methodology.