What is SketchUp?
SketchUp is a 3D modeling tool. It's leveraged on projects big and small, from custom homes to complex commercial jobs. Owned by Trimble Inc., an entrepreneurial company focused on changing how the way the world works with technology, SketchUp is intuitive and powerful. Learn why architects, engineers, construction managers, and other professionals around the world leverage SketchUp to get their projects underway.
Who Uses SketchUp?
SketchUp supports creatives of all backgrounds, from woodworkers to film and stage designers. Our primary users are in the architecture, construction, engineering, and interior design sectors.
Where can SketchUp be deployed?
Cloud, SaaS, Web-based, Mac (Desktop), Windows (Desktop), Windows (On-Premise), Linux (On-Premise), Android (Mobile), iPhone (Mobile), iPad (Mobile)
About the vendor
Trimble Inc.
Located in Princeton, US
Founded in 1978
Phone Support
Countries available
United States
Languages
English, Swedish
About the vendor
Trimble Inc.
Located in Princeton, US
Founded in 1978
Phone Support
Countries available
United States
Languages
English, Swedish
SketchUp videos and images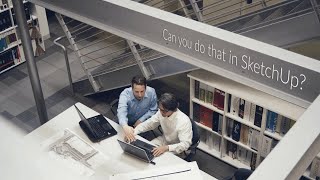 Compare SketchUp pricing with similar products
Features of SketchUp
2D Drawing
3D Imaging
Annotations
BIM Modeling
Collaboration Tools
Component Library
Data Import/Export
Document Management
Drafting
For Architects
Verified Reviewer
Designer in Canada
Verified LinkedIn User
Construction, 51-200 Employees
Used the Software for: 2+ years
Great Design, Sell and Build Tool!
Comments: My SketchUp has been great. The software is continually upgraded and getting better at handling larger models than it used to. We could not be without it in our business.
Pros:
SketchUp plays an important role in the design, sales and construction of most of our high end residential landscape projects. The integration of SketchUp with DynaScape and Lumion make for an excellent lineup of tools that are crucial to our business. SketchUp's ease of use makes 3D modelling quick and as accurate as you like. 3D modelling makes selling projects much easier than 2D designs. The ability to then push the model into Layout makes creating construction details a breeze.
Cons:
SketchUp's subscription method is not the easiest to use and can be a bit frustrating. It will log you out every once in a while and make you sign in. It used to not let you open newer version models but now it just warns you.
Gregg C.
President/CEO in US
Verified LinkedIn User
Construction, 11-50 Employees
Used the Software for: 2+ years
Sketch up good for basic design
Comments: We used Sketch up before we fully implemented Revit and another plug in to create photo realistic renderings.
Pros:
It's easy to implement, moderately priced and simple learning curve.
Cons:
The quality of renderings does not come close to meeting the needs for our presentations.
Deden saepul A.
designer in Indonesia
Design, 2-10 Employees
Used the Software for: 2+ years
Alternatives Considered:
sketchup
Comments: well overall this application it was very helpful for all design in the world
Pros:
i really like this application for modeling my project, easy to understand the tools and
Cons:
sometime i cant solve the problem of this application
Johannes R.
Freelancer in South Africa
Design, Self Employed
Used the Software for: 2+ years
Sketchup
Comments: Sketchup is a very useful software to have if you are doing Interior Design. The functionality of the program is excellent and there are a lot of YouTube videos that can give you a quick crash course to use the program. It is a very useful 3D program and the navigation is excellent. I will not use another program other than Sketchup.
Pros:
You won't get lost using the X, Y and Z reference lines. There are a lot of models to use and you can download more if you want to. You don't need to be an architect or engineer to use the software, it is very easy to use.
Cons:
It can be a bit tricky to find all the tools. The package prices can be a bit high for a beginner. You do need a lot of RAM and a very good graphics card.
Rajnish H.
Management Intern in India
Verified LinkedIn User
Civil Engineering, 51-200 Employees
Used the Software for: 1+ year
Best and easiest software for making 3D Models.
Comments: Overall. I had a good experience with SketchUp and I am looking forward to use it in future.
Pros:
The best thing about SketchUp is that it is extremely easy to draw 3D Models using the software. All the basic options like shapes, arcs, push-pull are easily available. Also other options can be added conveniently. Another good thing is that there is a 3D Warehouse which has readymade models of commonly used items. Another thing that I like is that I can easily convert a 2D outline to a 3D model using push-pull option. Also Sketchup has a higher compatibility with other CAD softwares and animation softwares.
Cons:
The only thing I disliked about Sketchup is that 2D drawings are not precise and accurate. It is quite difficult to draw floor plans of buildings in Sketchup because it lacks a few important features required in 2D drawings.