What is DoorLoop?
DoorLoop is 50% off your first two months! Get a fully customizable property management software that helps manage your properties from one place.
Unlimited free training, support, and migration is included. Try it risk-free, no credit card needed. Backed by our "no questions asked" 30-day money back guarantee.
DoorLoop's award winning platform has raised over $10M in funding and is used for tens of thousands of units in over 100 countries worldwide.
Who Uses DoorLoop?
DoorLoop is built for property managers, management companies, owners, landlords, investors, or anyone managing any property worldwide.
Where can DoorLoop be deployed?
Cloud, SaaS, Web-based, Mac (Desktop), Windows (Desktop), Linux (Desktop), Chromebook (Desktop), Android (Mobile), iPhone (Mobile), iPad (Mobile)
About the vendor
DoorLoop
Located in Miami Beach, US
Founded in 2019
Phone Support
Chat
Countries available
Canada, United States
About the vendor
DoorLoop
Located in Miami Beach, US
Founded in 2019
Phone Support
Chat
Countries available
Canada, United States
DoorLoop videos and images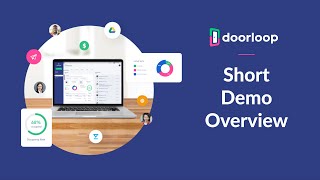 Compare DoorLoop pricing with similar products
Features of DoorLoop
Accounting
Alerts/Notifications
Bank Reconciliation
Billing & Invoicing
CRM
Calendar Management
Commercial Property Management Software
Committee Management
Communication Management
Contact Management
Document Management
Electronic Payments
Event Management
Faculty/Staff Management
Financial Management
Financial Reporting
For Commercial Real Estate
For Self Storage Facilities
General Ledger
Late Fee Calculation
Lease Management
Lease Origination
Lease Tracking
Maintenance Management
Member Communication
Member Database
Member Directory
Membership Management
Online Payments
Payment Processing
Portfolio Management
Property Database
Property Management
Recurring/Subscription Billing
Rent Tracking
Rental Management
Reporting & Statistics
Reporting/Analytics
Tenant Portal
Tenant Tracking
Third Party Integrations
Transaction Monitoring
Vacancy Management
Web-based Deployment
Website Management
Work Order Management
Irving
Principal in US
Verified LinkedIn User
Real Estate, 2-10 Employees
Used the Software for: 6-12 months
Alternatives Considered:
The easiest and most affordable
Pros:
Definitely the ease of use. Our last software took us months to figure out, and cost a fortune for training. After a few painful years, we finally made the switch because they didn't have certain features we wanted that doorloop offered. To say the software is easy to use is an understatement. We only needed two training sessions (an hour each), and felt like we were proficient enough to get going. What took months before, not only took a matter of days. It definitely took the pain out of migration and training.
Cons:
I'm still waiting for the Zapier integration to be fully connected with all the apps so we can start doing some automation with our other programs.
Real Estate, 11-50 Employees
Used the Software for: 6-12 months
An amazing company with a stellar team!
Comments: Doorloop has streamlined our daily workflow in many ways. The best part of working with Doorloop is the customer service. STELLAR!
Pros:
It comes down to service. Our previous provider lacked quality customer service. Doorloop is a breath of fresh air. They truly go out of their way to make this product the best it can be and to assist in training. The ENTIRE team is amazing. Special kudos to [SENSITIVE CONTENT] who consistently overcome hurdles we have faced and make this product perfect for our organization. [SENSITIVE CONTENT] makes is clear on a daily basis that his job doesn't stop with sales, he has become like a friend and he goes out of his way to be helpful! [SENSITIVE CONTENT] is the best, always sticks to his promises and figures out new ways to impress us on a daily basis!
Cons:
Onboarding with a new software after 8 years with our previous company was tough, but Doorloop went above and beyond to walk us through every step and make it so much easier.
Verified Reviewer
Owner/ Broker in US
Verified LinkedIn User
Real Estate, 2-10 Employees
Used the Software for: 1+ year
Source: GetApp
No Training on the program
Comments: I called to get help on the program was not working properly. They told me I had to upgrade the account. In order to help me. Then he wrote back and told me he hasn't heard from me and he was going to close out my account after they have already collected the money! Don't use [SENSITIVE CONTENT]!
I have never been treated so rude from this company. I always used [SENSITIVE CONTENT] and he was always very helpful!
Pros:
The product was easy to use when it worked right kept all the information together that was needed If it would keep the numbers correct it would have been a great program. It does not work for me. They need more training on the program and better communication.
Cons:
The software did not keep the records correct and you could not delete anything unless you call someone.
DoorLoop Response
3 months ago
This is clearly a fake review and we have submitted a ticket with Gartner to remove it. We always offer unlimited free support and training to anyone regardless of what plan they're on, even if they're not a paying member yet. Why would we tell a paying customer we are going to close their account if they are paying us? Nothing makes sense in this review for a reason, because it's not real.
Real Estate, 2-10 Employees
Used the Software for: 6-12 months
Alternatives Considered:
The support couldn't be better!
Comments: Property management is a new adventure for us and the support we have received throughout the process has been outstanding. From the chat to video calls, I have never been disappointed or unable to get an issue addressed.
Pros:
I really appreciate how intuitive the software is and that there are multiple ways to get to the same place. The way the different features connect to others allow for efficient use of both time and effort for all users. Even if they are accessing through the app. This is well thought out and designed software.
Cons:
The hardest part has been vocabulary - some items a called something different than what we call them and getting that lined out was a challenge.
Bonnie
owner/manager in US
Real Estate, Self Employed
Used the Software for: 6-12 months
Alternatives Considered:
Lease Management
Comments: The ability for clients to pay on-line, email maintenance requests, track upcoming lease expirations and renewals are great. My overall experience has been positive.
Pros:
I like having all of my contracts and client background information in one place. My clients have the option to pay on-line and post maintenance requests. Reconciling debits and credits are straight forward. I have been able to make changes easily as my business needs have changed. Reliable tech support and easy to follow written instructions to common problems online. Ability to add additional administrators to access information and setting up recurring payments is also helpful.
Cons:
Integration with my business was easy with the help of online pre-scheduled meetings with Doorloop technicians.