15 years helping British businesses
choose better software
Local product
What is Circuit?
Circuit for Teams is a sophisticated route mapping solution that's SO SIMPLE to use.
Real-time route management and optimization help you solve problems as they occur, saving your business time and money. With Circuit's easy-to-use software and intuitive app, you can create your first route and start your team using Circuit the same day!
New features are released regularly.
Scalable pricing that flexes to fit your business.
500m+ packages delivered using Circuit each year.
Who Uses Circuit?
Companies that specialize in delivery, want to start offering delivery, or need to improve their delivery operations choose Circuit.
Where can Circuit be deployed?
Cloud-based
On-premise
---
Countries available
Australia, Canada, United Kingdom, United States
Languages
English, Portuguese
Circuit pricing
Starting Price:
Yes, has free trial
Yes, has free version
Circuit has a free version and offers a free trial.
Countries available
Australia, Canada, United Kingdom, United States
Languages
English, Portuguese
Circuit videos and images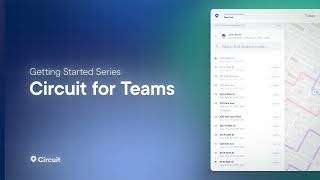 Features of Circuit
Delivery Tracking
Dispatch Management
Driver Management
GPS
Live Driver Tracking
Mobile Access
Mobile Signature Capture
Performance Metrics
Proof of Delivery
Reporting/Analytics
Route Optimisation
Routing
Scheduling
Status Tracking
Tony
CEO in US
Verified LinkedIn User
Environmental Services, 2–10 Employees
Used the Software for: 1-5 months
Reviewer Source
Re: Takes the thought out of routing
Comments: Can't tell you how positive it's been. Customer service is perfectly in-tune with their application and so is management. There are a lot out there to choose from, but we came back to this. Very happy!
Pros:
It's ease of use. We evaluated several different titles and none of them were as easy to use for the Field folks as this. Landscaping has its own challenges, and technology certainly is one of them. This app worked. It just worked. After the demo we went to Industry specific routing app for landscaping, but the guys couldn't figure it out. For the back and it's very very easy to use and configure. I pay for Verizon Connect, and this is a feature that I'm paying for. It's horrible.
Cons:
For our business, and the amount of trips that we have per day we believe it's pretty pricey. We believe that the company can work on their price structure slightly or include additional features like a billing management system. The cost that we pay per month is $200, and I get routing and customer notifications. I also pay $65 a month for Zoho CRM. It would be nice to pay $200 and be able to get everything in one product.
Alternatives Considered: Yardbook
Reasons for Choosing Circuit: Too difficult for my end users to use
Switched From: Verizon Connect and Zoho CRM
Reasons for Switching to Circuit: The ease of use!
Circuit Response
2 months ago
Thank you for the review Tony. We're so pleased to hear that you tried a few options but found that Circuit was the easiest to use and provided the most value for your business. We're releasing new features all the time, so check out our changelog or keep an eye out for our regular new feature emails to see how the latest features could help your business.
Jordan
Delivery Manager in US
Retail, 11–50 Employees
Used the Software for: 1-5 months
Reviewer Source
Circuit Is The Best Investment Our Company Made In 20 Years
Comments: Circuit has been mind blowing for our company and is letting us know just how far behind the times we were in the implementation of our delivery service. It is something we are going to continue to expand in our company, as well as, being the first program I mention to other people dealing with the same difficulties in our field.
Pros:
The most impactful thing about Circuit is really the efficiency it has brought to our company overall. From communication between dispatchers and customers, to the effectiveness of the drivers, to the massively reduced training time of new employees, Circuit has made unbelievable changes to our overall performance. This does not include the fact that the cost of Circuit is only a fraction of the total savings we are getting by using the software. The free trial was also a great investment. Integration into our companies processes was not only simple but also eliminated some of the extra steps we had to do with our old system. We had Circuit fully up and running company wide in just a few minutes and even people who were not at all computer savvy were able to get their portion up and running with little problem quickly.
Cons:
The largest thing that i currently do not like about Circuit is the fact that my drivers cannot mark a break on their route if they are using android or google powered phones. There is an option on Iphones to do this but it has not made it to the other devices as of yet. This is a minor thing however, because when i reached out to the Circuit team they were already aware of it and were working on making it an active thing. I hope to see that update roll out soon.
Alternatives Considered: JumpTrack
Reasons for Switching to Circuit: JumpTrack was very cost prohibitive. The functionality of the product did not seem to offer anything more than other options on the market.
avery
Operations Manager in Canada
Food & Beverages, 11–50 Employees
Used the Software for: 6-12 months
Reviewer Source
Circuit review
Comments: Very consistent. Our drivers use the app virtually everyday and will continue to use it moving forward.
Pros:
The ability to put in delivery time frames for each stop is what got us to sign up. The built in GPS combined with the route optimization based on the delivery windows is what we love about this product.
Cons:
The price is too high. Don't know why everytime a driver is added, you add another $20 USD. Should be a flat fee for single user or business account. We enter the same stops day after day, but Circuit doesn't have the ability to autofill to help find the previous drop off location quicker. As far as I know.
Logistics & Supply Chain, 11–50 Employees
Used the Software for: 2+ years
Reviewer Source
A great product for any size of business
Comments: We took on a new contract which meant a delivery scheduler was required, we then looked at options and Circuit looked like the best fit, we now have 2 drivers and use the software every day. A huge help and we wouldn't be able to run our van deliveries without this software.
Pros:
I love how easy it is to add multiple deliveries onto circuit, either by adding a spreadsheet or manually searching. I also love how Circuit has grown and changed with our business, we have been in meetings with the developors at Circuit to say what was and wasnt working for us and changes have been made on the app as a whole to make the product perfect. Any issues raised have always been sorted very quickly.
Cons:
our deliveries are sometimes constantly the same as we visit charity shops. It would be great to create templates which can be loaded in whenever needed.
Alternatives Considered: Track-POD and RouteMagic
Reasons for Switching to Circuit: It offered more options and a better growth model for smaller to medium businesses.
Carlos
Operation Manager in Chile
Package/Freight Delivery, 2–10 Employees
Used the Software for: 1+ year
Reviewer Source
The best and easy to up for small and medium business
Comments: efficient
Pros:
which is too easy to use and extremely efficient and stable, in all the time I have been using it it has never failed me and the times that the application has crashed it has lasted minutes out of service which speaks very well of the response time of its workers to put it back on, I work from Latin America and despite being a foreign application, for me, it is very well designed for any user and the response time for queries is very fast.
Cons:
It's difficult to talk about what I don't like about circuit because unfortunately I feel that I haven't gotten the most out of it, which is a shame because our operation has improved a lot. If I have to say something, it's that I can't add my clients' emails because They do not want to download the app to see the details of their delivery