Local product
What is GrowthLead?
Automatically send invites, follow-up message, InMails. Answer them inside the app Inbox with AI reply detection, filter and tag options. Use the dashboard to track all your activities. Safe & cloud-based solution.
Who Uses GrowthLead?
Sales teams, SDR's growth hackers, marketers, recruiters. Anyone, who is actively using LinkedIn for lead generation.
Where can GrowthLead be deployed?
Cloud, SaaS, Web-based
About the vendor
GrowthLead
Founded in 2018
Countries available
United Kingdom
About the vendor
GrowthLead
Founded in 2018
Countries available
United Kingdom
GrowthLead videos and images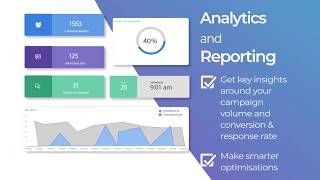 Compare GrowthLead pricing with similar products
Features of GrowthLead
Campaign Management
Contact Management
Data Import/Export
Interaction Tracking
Lead Capture
Lead Engagement
Lead Management
Lead Segmentation
Marketing Automation
Performance Metrics
Pipeline Management
Prospecting Tools
ROI Tracking
Reporting/Analytics
Social Marketing
Template Management
Alternatives to GrowthLead
Bianca
Director in UK
Verified LinkedIn User
Management Consulting, 2-10 Employees
Used the Software for: 6-12 months
Alternatives Considered:
Cellular Attitude Review
Comments: I am so thrilled to have come across Growthlead and absolutely love working with them. Any problem that arises is quickly solved and the team go over and above. I love the young and dynamic feel of this startup and will continue to support their own growth as well as watch my own programme grow as I welcome on more clients and continue to grow more businesses. Everyone is a winner and look forward to working together for time to come. Thanks everyone! Keep levelling up!!!
Pros:
I am a huge fan of Growthlead, the software has enabled me to grow my clients' businesses and get them clients they have wanted to work with for years. I have changed my own offering over lockdown and developed my Level Up LinkedIn programme which I enjoy working on so much. Growthlead saves time, reaches the right prospects and gives you the tools to develop a sales pipeline and reach the desired leads to fit your target audience.
Cons:
I wish there was an easier way to record leads generated from replies on LinkedIn. I had a few issues that stemmed from not knowing some features and functions, such as, withdrawals being automated, changing campaign messaging when it is live and a few other bits. This was down to lack of communication and I am so impressed with the support team who have always been on hand to help me. [SENSITIVE CONTENT HIDDEN] especially, thanks ladies! You are amazing.
Kieron
Founder in Australia
Marketing & Advertising, Self Employed
Used the Software for: 1+ year
Good, easy, but limited
Pros:
Super easy to setup. Saves a lot of time with auto replies and sequences. You can achieve the same thing for cheaper and more power with a combination of tools, but this really puts the whole LinkedIn process on autopilot.
Cons:
I found it way too restrictive when I was using it. There was very little room for personalization beyond first name and (maybe) company name. At the time you could use one or two other data points from LinkedIn, but you had to use them verbatim, which rendered most useless (ie. not very natural to work "Greater Melbourne City, Victoria" into a message). I believe they have made some improvements in this space recently though.
Professional Training & Coaching, Self Employed
Used the Software for: 1-5 months
Alternatives Considered:
Would be good if it worked - but it doesn't. Terrible, buggy software, negligible support.
Comments: This software promised great things, and the demo looks wonderful. However, the user experience is very different. Every feature has failed at some point, and some features just don't work at all. Support cannot help. I really want this software to work, and I've stuck with it for months, but reluctantly I've had to abandon it because it just isn't fit for purpose. I've asked for a refund, because I'm not a beta tester, and if I pay for software I expect it to work. This doesn't.
Pros:
Great features, especially the new inbox feature which would be wonderful if it worked more than one day a week. Unfortunately it doesn't.
Cons:
The inbox function flat-out doesn't work most of the time. It won't load messages, and the mute/unmute function doesn't work. CSV upload doesn't work. Lists filtered by one criterion switch to another without warning. If you don't notice, you can easily send the wrong message to people by mistake. Tags disappear randomly, so you can't be certain that you've captured leads properly. Campaigns randomly stop working. It's very difficult to assess who's had messages & who hasn't, so that has to be done manually. Messages don't send, then back up & are sent all at once. Some people got 3 messages on consecutive days, when they were supposed to be a week apart. Message gaps are measured from the time of connection, rather than last message. No way to move people from one campaign to another, & they can only be part of one campaign at a time. This is severely limiting. It takes so long to do things with this software that it is cheaper to hire a VA and do it manually. Support is worse than useless. They're polite & friendly, but can't provide fixes. They constantly promise that everything will be fine in a "new release" that never comes. They only work US hours, & often take 1-2 days to respond to support requests. There is no follow-up, so you have to keep nagging them. They are sometimes defensive, stating that as 2,500 businesses use this software, it must be OK. I don't know how anyone uses this software, or how other reviewers haven't had these problems. Avoid!
Verified Reviewer
Technical Researcher in Ukraine
Verified LinkedIn User
Staffing & Recruiting, Self Employed
Used the Software for: 1+ year
Сan be applied everywhere: sales or recruiting....it is doesn`t meter
Comments: GrowthLead helps me in my recruiting needs, I can cent as much messages as I need
- always can export/import leads
- see analitycs
- re-invite my candidates
Pros:
- easy to use - a lot of possibilities of integration because of webhook technologies - multitasking - reporting
Cons:
- adding files to the autoresponder message
Sarosh
Business Development/ Growth Engineer in Pakistan
Computer Software, 11-50 Employees
Used the Software for: 1-5 months
Growth lead Review As a daily User
Pros:
Very Strong Tool for Linkedin Automation Work Best with sales Nav
Cons:
Need to better the CSV file Import by making the Tool intelligent enough that it could subtract the 1st degree connection by it self.