What is Keto?
A no-code platform for innovation and development. Intelligent and human-centric tool for PMO, Innovation and R&D.
All your ideas, projects, resources, risks and innovations in one place in the Cloud. Digitalise your development processes with a user-friendly tool. Gain efficiency, cost transparency, speed up your time-to-market and increase your ROI – get Return On Innovation!
We turn your development costs into measurable results.
Who Uses Keto?
IT PMO, PMO, Innovation Management, R&D, Resource Management. Organisations investing in innovation and development in various verticals, such as machinery, pulp and paper, banking and public sector.
Where can Keto be deployed?
Cloud, SaaS, Web-based
About the vendor
Keto Software
Phone Support
About the vendor
Keto Software
Phone Support
Keto videos and images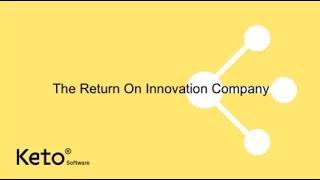 Compare Keto pricing with similar products
Features of Keto
API
Access Controls/Permissions
Activity Dashboard
Agile Methodologies
Alerts/Notifications
Approval Process Control
Approval Workflow
Audit Planning
Backlog Management
Billing & Invoicing
Budget Management
Budgeting/Forecasting
Business Process Automation
Calendar Management
Capacity Management
Change Management
Client Portal
Collaboration Tools
Commenting/Notes
Cost-to-Completion Tracking
Customer Database
Customer Journey Mapping
Customisable Dashboard
Customisable Templates
Dashboard
Data Aggregation and Publishing
Data Capture and Transfer
Data Import/Export
Data Visualisation
Deployment Management
Document Management
Drag & Drop
File Sharing
For IT Project Management
For No-Code Development
Forecasting
Forms Management
Functions/Calculations
Gantt/Timeline View
Goal Setting / Tracking
Idea Management
Ideation
Innovation Management
Integrations Management
Issue Management
Iteration Management
KPI Monitoring
KRI (Key Risk Indicator) Monitoring
Kanban Board
Milestone Tracking
Percent-Complete Tracking
Performance Metrics
Polls/Voting
Portfolio Management
Pre-Built Modules
Prioritisation
Product Lifecycle Management
Product Roadmapping
Progress Tracking
Project Planning
Project Planning/Scheduling
Project Tracking
Real Time Notifications
Reporting & Statistics
Reporting/Analytics
Reporting/Project Tracking
Requirements Management
Resource Management
Resource Request
Resource Scheduling
Risk Assessment
Risk Management
Roadmapping
Scenario Planning
Scorecards
Search/Filter
Single Page View
Skills Tracking
Status Tracking
Strategic Planning
Surveys & Feedback
Tagging
Task Management
Task Progress Tracking
Task Scheduling
Template Management
Templates
Time & Expense Tracking
Time Tracking
Utilisation Reporting
Visual Modeling
Visual Workflow Management
Visualisation
Widgets
Workflow Configuration
Workflow Management
Computer Software, 2-10 Employees
Used the Software for: 2+ years
Agile and powerful at the same time
Pros:
Flexibility, easy of use, no-code possibility
Cons:
Maybe some minor issues but easy and fluent experience in general.
Keto Software Response
last month
Thanks for your review. Good the get the positive review.
Sladjan P.
CIO Office & IT Strategy PM in Switzerland
Utilities, 1,001-5,000 Employees
Used the Software for: 2+ years
Alternatives Considered:
High Flexibitliy, but requires deep know-how of the tool
Comments: High flexibility, great support, many possibilities
Pros:
The tool is very flexible and can cover many of our requirements as we would like to have them. Idea Managemenent, Workflows, Ressource Planning, Project Planning, Risk Management, Dashboards, etc. are included and can be adapted to the needs of the company.
Cons:
Once the usage of the tool and the amount of data increased we had some performance issues, those have been mostly solved in the meantime. Quite often we are also running into Bugs, but the support of Keto is great and those are usually fixed quite fast. Last but not least also the overall costs for licenses and changes (adaptions on the systems) shouldnt be underestimated, since individual adaptions require quite some know-how about the application and have to be performed by Keto.
Keto Software Response
6 months ago
Thanks Sladjan for your review. We are currently developing our online learning and training platform and main user UX and capabilities. I'm sure you will find those useful. Veli-Matti will tell you more in details about our R&D roadmap.
Mira R.
PMO asiantuntija/PMO specialist in Finland
Nonprofit Organization Management, 501-1,000 Employees
Used the Software for: 2+ years
Opinions of system
Comments: Basic system for portfolio management which still need development compared to competitors.
Pros:
Ease of use and making announcements in the system is also easy.
Cons:
There should be more Scalable and customizable views in systems by users in portfolio level. There is not visual addiction map of projects.
Keto Software Response
6 months ago
Dear Mira. Thanks a lot for your response and review. It's very valuable to get the feedback. Our account responsible Jari will take immediate action to create better portfolio level views as they can be done without hardcoding. We'll open a new online learning platform to give you the opportunity to be trained to create these views also by yourself. Meanwhile, Jari will help you there.
Robert S.
Development Manager, R&D in US
Machinery, 10,000+ Employees
Used the Software for: 2+ years
All in One Place
Comments: Having not worked with anything quite like Keto in the past, the all encompassing nature of the application, and many of its features, are quite welcome. There is a long way to go in fully taking advantage of the power of the application, but we will get there.
Pros:
The use of Keto allowed the R&D team to pull several aspects of project management (e.g. schedule, budget, risk, NPV, etc.) into a common location whereas they had all been created and tracked in disparate applications. Keto also allows for a number of useful, customizable, dashboards providing for quick review of the entire project portfolio for any given metric.
Cons:
It is not always easy to understand how to use the various features to their full potential. The user manual we have is woefully inadequate. On the other hand, our Keto support team is always quick to reply to inquiries and is very helpful.
Keto Software Response
last month
Thanks a lot for your review.
Computer Software, Self Employed
Used the Software for: 2+ years
Project management for learning and teaching tasks
Pros:
I was teaching and coaching students, and I was considering easy to use project software. The Keto software as one option. After teaching, I am using the Keto software my projects. I like it offers all the needed features and functionalities. The Keto project management apps was easy to learn.
Cons:
The Keto project app is sometimes low and responses have to wait.
Keto Software Response
last month
Thanks a lot for your review. We hope that you will extend the usage to the whole organization.