Local product
What is Proteus?
Proteus is a low-cost all-in-one project management solution built by energy industry experts for companies in the energy sector. Proteus brings planning energy projects, resource management, project management, team management and project financials into one integrated solution. Proteus helps companies become more profitable by giving full control over resource utilisation, crucial to staying competitive in a low margin environment. Get control over your projects and keep work simplified.
Who Uses Proteus?
Companies operating in or servicing today's energy sector. If you rely on people, time and projects, Proteus offers a dynamic, all-in-one solution, specifically for energy sector needs.
Where can Proteus be deployed?
Cloud, SaaS, Web-based, Mac (Desktop), Windows (Desktop), Android (Mobile), iPhone (Mobile), iPad (Mobile)
About the vendor
Xergy
Located in Aberdeen, UK
Founded in 2019
Phone Support
Chat
Proteus pricing
Starting Price:
US$15.00/month
Yes, has free trial
Yes, has free version
Proteus has a free version and offers a free trial. Proteus paid version starts at US$15.00/month.
Pricing plans
get a free trial
About the vendor
Xergy
Located in Aberdeen, UK
Founded in 2019
Phone Support
Chat
Proteus videos and images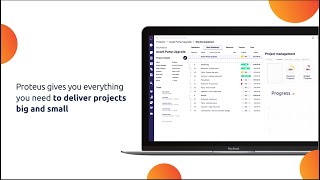 Features of Proteus
Accounting
Activity Tracking
Alerts/Notifications
Automatic Time Capture
Billable & Non-Billable Hours
Billing & Invoicing
Budget Management
CRM
Calendar Management
Capacity Management
Client Portal
Collaboration Tools
Contact Management
Content Library
Content Management
Cost-to-Completion Tracking
Create Subtasks
Customisable Templates
Customizable Fields
Data Import/Export
Document Management
Employee Database
Employee Management
Employee Scheduling
Enterprise Asset Management
File Sharing
Financial Management
Forecasting
Gantt/Timeline View
HR Management
Import Tasks
Integrated Business Operations
Inventory Management
Knowledge Base Management
Manufacturing Planning
Mobile Access
Multi-Location
Online Time Tracking Software
Order Management
Overtime Calculation
Percent-Complete Tracking
Performance Metrics
Portfolio Management
Project Management
Project Planning/Scheduling
Real Time Data
Real Time Editing
Real-time Updates
Recurring Tasks
Remote Access/Control
Remote Support Software
Reporting & Statistics
Reporting/Analytics
Reporting/Project Tracking
Resource Management
Resource Request
Resource Scheduling
Scheduling
Supply Chain Management
Task Editing/Updating
Task Management
Task Progress Tracking
Task Scheduling
Task Tagging
Templates
Third Party Integrations
Time & Expense Tracking
Time Tracking
Timesheet Management
Utilisation Reporting
Vacation/Leave Tracking
Vendor Management
Version Control
Warehouse Management
Workflow Management
Verified Reviewer
Managing Director in Nepal
Verified LinkedIn User
Design, 11-50 Employees
Used the Software for: 2+ years
Proteus is a comprehensive work management and project management tool
Comments: The Proteus platform allows me to get new projects up and running faster than ever. Not only does it have a way to handle the entire project from start to finish, but it also allows me to handle the financials for my freelance business. This takes a lot of the stress off of my plate and keeps me focused on the task at hand.
Pros:
Proteus is a great tool for freelancers who want to streamline the process of running their business. This web platform allows you to create and track new business proposals, convert them into projects, manage people, resources, and time, and ultimately track and monitor all financials. It also has a built-in forum where you can chat with other freelancers, which makes it easier to find new clients and jobs.
Cons:
No complaint on Proteus. All features are useful and lead us to success in a short period of time.
Professional Training & Coaching, 51-200 Employees
Used the Software for: 1-5 months
Fantastic Software
Comments: Our experiences with Proteus has been excellent, they approached us with an exciting piece of software that has cut large portions of our costs and improved our workflows. Highly recommend!
Pros:
The integrated timesheet system as well as the project management functions really improved the efficiency of our workflows. How me manage our data and track our progress is far easier and quicker.
Cons:
Switching software and learning a new interface was daunting at first but after 20 minutes we accustomed ourselves with the product.
Barry
Managing Director in UK
Oil & Energy, 11-50 Employees
Used the Software for: 6-12 months
Proteus
Comments: The team very much find the system an advantage to are ongoing operations. The support function if and when required is only a phone call or teams call away. The Proteus team were also able to customise the system as and when required to suit how are business operates in the market
Pros:
The software is very user friendly and very quick to train personnel on. I find the dashboards very easy and quick to identify each project status
Cons:
We had no issues at the time of selection or role out
camryn
Commissiong and Start-Up Operations in United Arab Emirates
Oil & Energy, 10,000+ Employees
Used the Software for: 1-5 months
Proteus review from a user
Comments: Overall experience with Proteus is superb. Easy/simple/straight forward to use and the amount of man hours it has saved myself and other members in my team, it has paid our Contractor back within first 2 weeks of having it.
Pros:
There are many pros to this software but for me it was the ease of creating proposals for prospective clients. Usually have to pull data from 'old job' proposals or excel spreadsheets which arent necessarily located in one database. This means there is a lot of duplicate work done when creating a proposal and hence a lot of man hours wasted. Proteus makes it easier to input the data into required fields in the proposal template and then at end of the process, the proposal is given a numbered reference that you can pre-determine and is then stored in a library, thus making it easier to find if required further down the line. The proposal is then tracked the whole way through the sytem . If it is accepted by the client, the proposal then moves to the project stage within Proteus and all the relevent data is now able to be seen/tracked in the Project phase of the job. In layman's terms. It simplifies the work process.
Cons:
Least favourite part of the software was a lot of the graphs/charts were in colour as you would expect but I am red/green colour blind so couldnt read it properly.
Oil & Energy, 11-50 Employees
Used the Software for: 6-12 months
An invaluable end-to-end solution for the new digitalised, remote work environment
Comments: Proteus has been built for the energy sector, which really shows. It is a new product and could do with some refinement but with Proteus 2.0 due to launch imminently, big improvements are on the way.
Pros:
The proposal module is game-changing - it allows us to quote for business so much faster than before but to a higher standard. We're therefore bidding for more business than ever and able to immedately convert successful proposals into projects.
Cons:
Although integrated with a wide range of open APIs, broader integrations would be helpful.