What is Octopus CRM?
Willing to send a connection request on LinkedIn, shoot a thank you message after the request is accepted, then send a sales message and continue with follow-ups?
Then Octopus CRM is the right tool for you, which allows to:
- send connection requests in bulk
- mass message connections
- auto endorse skills
- auto view profiles
- build a sales funnel on LinkedIn.
- and view analytics page that shows LinkedIn daily performance, campaign conversion rates, and more.
Who Uses Octopus CRM?
Octopus CRM is used by business owners, marketers, and recruiters to automate repetitive tasks on LinkedIn, improve prospecting and save time.
Where can Octopus CRM be deployed?
Cloud, SaaS, Web-based
About the vendor
Octopus CRM
Founded in 2018
Countries available
United States
About the vendor
Octopus CRM
Founded in 2018
Countries available
United States
Octopus CRM videos and images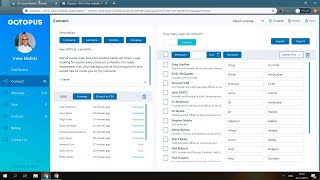 Compare Octopus CRM pricing with similar products
Features of Octopus CRM
Automated Publishing
Campaign Management
Contact Database
Conversion Tracking
Customer Segmentation
Data Import/Export
Drip Campaigns
Lead Capture
Lead Engagement
Lead Notifications
Lead Qualification
Marketing Automation
Multi-Account Management
Performance Metrics
Personalisation
Pipeline Management
Prospecting Tools
Reporting/Analytics
Sales Pipeline Management
Social Media Integration
Task Management
Web-based Deployment
Alternatives to Octopus CRM
Ryan
Executive Director in US
Verified LinkedIn User
E-Learning, 2-10 Employees
Used the Software for: 1-5 months
Scaled Meaningful Connections, a Partnership Maker's Dream CRM
Comments: From the trial, to support Q&A, and through to the purchase of the OctopusCRM I have had no complaints and I've have already recommended it to several friends. I highly recommend this product.
Pros:
The past 3 months of using Octopus has quadrupled my connections. I've paid "expert LinkedIn" consultants far more to achieve far less. Octopus automated messaging once connected went a long way to warming up leads prior to the first initial call. From what I've discovered there is no better, less expensive, way to automate connections and communications on LinkedIn.
Cons:
One feature I would like to see added is the ability to further filter a list once the list is imported to Octopus. In order to reach out to the most appropriate contacts it is important to filter out unnecessary outreach and get more "shots on goal".
Information Technology & Services, 51-200 Employees
Used the Software for: 6-12 months
Alternatives Considered:
Octopus the best afordable CRM
Comments: Mass mailing with personalization of emails
Pros:
integration with Sales navigator and Discovering org
Cons:
Could be nice to have a kind of an easy transfer and duplication mode from our old CRM
Human Resources, 2-10 Employees
Used the Software for: 1-5 months
Simple product and great value for money.
Comments: Overall it is a very straightforward product and if the developers can improve the workflow it should attract a good user base, very well priced.
Pros:
Works with LinkedIn to leverage your contacts and gain new leads.
Cons:
The campaigns facility could do with being revamped to make it easier to use.
Joe
IT Directot in Canada
Electrical/Electronic Manufacturing, 201-500 Employees
Used the Software for: 2+ years
Alternatives Considered:
Octopus crm
Comments: I will not recommend it at all. Not user friendly
Pros:
Best thing about this software is the KPIs and the categorization that has for stats performance
Cons:
The worst thing about it cant do specific templates and the worst when to close a ticket, many things system force to go through before closing or resolving. Resolving tickets stays for days in the pool that doesnt make any sense to keep them there.
Environmental Services, Self Employed
Used the Software for: 1-5 months
Alternatives Considered:
Total game changer
Comments: LinkedIn is the only social platform that my company uses on a daily basis. When I found Octopus it was a total game changer. It has given me more time to grow my business and make me lots of money. Just to be candid I have about 15 clients and over half of them were because of Octopus.
Pros:
I love that it runs in the background and it gives me time to focus on other things all while growing my business.
Cons:
It would be great to have a like or comment section.