What is Explain Everything?
Explain Everything app is perfect for any teaching scenario: remote learning, in-person lessons or hybrid teaching. With over 20 million downloads all around the world, the software supports educators, students, and even doctors and creative professionals in their everyday learning and communication processes.
Our app is available on iOS, Android and as on the web.
The app is integrated with the most popular LMS and video communication tools.
Who Uses Explain Everything?
Individuals, teams and educational institutions
Where can Explain Everything be deployed?
Cloud, SaaS, Web-based, Mac (Desktop), Windows (Desktop), Linux (Desktop), Windows (On-Premise), Chromebook (Desktop), Android (Mobile), iPhone (Mobile), iPad (Mobile)
About the vendor
Explain Everything
Founded in 2015
Chat
Countries available
United States
About the vendor
Explain Everything
Founded in 2015
Chat
Countries available
United States
Explain Everything videos and images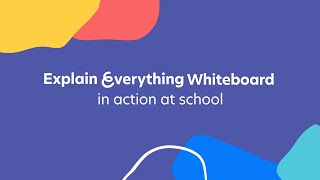 Compare Explain Everything pricing with similar products
Features of Explain Everything
Ad hoc Reporting
Animation
Collaboration Tools
Customisable Templates
Data Import/Export
Ideation
Media Library
Offline Presenting
Reporting & Statistics
Third Party Integrations
User Management
Video Support
Alternatives to Explain Everything
Reviews of Explain Everything
Andrew K.
Occasional Teacher in Canada
Verified LinkedIn User
Education Management, 1,001-5,000 Employees
Used the Software for: 1+ year
Amazing!
Comments: I use this frequently as part of my teaching. It was necessary to be able to properly deliver information to students online.
Pros:
This is one of the absolute best products in its space. I have tried to find free alternatives, but nothing compares to the features and functionality of EE. It is definitely worth the money if you are an educator teaching online.
Cons:
I wish that some of the drawing tools were a little bit more powerful, but aside from that, no real complaints. Given that it is more for annotating / writing notes, I can see why the pure drawing features may not be at the top of the list of priorities.
Pam C.
Math Teacher in US
E-Learning, 51-200 Employees
Used the Software for: 2+ years
I won't teach with out it
Comments: I love it!! I use this program EVERY day in my classroom. It will project any file onto my screen that I can write on or manipulate to help my students learn.
Pros:
I love being able to pull up my notes in pdf form and can write on them with my students. I can highlight, manipulate shapes, use different colors for emphasis, and work out problems. I also like to flip my classroom for part of the year and this allows me to make videos using the same format that they are use to in class. I simply teach the lesson using explain everything while recording my voice and writing on the notes. It is easy to upload to any platform and share with my students. This program made a huge difference when we had to teach in an online platform when schools shut down. Since I use this program everyday, the students had a smooth transition to online learning.
Cons:
There is not much that I do not like about this program, however I do with it had a few more shapes to incorporate for geometry.
Sri R.
Lecturer in Indonesia
Education Management, 501-1,000 Employees
Used the Software for: 1-5 months
Explain concepts more clearly using Explain Everything's intuitive whiteboard
Pros:
Explain Everything provides more engaging slide presentations. It helps explain concepts in a clearer way, as Its whiteboards are very intuitive and can support multi formats: image/video, audio, file, clipart, sticky notes, screenshot, emojis, etc. Using Explain Everything enables us to design presentations in more creative, interesting, and fun ways not only for younger learners but also for adult learners.
Cons:
Sometimes It needs a bit of delay to open and save a project compared to other digital tools that I have ever used.
E-Learning, 51-200 Employees
Used the Software for: 2+ years
I LOVE Explain Everything!
Comments: Have I said that I love Explain Everything? I'm serious, it's so cool, and it's fun to use. Try it, and try the free certification course they provide. Then make something!
Pros:
I am actually excited to write this review. I love Explain Everything so much! It is such an amazing tool. I have been familiar with EE in teaching for many years and have seen it evolve. In its current feature-rich (an understatement) version, it is possible for someone who has not studied graphic design or video editing (me!) to make engaging and informative content. It is accessible to someone without a lot of training, and it can do so many things, but at the same time, I don't end up creating cookie-cutter content. I have to dial back my enthusiasm, lest you think I'm unhinged.
Cons:
Part of using Explain Everything is putting some time in to learning it. It's not nearly as hard to learn as something like Photoshop, but it's not as easy as, say, Google sites. Explain Everything is worth the time. And the creators have made boatloads of new instructional resources (made with Explain Everything, of course) that have helped me get to a level where I feel more fluent with the tools.
Theresa O.
Dept Chair in US
Education Management, 51-200 Employees
Used the Software for: 2+ years
Awesome Tool for Presenting
Pros:
Ease of use. Can easily import documents (pdf) and annotate on the document. Can export to Google drive to share.
Cons:
Basic features, but not missing anything that I use regularly.