Local product
What Is HaloITSM?
HaloITSM is a single, all-inclusive ITSM software solution. It will transform your current ways of working into intuitive, up-to-the-minute workflows, as well as give your teams the ability to deliver the very best service to customers and employees alike.
It wont just standardize your processes, but it will also deliver valuable analytics, so you can match your IT delivery to the true needs of your business, present, and future.
Who Uses HaloITSM?
Ideally suited to companies of all sizes and from any industry, looking for an intuitive ITIL aligned service desk solution.
Where can HaloITSM be deployed?
Cloud, SaaS, Web-based, Mac (Desktop), Windows (Desktop), Windows (On-Premise), Linux (On-Premise), Android (Mobile), iPhone (Mobile), iPad (Mobile)
About the vendor
by Halo Service Solutions
Founded in 1994
Phone Support
24/7 (Live rep)
Chat
HaloITSM pricing
Starting Price:
£25.00/month
Yes, has free trial
No free version
HaloITSM does not have a free version but does offer a free trial. HaloITSM paid version starts at £25.00/month.
Pricing plans
get a free trial
About the vendor
by Halo Service Solutions
Founded in 1994
Phone Support
24/7 (Live rep)
Chat
HaloITSM videos and images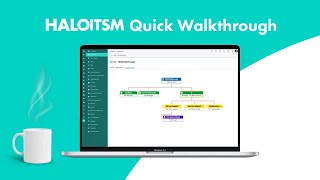 Owen W.
Director in UK
Verified LinkedIn User
Information Technology & Services, 2-10 Employees
Used the Software for: 6-12 months
Feature Rich and a Great User experience
Comments: Excellent Service with an Excellent Product. Their customer service is very good with someone always happy to help as soon as you call in.
Pros:
It has such a vast selection of features, Almost every aspect of customisable and the Web Interface is excellent.
Cons:
With it having such a WIDE selection of features, the issue I found is that the configuration is very complex, sometimes takes a moment to figure how to change a setting.
Alternatives Considered: Freshdesk, Zendesk, Zoho Desk and Atera
Reasons for Switching to HaloITSM: Their Value for money and Premium product was worth investing in.
Wendy D.
Desktop Support Lead in US
Information Technology & Services, 501-1,000 Employees
Used the Software for: 6-12 months
Source: SoftwareAdvice
Best Service Desk Software
Comments: We are using Halo for ticketing across multiple teams, not just IT. We have HR, Payroll, Workforce Management, Product Support, and Employee Experience teams all fielding requests from Halo.
Pros:
Halo is the first service desk/ticketing software that I've used in my almost 20 year IT career that I can honestly say I LOVE. Implementation was the smoothest I've ever seen. Our rep is fantastic and responsive to any of our needs. I love how easy things are to customize. Things like adding an action button, a new ticket type, or a workflow are super easy. I use it everyday and I've recommended it to other IT contacts who I know are struggling with other IT ticketing solutions. Hands down the best!
Cons:
It's hard to say anything bad about it. I'd love if the knowledge base was a bit more robust, like having a life-cycle for articles, being able to truly have an internal KB for agents that could also have FAQ lists, and maybe some extra security options for who can see some of the KB articles on the end user side (restricting something to say, managers only or an AD group or something like that).
Alternatives Considered: Salesforce Sales Cloud
Reasons for Choosing HaloITSM: SolarWinds Web Help Desk was feeling very dated and did not have the customization ability and features that were important to us. It was very clunky to add categories and ticket types and the end user experience was sub par. The end-user portal in Halo is a million times better.
Switched From: SolarWinds Service Desk
Reasons for Switching to HaloITSM: The price was a huge factor in the initial choice between the other options, but once we started working with the team and our account rep we knew we'd made the right choice. The Service Now rep was super unresponsive to our request for a demo and it took forever to get an initial quote. Our Halo rep contacted us the same day that we reached out and was more than happy to set up a demo right away. He's amazing!
Mechanical or Industrial Engineering, 51-200 Employees
Used the Software for: 2+ years
Multi Function
Comments: We've been using NHD for the last 4 years, and it has been suited to our needs to cover our IT, Systems and Facilities teams. It has sufficient customisation and security to allow us to use the system for logging our tickets across the departments, and security to allow segregation of information, for example IT cannot see Facilities tickets and vice versa. We also like the automated ticket function for regular tasks in IT and Facilities. Reporting functionality is suitable for our needs too, allowing us to report on the team's activities, monthly, quarterly and annually.
Jacob W.
Operations Technical Lead in UK
Information Technology & Services, 11-50 Employees
Used the Software for: 1-5 months
Slick web application with excellent support
Comments: We replaced our previous outdated ticket management system, like for like, as well as getting some much needed added features. Such as automated SLA tracking and assignment, as well as automated report generation and distribution.
It's saved us countless hours of administration work in the reporting process.
Pros:
NetHelpDesk (specifically the web app variant) is a slick, modern and powerful ticket management system, unlike the vast majority of its competitors it has a very clean interface, which in turn is customization. It's the fastest ticketing software I've ever used, at least in the cloud based environment. Customisation was a breeze thanks to the very knowledgeable and helpful consultants who were sent to our offices for the initial configuration of the system, they gave great advice and made understanding how the configuration sat together a breeze.
Cons:
For the most part the system is excellent, a few small cons: Configuration can be quite repetitive, as the solution is primarily rule based, so you find yourself entering lots of rules which are slightly different from each other, if at any point you decide to overhaul something like your priority matrix, but with a little thought during implementation, you should only need to do this once.
Mark R.
Head of Operations in Australia
Health, Wellness & Fitness, 1,001-5,000 Employees
Used the Software for: 2+ years
NetHelpDesk where have you been all my life?
Comments: The staff of NHD listen to you and tailor their approach to your business on an individual and customised method appropriate to your needs and expectations. The NHD team are incredibly versed in their product and any support assistance if needed is delivered incredibly efficiently and with minimal disruption to service if any. I can not recommend this product highly enough - so much so that I have now implemented this in two different organisations.
Pros:
I can not rate this product highly enough; the software has come on leaps and bounds since I first started using it and arguably the most noticeable improvement is the optional to use swish web interface which is easy on the eye, performs quickly and is fully customisable to your brand, colour schemes etc. The simplicity of the application is also incredible and actually improves the user and admin experience tenfold.
Cons:
The only negative I have at present is that not all functionality in the NHD client is available in the Web Portal - however this is on the development roadmap and will be imminently factored in. There is also a seemingly over complicated way of managing incidents that require different ticket templates to follow a incident > major incident > problem format rather than a more simple work flow trigger that could start this process for you. However this is more a lazy comment than anything else. I tell a lie, there is one more thing that is a negative; it wont make me a cup of coffee! However that being said, I have such confidence in the capabilities of the NHD team; I would bet it will make me a coffee in a future release!