What is Range?
Range is a powerful tool that reimagines status updates so your team remains on track and in sync every day. It helps everyone on your team plan their day and share progress in minutes to keep everyone connected, focused, and productive no matter where they're working.
Who Uses Range?
Knowledge worker teams, from engineering and product to sales and marketing.
Where can Range be deployed?
Cloud, SaaS, Web-based
About the vendor
Range
Located in San Francisco, US
Founded in 2017
Phone Support
Chat
Range pricing
Starting Price:
US$8.00/month
Yes, has free trial
Yes, has free version
Range has a free version and offers a free trial. Range paid version starts at US$8.00/month.
Pricing plans
get a free trial
About the vendor
Range
Located in San Francisco, US
Founded in 2017
Phone Support
Chat
Range videos and images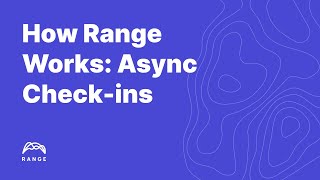 Features of Range
Action Management
Activity Dashboard
Activity Tracking
Activity/News Feed
Alerts/Notifications
Collaboration Tools
Communication Management
Discussions / Forums
Email-to-Task Conversion
Employee Recognition
Feedback Management
File Sharing
Goal Management
Import Tasks
Meeting Management
Progress Tracking
Pulse Surveys
Question Library
Real Time Notifications
Recurring Tasks
Remote Access/Control
Reporting & Statistics
Reporting/Analytics
Single Sign On
Strategic Planning
Task Editing/Updating
Task Management
Task Progress Tracking
Task Tagging
Andrew
Director of Innovation and Experience Strategy in US
Verified LinkedIn User
Computer Software, 10,000+ Employees
Used the Software for: 2+ years
The easiest way to support agile, remote work and workers
Comments: The company itself is great. I appreciate the outreach and support that we've gotten so far. And as I mentioned above, it streamlines a lot of the very manual check-in processes that we used to use. Adoption is growing exponentially, which feels like an overall success for me.
Pros:
We're an incredibly distributed team. Over 50 people spread across three continents and a dozen different sites. Range helps me set shared objectives for my team and then gives me a view of what people are working on. I love that it ties updates to goals, and that it surfaces blockers and concerns in an easily digestible way. The additional questions that create trust and shared understanding are icing on the cake.
Cons:
It's very G-Suite centered. That worked well at my previous company where we were deeply embedded within the Google ecosystem. It's a bit more challenging in a Microsoft tools world (Office, Sharepoint, Outlook). Not impossible, but it does require a bit more work.
Range Response
2 years ago
Thanks so much for the feedback Andrew - we've got more integrations underway, so stay tuned.
Franz
CTO in Trinidad & Tobago
Verified LinkedIn User
Internet, 2-10 Employees
Used the Software for: 6-12 months
Nice Approach to OKR's
Comments: Great,
Customer service on point and the help articles keep it KISS oriented.
Pros:
I think the way it's organized. It's pretty clear where to get things done. At the end of the day you've got to understand the OKR philosophy to make any of these OKR saas offerings to make sense. If you do understand OKR then range really flows as an organic extension of that philosophy. I love the meeting features and especially the 1:1 s as well The culture feature is something I have always looked for from fan OKR solution and Range nails it both with emojis and and org questions to foster a winning culture even if your team is remote.
Cons:
Some of the integrations require webhooks which may be totally necessary but do reduce my user experience a bit.
Alternatives Considered: Perdoo and Podio
Reasons for Choosing Range: The user interface at Range was more appealing and the flow of how my team thinks is a better fit with Range
Switched From: Perdoo
Reasons for Switching to Range: A mixture of bang for the buck and what my company needs at this point in time
Range Response
2 years ago
Franz, thank you so much for your very thoughtful review and feedback of Range. Lots of encouragement for the team. If ever you're up for connecting to share more of yours and your team's experience with Range I would love to chat!
Ruth
Business Development Consultant in US
Market Research, 11-50 Employees
Used the Software for: 6-12 months
Ome of the best communication resorces I have been provided
Comments: Over all, as an end user only, this program is one I like and find to be useful to being able to do my job.
Pros:
The ability to connect and network quickly and easily with my team.
Cons:
Some things are buried so deeply that they are time consuming to access. Also, while having the capability to pick up a phone from multiple platforms is nice, having a call ring in on one platform while I am trying to dial out on another has proven problematic for me.
Range Response
last year
Hi, Ruth. Thanks for taking the time to share your experience and feedback with Range here. I hope some of the updates we're working on make Range an even better tool for your team.
Philip
Solutions Team Lead in US
Online Media, 11-50 Employees
Used the Software for: 1-5 months
Range is the tool we were missing!
Comments: Overall, it's been really incredible. We've gone from boring, under-utilized, lacking stand-ups in Slack to using a tool multiple times a day. We're engaging with each other and appreciating our peers. It's been fantastic!
Pros:
The product is incredibly easy to use, and my team members have really jumped right in. It's a really clean, useful, fun way to collaborate with each other. Range provides an intelligent way to perform our daily stand-ups. The Range team has been awesome to engage with, and was open to hear my feedback and ideas. It's hard to say what I like most, as it is such a huge improvement over the other tools we tried to use before. All in all, the best aspects are the development of team culture and progress of cohesion and collaboration which Range encourages.
Cons:
This is hard, because the developers and designers have done an excellent job with this product. One thing is that we work across time zones as well as weekends. My team members who work on Saturday receive the Monday check-in question "How was your weekend?".
Range Response
2 years ago
Hi, Philip. Thank you so much for this great feedback! We're really happy to hear that you're enjoying Range so much and that it is providing real value for your team. Would love to connect and learn more about your experience with Range so far if you can find the time.
Adam
Director, Platform Engineering in US
E-Learning, 201-500 Employees
Used the Software for: 1-5 months
Range is the easiest way to stay in sync with your remote team
Pros:
It was dead simple to set up and the Slack integration made it an immediate natural extension of our team's daily workflow!
Cons:
The UX of Objectives is difficult to navigate and we are still finding new easter eggs hidden as we explore it more. I'm really interested in using Objectives as a lightweight replacement for tools like TeamGantt but it's not _quite_ there yet.
Range Response
2 years ago
Really appreciate your feedback in this review, Adam. Thank you! Would be great to connect and hear any more feedback you might have and see how we can continue improving Range for you and your team.