What is AirVote?
AirVote is a self-service customer feedback tool.
Designed to post specific questions in multiple locations without high implementations or usage costs. AirVote QR smileys are posted on the inside of the restroom units. Supports real-time alerts and trend reports. Free forever for moderate use of <50 responses per month
Who Uses AirVote?
Any brick-and-mortar business. Airports and transportation. Portable restroom operators. Franchises or store chains. Recreation and entertainment. Healthcare. E-commerce business.
Where can AirVote be deployed?
Cloud, SaaS, Web-based, Mac (Desktop), Windows (Desktop), Linux (Desktop), Chromebook (Desktop)
About the vendor
AirVote
Located in Austin, US
Founded in 2019
Phone Support
Chat
About the vendor
AirVote
Located in Austin, US
Founded in 2019
Phone Support
Chat
AirVote videos and images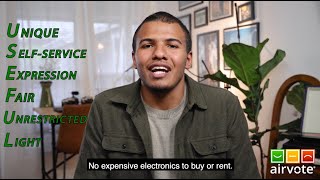 Compare AirVote pricing with similar products
Features of AirVote
Alerts/Notifications
Complaint Monitoring
Customer Experience Management
Customisable Questions
Data Analysis Tools
Data Import/Export
Data Visualisation
Feedback Management
Polls/Voting
Real Time Data
Reporting/Analytics
SMS Messaging
Survey/Poll Management
Surveys & Feedback
Trend Analysis
Environmental Services, 11-50 Employees
Used the Software for: 1-5 months
Airvote
Pros:
We used Airvote at our first event of the year for a new client and it really helped to stay ahead of service requests during the event and feedback that we can bring back to event management. It was easy to install before the event.
Cons:
I think all the features are good for our business. The first scanning of all units is a alittle time consuming if you do not scan immediately in the field, but that was something we learned to do early on in installation.
AirVote Response
last year
Thanks for your review Roy. Exciting to see votes coming from your properties - saying thanks where it's due and good actionable comments. Appreciate your feedback about starting up, would like to learn more if we could change anything on our end to make it easier. Will connect with you offline.
Mark
Route Operations Manager in US
Construction, 11-50 Employees
Used the Software for: 6-12 months
J-Bar Enterprises
Comments: It has been a great addition to our Company.
Pros:
It allows us to get feedback from a group of consumers who did not previously have a voice, unless they did the research to find us.
Cons:
There isn't anything to dislike, so far.
AirVote Response
last year
Appreciate your review, Mark. As always, do not hesitate to call or email if any issues or suggestions - we are a phone call away...
Transportation/Trucking/Railroad, 11-50 Employees
Used the Software for: 6-12 months
Portable Sanitation Industry
Comments: We have had a good experience with responsive customer service and follow through on promises/commitment. When we were in the decision making phase we voiced some concerns about some gaps we anticipated from users and implementation and everyone that we worked with at Airvote was really easy to work with and accommodated out requests.
Pros:
By far the best thing about using airvote in our sanitary restrooms is that we get real time feedback from the user. Typically our point of contact for our customers is either a project manager or a billing agent. Neither of which actually use our product on a daily basis. Airvote allows us to be notified of unsanitary conditions in real time which makes a huge difference when it comes to keeping our units in the best possible condition.
Cons:
I think it would be so beneficial for airvote to build out a platform that facilitated and automated a randomized drawing from all users that entered contact information regardless of which QR code was scanned. We are currently doing this on the backend, but if we just got an email once a month that told us "John Smith is you drawing winner this month. His contact information is ____________" that would be a great added feature.
AirVote Response
last year
Thanks for the review Tanis, glad to added value to J Bar in keeping you connected to your users. Appreciate your suggestion about automating the randomized drawing feature. Will certainly give it a thought and circle back.
Pete
Podcast Producer in New Zealand
Utilities, Self Employed
Used the Software for: 1+ year
Unrivalled
Comments: Unrivalled access to remote users in real time at a very low cost
Pros:
This system allows the direct user in remote locations to share feedback with the operator or provider in real time. Used in public or portable restrooms, this allows the user to share their impressions and alert the provider when remedial action is required.
Cons:
There really is nothing to dislike! Air-Vote is a game changer.
Heather
Photographer in US
Photography, Self Employed
Used the Software for: 1-5 months
AirVote Customer Review
Comments: AirVote will very soon be in every business in the U.S. and abroad, that I'm sure! The concept is so simple, yet so very useful. How often do customers go to a business and are unsatisfied, but feel too uncomfortable to speak up? AirVote lets you provide feedback anonymously, so the owners of the establishment can hear what clients are really thinking, without having it negatively affect their reviews on Google.
Pros:
As a customer of a portable restroom or public restroom, AirVote is so unique and helpful in the fact that I can scan one of the three QR smileys knowing that my comments will be sent immediately to the owner or manager for review. I LOVE how AirVote's feedback is immediate, especially if a restroom is out of toilet paper or a toilet is clogged and needs to be serviced as soon as possible.
Cons:
Honestly, after using this software I have yet to find anything I dislike about it from a customer's perspective. The QR smileys are so easy to use and leaving a review takes little to no time at all. I also love that if I scan a green QR smiley, I can leave the business a review on Google also without having to search for their profile online.
AirVote Response
last year
Thanks for your review Heather. Nice to see that the service gets the positive feedback from the end users. This was the goal - to make it quick and easy to the user and helpful to the business who wants to maintain top notch service.