What is Microsoft Project?
Microsoft Project helps you keep track of everything you need to run successful projects, even when working remotely. Collaborate and work with remote teams anywhere, streamline processes, optimize tasks and resources, engage across different functional teams, keep track of all associated costs, and customize visual reports for actionable insights. Familiar Office tools and pre-built templates allow you to kick off projects quickly to get more done while saving your business time and money.
Who Uses Microsoft Project?
Microsoft Project is a simple, yet powerful tool to manage work from quick projects to more complex initiatives. With Project, anyone can get started quickly and collaborate with remote teams anywhere
Where can Microsoft Project be deployed?
Cloud, SaaS, Web-based, Windows (Desktop), Windows (On-Premise), Linux (On-Premise)
About the vendor
Microsoft
Located in Middletown, US
Founded in 1975
Chat
Microsoft Project pricing
Starting Price:
US$10.00/month
Yes, has free trial
No free version
Microsoft Project does not have a free version but does offer a free trial. Microsoft Project paid version starts at US$10.00/month.
About the vendor
Microsoft
Located in Middletown, US
Founded in 1975
Chat
Microsoft Project videos and images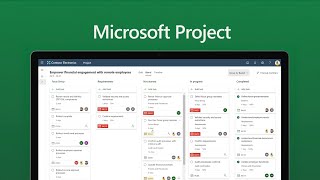 Compare Microsoft Project pricing with similar products
Features of Microsoft Project
Billing & Invoicing
Budget Management
Budgeting/Forecasting
Collaboration Tools
Communication Management
Customisable Templates
File Sharing
Gantt/Timeline View
Kanban Board
Percent-Complete Tracking
Project Planning
Project Planning/Scheduling
Reporting & Statistics
Reporting/Analytics
Reporting/Project Tracking
Resource Allocation & Planning
Resource Management
Task Management
Task Progress Tracking
Time & Expense Tracking
Alternatives to Microsoft Project
Reviews of Microsoft Project
David S.
Marketing Director in US
Verified LinkedIn User
Automotive, 10,000+ Employees
Used the Software for: 2+ years
Great app for project management.
Pros:
What I like about this application is that, it is very good when planning and executing my project in which we collaborate as a team, it allows me to share the tasks among all and we are all responsible for a task to avoid confusing when executing the project , the table is really useful to plan the termination time of the project.
Cons:
What I do not like about this application is that, it is not very useful when doing large and complex projects, and what the integration and collaboration of Sti is very limited to applications based on Microsoft 365, the communication must be limited, by that does not admit any third -party communication tool.
Anurup M.
Senior Engineer Cost Control in Jordan
Construction, 501-1,000 Employees
Used the Software for: 2+ years
best tool for design work schedules, monitor project % completion, and maintain control.
Comments: Microsoft Project helped us develop and approve a base schedule, and link it to later versions to compare the actual and expected progress of all project work, and it protects the team, especially when preparing claims and calculating delays.
Pros:
Microsoft Project has the capabilities to create an integrated project schedule so we can track project expenses, manage human resources, calculate delays, and manage time claims. The development of Microsoft Project and the addition of cloud storage capabilities set it apart from similar applications, simplified the process of sharing updates and engaging additional members to collaborate on setting and tracking schedules. I like the fact how powerful the calculations that Microsoft Project does, especially with regard to Total Float and Free Float, which are great tools to help understand the behavior of different activities, as well as calculations of actual progress against planned progress and other tools that always help in decision-making the appropriate. Because it is integrated with MS Excel, it saves a lot of time and enables us to export and import data easily. I enjoy how easy it is to present resources, costs, and activities, and how the most recent dates appear automatically.
Cons:
With proper training and practice, I believe users will be able to easily develop and update software and extract achievement percentages. It's worth noting, that sometimes when you make updates in Microsoft Project with tampering with base table activities, it can be difficult to notice these changes due to the limited capabilities that Microsoft Project provides. To unravel that process, which produces biased analyzes. Microsoft Project reports are, in my opinion, too simplistic and require more improvements to be added.
Chris G.
Director of Communications in US
Nonprofit Organization Management, 11-50 Employees
Used the Software for: 2+ years
Alternatives Considered:
I want to like this product as it has potential, but...
Comments: This product has so much potential if they could resolve the bugs, interface, and integration with other Microsoft software. It truly could be a one-stop product if they could dial this in.
Pros:
This product is incredibly affordable, especially when it comes with the entire Microsoft Suite. It also is familiar when compared to other Microsoft products.
Cons:
Unfortunately, this product feels dated and clunky. It's visually not as appealing as other project management software and is the least intuitive in design. This product also is riddled with bugs that prevent tasks/projects from updating or saving properly, which can be devastating to an entire team. Additionally, this product is very clunky when integrating with other products, especially with other Microsoft software, which is genuinely disappointing.
Eduardo B.
Director in Mexico
Printing, 11-50 Employees
Used the Software for: Free Trial
Alternatives Considered:
Great Software for project and task management....
Comments: Great use, easy and practical for everything we do to work, prioritize and to have a good weekly follow up
Pros:
Great use, easy and practical for everything we do to work and solve
Cons:
Some things are extras that we don´t need and use
Paolo T.
Engineer in Philippines
Civil Engineering, 501-1,000 Employees
Used the Software for: 1+ year
Making project plans like how they taught it in school
Pros:
The real-time updating of data is great. It shows you critical tasks that need the resources and how it might affect the entire project. This can also be integrated with other apps across multiple disciplines. Pretty much a requirement for BIM.
Cons:
It takes a bit of a learning curve to understand how the app functions and where all the features are. But then again, that's how it is with all these specialized apps.