What is GoBrunch?
GoBrunch is a versatile Webinar and Meeting platform with a unique interface that drives positive engagement among your participants. No installation is required. Create your webinar or virtual classroom, turn on your camera, share your screen, share your videos, broadcast other presenters and record. Much like an in-person event, you can have multiple breakout rooms taking place simultaneously with different facilitators assigned to each session. Get started and make your sessions more engaging
Who Uses GoBrunch?
Professional trainers, educators, entrepreneurs, small and medium businesses, schools, universities, training centers and associations.
Where can GoBrunch be deployed?
Cloud, SaaS, Web-based
About the vendor
GoBrunch
Located in Orlando, US
Founded in 2015
Phone Support
Chat
Languages
English, Portuguese, Spanish
GoBrunch pricing
Starting Price:
Not provided by vendor
Yes, has free trial
Yes, has free version
GoBrunch has a free version and offers a free trial. GoBrunch paid version starts at N/A.
Pricing plans
get a free trial
About the vendor
GoBrunch
Located in Orlando, US
Founded in 2015
Phone Support
Chat
Languages
English, Portuguese, Spanish
GoBrunch videos and images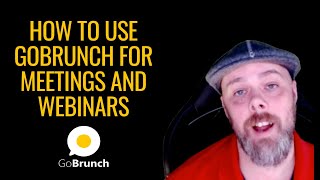 Features of GoBrunch
Access Controls/Permissions
Attendee Management
Audience Analytics
Audience Engagement
Brand Management
Breakout Rooms
Customisable Branding
Electronic Hand Raising
Event Management
File Sharing
Host Controls
Interactive Whiteboard
Lead Generation
Live Chat
Live Streaming Software
Mobile Access
Multi hosts
Multiple Camera Feeds
Online Registration
Polls/Voting
Presentation Streaming
Presenter Control Management
Q&A Management
Real Time Screen Sharing
Real-Time Chat
Real-time Broadcasting
Recording
Reporting/Analytics
Screen Recording
Screen Sharing
Session Recording
Survey/Poll Management
Synchronous Learning
Training Administration
Two Way Audio & Video
Video Conferencing
Virtual Classroom
David D.
General Manager in Brazil
Verified LinkedIn User
Computer Software, 11-50 Employees
Used the Software for: 1+ year
Go Brunch user
Comments: It was great when performing business meetings, trainings or only in a chat
Pros:
Easy and simple to use, trustful when sharing data, friendly when conducting a web meeting or training
Cons:
It could works on all types of mobiles .
Gihan N.
IT Officer in Sri Lanka
Verified LinkedIn User
Banking, 1,001-5,000 Employees
Used the Software for: Free Trial
Do Meetings with GoBranch
Comments: Overall experience is very good with GoBranch. this is a very good software if you are looking for hassle free meetings.
Pros:
There are no any most like features, all the features are very helpful for me, like recording / screen sharing / presenting and book meetings, all works very good
Cons:
nothing to tell, this is a very good product, but some times it's disconnection automatically any blocking by my firewall (KASPERSKEY), hope that was faults positive.
Deepika N.
Training Producer in India
Events Services, 2-10 Employees
Used the Software for: 1+ year
Professional and User Friendly
Comments: My overall experience with GoBrunch - I simply love it because its professional and at the same time friendly for us to use and it is helping our business very well
Pros:
The Broadcast feature is the easiest and helpful as it does not require the host to stay online to broadcast it and even if we face issues with electricity or internet stability issues the session is not disturbed. The UI is amazing and looks very interesting by giving a classroom experience or as if we would sit in a conference room during office meetings. GoBrunch allows us to use various file formats which makes it easy for uploading and downloading it, also if you miss downloading it in a Real-time session we can go back and download it at ease
Cons:
I am loving all the new features being added however I would love it if we are able to use everybody's camera at the same time. The mobile phone browser experience is a little difficult as the screen is small and since it is convenient for people to login on phone they also prefer to use it and I wish GoBrunch made this experience easier too
Caslav M.
Manager in Serbia
Education Management, 2-10 Employees
Used the Software for: 6-12 months
The Serbian GoBrunch Pioneer
Comments: Great satisfaction in general... I like the concept, design and functionality... I like the feeling that I witness the development and have a kind of influencing potential regarding the future of the platform.
Pros:
Feeling of freedom in its usage... Sense of the real space when you are in the virtual classroom... Possibility of branding the virtual classroom... Fast reconnection when something doesn't work properly due the technical reason... Session recording... BreakOut sessions... Really, really good communication with the technical support... Possibility for the participants of my sessions to participate them – only through a browser, without any obligation to install anything special...
Cons:
Relatively confusing sign in procedure – little less optimal for the less experienced users... Lack of possibility to set typical equipment (e.g. mic or camera) in advance, but rather depending on the OS defaults... Lack of "MIRROR-option" on the video-preview window... Lack of chroma-key background setting in the video-broadcasting.
Alternatives Considered: Zoom Video Webinars
Reasons for Choosing GoBrunch: I couldn't get a simplest info from the ZOOM technical support in some fair time (not closely)... Their plans were too rigid and I couldn't really choose what would have suited my needs best – since I couldn't get any real feedback from their technical support. I didn't like design and didn't like the fact that each user should install their software to attend any of my session. Visual presentation of the audience was really confusing and random; I couldn't choose who can I see as the participants of priority...
Switched From: Zoom Meetings and Zoom Video Webinars
Reasons for Switching to GoBrunch: Drastically better communication with their sales team and technical support and possibility to get a personally defined using plan – even integration with our own software platform. Intuitiveness in using the GoBrunch Platform and in communication with GoBrunch representatives.
GoBrunch Response
12 months ago
Thank you, Caslav for the insightful feedback. We're looking forward to improve all the points you've mentioned.
Christiane D.
Entrepreneur in Brazil
Verified LinkedIn User
Human Resources, 2-10 Employees
Used the Software for: 2+ years
Easy to use to improve business strategies and communication
Comments: The first time I used Go brunch I loved the design of the room and the avatars. I still like to play with the reactions and move seats during some sections. It is fun to start conversations or to show my mood in meetings doing this. Now I use this to promote my business with free masterclasses, I ve never received complains about the platform, it is the opposite. Every time people say thanks because they discovered Gobrunch, ask how to use, and sometimes reply saying they have used it for their own businesses as well.
Pros:
Go Brunch has a very friendly and warm design, this helps to build proximity with colleagues and with leads and prospects. It helps us build our own branding with is to offer customized solutions. the second thing I like most is the no need to install any software to use. This is very helpful when you work with a team and clientes in different geographic locations and with limited resources.
Cons:
Sometimes due to technical difficulties there is a delay in delivering the recorded section. I use the free version, so I understand completely. And it is valid to point that I've always got the file it was never lost or erased. Congratulations for that!
GoBrunch Response
11 months ago
Hi Chris. Thanks for the insightful review. We have improved our recording system and should be faster to get the final file by now. Cheers.