Local product
What Is Radar Healthcare?
Radar Healthcare supports organisations across health and social care to improve quality and compliance. With an in-depth understanding of your operational challenges and by working collaboratively across all areas of healthcare, our intuitive software simplifies the regulatory complexities you face giving you more time to focus on delivering service excellence.
Who Uses Radar Healthcare?
Designed for healthcare businesses, it is a quality management solution that helps monitor compliance, identify existing as well as potential non-conformances, take preventive action plans, and more.
Radar Healthcare Details
Radar Healthcare
Founded in 2012
Radar Healthcare videos and images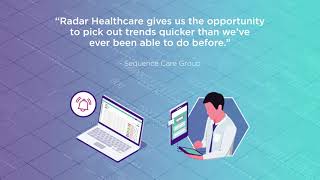 ▶︎
Radar Healthcare Details
Radar Healthcare
Founded in 2012
Compare Radar Healthcare pricing with similar products
Starting price
N/A
N/A
N/A
N/A
Radar Healthcare deployment and support
Deployment
Cloud, SaaS, Web-based
Android (Mobile)
iPhone (Mobile)
iPad (Mobile)
Training
In Person
Live Online
Webinars
Documentation
Features of Radar Healthcare
Joanne H.
Director of Nursing and Quality in UK
Medical Practice, 201-500 Employees
Used the Software for: 2+ years
Alternatives Considered:
Excellent Software
Comments: Radar has helped us to be complaint with regulatory requirements. Radar gives us assurance that staff receive and read notices. Radar helps us keep in touch with our staff. Radar has pretty much been a life saver during the Pandemic - its portability has meant that when staff have had to work from home or different locations they can access it easily on any device.
Pros:
Its ease of use. It is clear and easy to read items. Document management means that end users know exactly which version to use and can see when and why a document of updated. Notices - these have really helped us manage the COVID updates and ensured that all staff have received the information they need to do their job safely. Event reporting - this has enabled us to make real quality improvements. the use of sub-categories helped us identify in depth issues and put in place workable solutions.
Cons:
Compliments - I would like compliments made about individuals to be sent to them so that they get that feedback. Events - I would like the reporter to receive a copy of the completed event so that they get the feedback and know action has been taken.
Radar Software Response
9 months ago
Great review Joanne, thank you. We're really proud we are supporting our customers during the pandemic. In terms of your Cons, your Customer success manager has hopefully been in touch already as we can deliver on both of those feature requests for you. Mark Fewster Head of Product at Radar Healthcare
Misha F.
Quality & Policy Manager in UK
Hospital & Health Care, 1,001-5,000 Employees
Used the Software for: 2+ years
Fantastic software and amazing customer service
Comments: Their customer service and approach to listening to their customers has to be my favourite part of their software. Great support initially - and their enthusiasm and support has been flawless. Seriously. We have had queries - all the time - they answer them friendly, patiently and are really supportive. They have TONS of helpful information on their Help page - but we are bad in not using that as much as our customer service rep - as we very much like both of them! They do not constantly charge for more and more for general work and queries. They have also conducted workshops with their customers to find out better ways of doing things - and have actually listened to us and made improvements.
Pros:
We really like the ease of using Radar. We have used it in many ways, and are still finding new ways of using it. During this pandemic we were able to make 2 new Events within 24 hours that tracked both cases of Covid and testing of Covid for staff. We are able to know at any point in time, within 2 minutes of all stats - Covid and others. It is easy to change about. Very few things are not changeable. We are using this across the organisation and it is very effective. We are able to change forms ourselves to respond to business changes - easily.
Cons:
Introducing it. Nothing to do with Radar, but getting teams on board and getting it embedded was the hardest part. We had support from Radar at the time, and lots of meetings, but people change, and our training did not keep up internally - initially.
Radar Software Response
9 months ago
Thanks, Misha! Really kind of you to review us, we make a conscious effort every day to deliver great customer service so it's lovely to see what that means to our customers as described so well in your review. Mark Fewster Head of Product at Radar Healthcare
Simon S.
Head of Care Standards in UK
Hospital & Health Care, 1,001-5,000 Employees
Used the Software for: 2+ years
Development to Use
Comments: Very positive, a close working partnership and we are looking forward to using the system with greater effect going forward.
Pros:
It has been a highlight and foundation stone of our success in making our service compliant and transparent for internal and external stakeholders and sector regulator. From the very start we have worked extremely closely with Radar Healthcare is designing a compliance system that is a perfect fit for our business, instead of having to make all our users bend to the system. The fact that you can have this level and control and functionality is extremely important to us as we grow and expand, as we have been able to further develop and adjust so the fit remains perfect.
Cons:
There are very few cons for us and the way we use the system. If anything it would be good to have more functional control on how the system is displayed for each user. I am aware that this is available with higher cost licences but I feel that this would attract more involvement and buy in from users. I would also really like a way of setting some of the filters and have the system remember the choices in areas other than the analytics.
Radar Software Response
9 months ago
Thank you so much for the review, Simon! We enjoy working with you and are happy that Radar Healthcare is helping to underpin ERS Medical's growth! We hope to get you to 5 stars with all the improvements that we're continually making :) Mark Fewster Head of Product at Radar Healthcare
Russell D.
Head of Quality and Performance in UK
Hospital & Health Care, 501-1,000 Employees
Used the Software for: 1+ year
Sequence Care Group Integration of RADAR
Comments: RADAR has allowed us to be much more transparent, ensure critical business processes are being completed and to be able to respond efficiently and effectively to incidents and emerging trends. Most importantly it enables us to ensure the safety of the people we support and gives us great evidence of a robust quality assurance process for the regulator.
Pros:
Incident management, Audit and automatically identification of actions to contribute to the continues improvement (action Plans)- Placing emphasis on business processes begin followed and leaving no stone un-turned. The flexibility and adaptability to be able to make agile changes as and when the business required them
Cons:
Being able to upload cross group actions in one transaction would be most helpful rather having to provide separate entries for each site can be time consuming.
Radar Healthcare Response
2 months ago
Hi Russell, Thank you so much for your review! Great to see Radar Healthcare playing a part in enabling you to deliver safer care to the people you support! In terms of the idea around action plans, you will be pleased to know this is planned in a feature on our 2022 roadmap - you will be able to create 'cascading' action plans across locations and track progress both overall and at a location level! Mark Fewster Head of Product at Radar Healthcare
Scott F.
General Manager in UK
Hospital & Health Care, 1,001-5,000 Employees
Used the Software for: 1+ year
Fantastic Software and support
Comments: RADAR is very easy to use, and lost of helpful user tips along the way if you get stuck. The customer support is fantastic and very responsive.
We now use RADAR for HR purposes as well as clinical and quality, the system is so adaptable you really can make a system specifically designed for you business and needs.
RADAR has made the job of ensuring overall quality in the group much easier and less time consuming, meaning time can be spend on development and support.
Pros:
RADAR has totally changes the way we record and use DATA. prior to RADAR we used paper based system, which was time-consuming and cumbersome to manage. I love RADAR because it allows real time reporting, clear escalation of events where required, easy access to all Data via analytics. all of this has improved our clinical and quality governance, allowing us to look at trends in individual service as well as in a group. we loved that we could personalise each part of RADAR specific to our needs. The customer support is fantastic, and they often check in to make sure everything Is ok.
Cons:
The only part that could be improved is the initial set up, as I say this with the benefit of hindsight. it is very time consuming and the adder work for training the staff also take up a lot of time. However there have been development since we starts using RADAR like the form editor, which makes amending and creating new event alot easier.
Radar Software Response
9 months ago
Thank you so much, Scott! You're truly an amazing customer and we're glad we are transforming the way you use data at Thistle healthcare. Mark Fewster Head of Product at Radar Healthcare