Local product
What Is Coact?
Client reporting made easy with Coact.
Your clients pay you to do their marketing, not slave away for hours creating reports. Get all the detail and quality without compromising your time. Get it with Coact.
We know how it is. Time and resource restrictions are two of the biggest obstacles you face when it comes to reporting.
That's why we built a solution that enables fast and efficient reporting !
Who Uses Coact?
Coact is used by individuals and teams who are having difficulties reporting on their digital marketing activities.
Coact Details
Coact Technologies
Founded in 2019
Coact pricing
Starting Price:
£50.00/month
Yes, has free trial
Yes, has free version
Coact has a free version and offers a free trial. Coact paid version starts at £50.00/month.
Pricing plans
Coact Details
Coact Technologies
Founded in 2019
Coact videos and images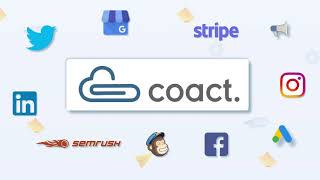 Coact deployment and support
Support
Email/Help Desk
FAQs/Forum
Knowledge Base
Phone Support
24/7 (Live rep)
Chat
Training
In Person
Live Online
Documentation
Videos
Sam R.
Managing Director in UK
Verified LinkedIn User
Marketing & Advertising, 2-10 Employees
Used the Software for: 1+ year
Awesome Reporting Software for Digital Marketing
Comments: Stephen and the team have been great from day one. They've implemented any suggestions we've had, often within hours, and are always looking for new ways to improve.
Pros:
Ultimately, the thing that makes Coact so impactful is the easy customisation and ability to pull multiple data points into a single report in any format you need. On the majority of our reports we have Analytics, Search Console, Facebook, Instagram, Adwords and then any paid social. Normally this means an awkwardly pulled together powerpoint or word document and even when we used Data Studio, we found that connections to 3rd parties were typically unreliable. The customisation elements available means we can produce top-level one-pagers or in-depth marketing reports in minutes rather than hours.
Cons:
It would be good to have a few more report design options. A lot of the reports end up looking similar, and it would be great to have some slick designed templates that really pushes the reports to that next level.
Marketing & Advertising, 2-10 Employees
Used the Software for: 6-12 months
Bobble Review of Coact
Comments: The problem we had as a business was we are working with multiple clients offering multiple services across SEO, PPC, Social etc. Some clients do one or all services so we needed a reporting feature that would allow us to pull data from each client integration from key channels like Goggle and Facebook that would update automatically. We needed to save time on creating and editing reporting data, charts and graphs etc. So we worked with Coact to create a custom reporting platform that suited our needs as an agency. Now all reports are done in a day and all we have to do is add in our analysis and comments. Simple and easy. The value to time saved is worth more than the cost of the reporting.
Pros:
The ease of integration with platforms was helpful e.g. Google or SEMRush. The ease of report customisations and pulling in data views we wanted. How simple and easy it is to create graphs and charts. Easy to manage users and permisions. Very simple and easy to share with clients, really like the downloadable PDF's and Custom URLS for clients.
Cons:
There are no cons as we worked closely with [SENSITIVE CONTENT HIDDEN] in the set up of each client report. So any issues about the platform we relayed back to [SENSITIVE CONTENT HIDDEN] and based on client feedback we were able to improve key elements about the platform which are already in place. The speed of improvements is impressive.
Marcus R.
Digital Marketing Manager in UK
Marketing & Advertising, 2-10 Employees
Used the Software for: 6-12 months
A strong start to our partnership
Comments: A strong start. It plays a big part in our business because of the amount of reporting we do for our clients and we've never had a complaint
Pros:
[SENSITIVE CONTENT] is always very open to helping. He's only ever a phone call or email away and it more than willing to jump into our reports and make changes to help us get the best out of the software
Cons:
From time to time we have a few issues with load time due to the multiple platforms we combine data from
Adam P.
Head of SEO in UK
Marketing & Advertising, 11-50 Employees
Used the Software for: 1-5 months
Excellent Reporting Tools
Comments: The main reason we moved to Coact was to save time on reporting while upping our game in terms of how our reports not only look but how we deliver them to our clients. Coat does all of that extremely well.
Pros:
Easy to set up, looks very professional and connects all of the data we report on very easily.
Cons:
Some of the integrations were a little tricky to connect correctly, but this was easily rectified with good support!
Gurpreet D.
Director in UK
Marketing & Advertising, Self Employed
Used the Software for: 1-5 months
Great piece of software for any digital marketer
Comments: Fantastic and great way to show my clients reports. This will save me a lot of time in the future and will only help my client relationships
Pros:
Ease of use, tailoring of reports and live display of campiagns
Cons:
Would like a a few more features from Google Analytics BUT [SENSITIVE CONTENT] has been very accommodating and looking into all suggestions.
Alternatives Considered: InfoFlo
Reasons for Switching to Coact: Free trial period and the staff we accommodating in listening to requirements