What is AhaSlides?
AhaSlides is great for the classroom, meetings, workshops, and any event that benefits from audience interaction. You can add polls, fun quizzes, word clouds, engaging Q&A sessions to your presentation. The results are displayed and updated live in beautiful formats of your choice. AhaSlides is well trusted by professionals all around the world to deliver rockstar performances on stage!
Free users have unlimited questions, unlimited access to all slide types. No credit card required.
Who Uses AhaSlides?
Event hosts, seminar organizers, teachers, educators, public speakers, team leaders, HR managers, trainers
Where can AhaSlides be deployed?
Cloud, SaaS, Web-based
About the vendor
AhaSlides
Located in Singapore, Singapore
Founded in 2019
Phone Support
24/7 (Live rep)
Chat
Countries available
Singapore, United Kingdom, United States
About the vendor
AhaSlides
Located in Singapore, Singapore
Founded in 2019
Phone Support
24/7 (Live rep)
Chat
Countries available
Singapore, United Kingdom, United States
AhaSlides videos and images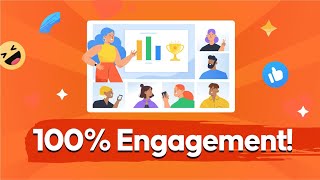 Compare AhaSlides pricing with similar products
Features of AhaSlides
Access Controls/Permissions
Animation
Audio File Management
Collaboration Tools
Content Library
Customisable Branding
Customisable Questions
Customisable Templates
Data Analysis Tools
Data Visualisation
Feedback Management
Live Results Sharing
Media Library
Multiple Question Types
Online Polling
Phone Polling
Polls/Voting
Presentation Tools
Q&A Management
Quizzes
Real Time Data
Reporting/Analytics
Screen Sharing
Survey/Poll Management
Surveys & Feedback
Template Management
Text Editing
Video Support
Alternatives to AhaSlides
Marc
Consultant in Netherlands
Information Technology & Services, Self Employed
Used the Software for: 1-5 months
Alternatives Considered:
Easy to use, feature rich, interactive presentation software
Comments: For a client I wanted to have lots of interaction with the audience (around 150+ people) for a short period of time. With AhaSlides this was very easy, successful and for a good price! After the job was done I just discontinued the subscription ... until the next time I need to do something similar ;-)
Pros:
AhaSlides has many templates for different forms of interaction you would like to use in your presentations. Only open questions or only closed yes/no questions would be boring and inapplicable for all interactions. AhaSlides provides many means for all kind of interactions you would like to have. Besides all the features AhaSlides is really smart with data. During development of the presentation you have great options to test it, fill in some dummy data and reset all data just before the actual presentation. Afterwards it is very easy and convenient to export the data from a session and process it offline. Great, awesome tool!
Cons:
AhaSlides is a tool for building presentations with online interactions with your viewers. It is not a tool to build 'broadcasting' presentations with.
AhaSlides Response
12 months ago
Thank you so much for your sharing! Glad that we were able to help you interact more with your audiences. The reason we created AhaSlides was to encourage more interactions between people, regardless of the physical distance. Cheers!
Jeremy
Worship Leader in US
Religious Institutions, 501-1,000 Employees
Used the Software for: 1-5 months
The best large group game out there
Comments: AhaSlides is way more that a game software. However, the ability to host a massive game of 100's or even 1000's of participants is excellent. This is a strong feature that many seek, the ability to engage and interact with your large audience, and to have them interact with you in a meaningful way. AhaSlides deliver on just that.
Pros:
AhaSlides was the best program I've used so far for large group activities. We were seeking a live host driven "Jackbox" experience, and AhaSlide made that super easy! I've used Kahoot before, kahoot is clunky, goofy and unprofessional. And I hate Kahoot's stupid song and sound effects. AhaSlides was completely customizable! I said it when I was interacting with your support team, you aren't the cheep alternative to Kahoot. But I'll go one step further, Kahoot is the lower quality, more expensive alternative to AhaSLides.
Cons:
On my first use with their software, I had small issue with hardware compatibility on different Mac computers, and our projection system. AhaSlides would not display all the graphics on screen depending on the type of computer and browser we showed it on. We have a state of the art $10,000,000 broadcast facility with up to date video switcher systems. At the end of the day, it appeared that AhaSlides was very inconsistent with the way it displays across different browsers and computers (the most stable environment was a PC running Chrome, the least stable environment was a iMac running Safari) At the end of the day, I am a PC user, but I know that the vast majority of the time when I show up to any venue of any size, that Apple products are going to be used for video. So I need to be ready for any PC or Apple situation I find myself in, and so does AhaSlides. To thrive, your program needs to be airtight across all major platforms. Do not expect all organizations to be able to change platforms and browsers to get AhaSlides to work. Most aren't will to go through that work, and many don't even have that felxibility.
AhaSlides Response
2 years ago
Glad to know that you enjoy our product! The AhaSlides team works very hard to ensure that you, the customer, would have the best experience. Our product also aims towards business professionals such as yourself, so knowing it helps you is great news to us! Regarding the compatibility issue that you mentioned, we are still trying our best to make AhaSlides run smoothly on all platforms. Stay tuned!
Joe
Artist in United Arab Emirates
Entertainment, Self Employed
Used the Software for: 6-12 months
Can get better !
Comments: Overall Customer Service is prompt and they respond very well to questions and feedback.
Pros:
I was happy with the look and feel of AHA Slides and also how I was able to present on my screen But Functionally I am not very impressed and had to move to MyQuiz.
Cons:
When I started using this platform, the biggest issue for me were : 1) NO way to ENFORCE a secured access via Specific Log In (Any one with my slides link were able to join in) 2) The moment I crossed 40 users - the new users were not able to connect to the presentation and were getting the error to reload page. I lost around 5-7 very important customers who got upset due to this. 3) There is NO Option to UNDO any Changes done on the Slides. This is very inconvenient and risky. 4) Import option only brought in the slides as images not as editable text.
Higher Education, 1,001-5,000 Employees
Used the Software for: 1-5 months
Alternatives Considered:
Great for one-off Slide Share and Trivia Needs
Pros:
I liked that I could purchase a one-day use package instead of having to purchase a monthly or yearly subscription like most other software requires (ie. Kahoot!). I do not have a daily or even monthly need for this kind of software, but when I do need it, I am very willing to purchase the one-day option. I also appreciate the education pricing options. The Trivia works very similar to Kahoot!, but Ahaslides seemed easier to use overall.
Cons:
I don't think there was anything negative about my experience with Ahaslides for my current needs.
AhaSlides Response
2 years ago
Thank you so much for the review! The reason we created the one-time plan was so that our customer can have some fun with AhaSlides, while not having to worry about any long-term commitment. We understand that flexibility is very important to many of the users, so we always try to help you to the best of our ability.
Elmer
Process Manager in Mexico
Financial Services, 5,001-10,000 Employees
Used the Software for: 1-5 months
Alternatives Considered:
Easy
Comments: It has helped me a lot in my presentatios and with my team, the most has been happy with the interaction
Pros:
I like the interaction with de public, the visual tools
Cons:
I can´t copy and paste and image, and a slide
AhaSlides Response
12 months ago
We're glad to hear that AhaSlides has helped you a lot with your presentations.. Thanks to customers like you, AhaSlides is improving every day and now you can use copy slides from a presentation to another in AhaSlides. Customers satisfaction is AhaSlides motivation to move forward, so more functions will be added soon. Stay tuned!