What is Bigle Legal?
Bigle legal is the next-generation end-to-end Contract Lifecycle Management platform. Our mission is to transform the way law firms, real estate companies, notaries and in-house legal teams at any business create and manage documents.
Our secure cloud-based platform automates your complex documents and allows you to create new contracts in under 5 minutes.
It is time to say goodbye to repetitive tasks and refocus your efforts on high-value customer-centric work.
Who Uses Bigle Legal?
Lawyers, sales departments, HR departments, legal departments, operations departments, notaries, real estate professionals, procurement departments, freelancers.
Where can Bigle Legal be deployed?
Cloud, SaaS, Web-based, Mac (Desktop), Windows (Desktop), Linux (Desktop), Windows (On-Premise), Linux (On-Premise), Chromebook (Desktop)
About the vendor
BIGLE IBERIA
Founded in 2016
Phone Support
24/7 (Live rep)
Chat
Languages
English, Spanish
About the vendor
BIGLE IBERIA
Founded in 2016
Phone Support
24/7 (Live rep)
Chat
Languages
English, Spanish
Bigle Legal videos and images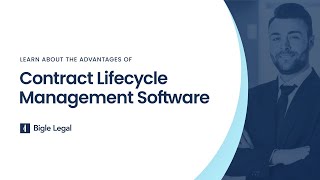 Compare Bigle Legal pricing with similar products
Features of Bigle Legal
Access Controls/Permissions
Alerts/Notifications
Archiving & Retention
Audit Trail
Authentication
Batch Processing
Collaboration Tools
Completion Tracking
Compliance Tracking
Contact Management
Contract Drafting
Contract Lifecycle Management
Contract/License Management
Customisable Templates
Data Security
Document Capture
Document Classification
Document Management
Document Storage
Electronic Signature
File Conversion
File Sharing
For Legal Professionals
Full Text Search
Mobile Signature Capture
Multi-Party Signing
Multiple Output Formats
Optical Character Recognition
Pre-built Templates
Process/Workflow Automation
Reminders
Templates
Version Control
Workflow Management
Alternatives to Bigle Legal
Carlos D.
ERP Consultor in Spain
Accounting, 2-10 Employees
Used the Software for: Free Trial
Great for creating contracts
Comments: Bigle Legal was critical in reduicing the ammount of time we spend making changes to different contracts.
Pros:
Using templates to create different contracts
Cons:
Storage of the created contracts. Only a folder-structure-
Real Estate, 2-10 Employees
Used the Software for: 1-5 months
Alternatives Considered:
Bigle legal
Comments: Rápida , buen contacto y rápidos en responder y dar soluciones , en mi caso pacientes
Pros:
Funcionalidad , atención al cliente , rapidez , usabilidad , interfaz ,
Cons:
Nada estaba muy bien porque va a medida
Inmaculada C.
Gerente in Spain
Real Estate, 2-10 Employees
Used the Software for: 2+ years
Si apuestas por la INNOVACIÓN, este producto te puede interesar
Comments: Mi experiencia ha sido muy buena, cuando me la presentaron, pensé que no me iba a acostumbrar a su uso, pero ha sido todo lo contrario, me he adaptado a ella con gran facilidad, y hoy en día si me falla, bueno¡¡¡ la hecho mucho de menos.
También quiero destacar que es ideal para tener confianza en delegar en personas con poco conocimiento jurídico, es una buena herramienta que da seguridad jurídica, y esta tranquilidad te da confianza y te ahorra mucho tiempo.
Pros:
La integración fue difícil y costosa, me refiero el que la plataforma gestionara los diversos documentos de nuestro método de trabajo, personalizarla a nuestra marca, esta tarea fue costoso; la central de nuestra Red lo trabajó intensamente, pero el resultado ha sido un éxito. Es sencilla, intuitiva, y sobre todo, te ahorra tiempo, algo tan preciado hoy en día.
Cons:
Solo por avanzar, y como sugerencia de usuario, si que mejoraría la plataforma, en cuanto a que, almacenara o guardara los datos introducidos en los documentos, los datos de los clientes que reiteran, por tener varios inmuebles, o en otros casos, posibles prorrogas o anexos de contratos, en que los firmantes son los mismos. Que al cumplimentar de nuevo, con nombre y apellido, por ejemplo, volcara todos sus datos personales como persona firmante, volcando esto en nuestro propio CRM interno, volcados en los dos sentidos, o bien en nube encriptada. No se muy bien.... que nos ayudara a cumplimentar datos que reiterativamente introducimos.
Fabian U.
Knowledge Management Director in Colombia
Legal Services, 201-500 Employees
Used the Software for: 6-12 months
Automatización de Documentos en Gómez-Pinzón (Colombia)
Comments: Bigle Legal es una plataforma que aporta mucho al día a día de la gestión de documentos, mitiga errores, libera tiempo de abogados (socios y seniors) en revisiones. La implementación del producto en la Firma fue ágil dado que BL cuenta con un equipo multidisciplinario muy capacitado para acompañar nos solo en la implementación sino también en la curva de estabilización.
Pros:
Bigle Legal está desarrollado, diseñado y pensado para la profesión legal, por lo que su concepto funcional se ajusta perfectamente a las necesidades de los Departamentos Legales y/o Firmas de Abogados. Es una herramienta que contribuye sustancialmente en la eficiencia de los Abogados, lo que les permite liberar tiempo para ejercer el Derecho y ofrecer un buen servicio a los clientes.
Cons:
Lo que menos nos ha gustado de BL quizá sea desde un punto de vista de Administración (Configuración de Documentos), el lograr aprender a automatizar documentos nos ha costado algo más de tiempo. Aún así, el equipo de BL siempre está presto a capacitar y re-capacitar. No obstante, BL ya tiene una nueva versión en la que este proceso será más ágil e intuitivo. Por otro lado, nos gustaría poder tener Firmas (simples) para documentos internos, pero BL solo contempla las firmas digitales, que no está mal porque garantiza la trazabilidad de los documentos, pero algunas veces solo se requiere un visto/bueno.
Sandra coloma S.
CEO in Spain
Commercial Real Estate, 2-10 Employees
Used the Software for: 2+ years
Un antes y un después
Comments: Bigle Legal ha supuesto un antes y un después para nuestra empresa.
Hemos pasado de tener que revisar todos los contratos que hacíamos uno a uno revisando todo para no equivocarnos a tener un programa con el que, sencillamente, hacer un contrato son dos minutos y no tienes miedo a equivocarte en nada. Además, el servicio de asistencia es, sencillamente excelente, de ayudan en todo momento y nunca estás solo. Por último, es importante reseñar que Bigle es una empresa que TE ESCUCHA, constantemente te preguntan ¿Cómo podemos mejorar? Y todo aquello que propones entra en su road map para poder aplicarlo y, convertirse así, en un programa aún mejor. Sin duda, recomendable al 1000%!!
Pros:
La facilidad de uso, la academia bigle yanque te enseña a implementar el servicio y automatizar tus contratos y el soporte que hay detrás.
Cons:
Pagar por cada usuario nuevo, tendría que haber un paquete que fuera para toda la empresa