Local product
What is Parcel Tracker Mailroom?
Internal parcel tracking software for residential, student housing, co-working offices, universities and more.
Quickly scan packages received at the reception/mailroom using a smartphone camera, automatically notify recipients and collect their e-signatures for proof-of-pickup. Works with all couriers and hand-written parcel labels.
Who Uses Parcel Tracker Mailroom?
Parcel Tracker is for receptions and mailrooms. Our clients are University Mailrooms, University halls, Student Housing, BTR, Residential, Residential Luxury, Co-working, Corporate Offices
Where can Parcel Tracker Mailroom be deployed?
Cloud, SaaS, Web-based, Android (Mobile), iPhone (Mobile), iPad (Mobile)
About the vendor
Deepfinity
Located in London, UK
Founded in 2016
Phone Support
24/7 (Live rep)
Chat
About the vendor
Deepfinity
Located in London, UK
Founded in 2016
Phone Support
24/7 (Live rep)
Chat
Parcel Tracker Mailroom videos and images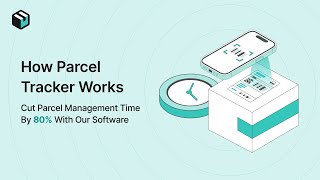 Compare Parcel Tracker Mailroom pricing with similar products
Alternatives to Parcel Tracker Mailroom
Reviews of Parcel Tracker Mailroom
Nadal
CEO in UK
Verified LinkedIn User
Financial Services, 2-10 Employees
Used the Software for: 6-12 months
Parcel Tracker is Simple and Time efficient
Comments: Tracking all of my parcels, delivery and packages for my business and personal use.
Pros:
Our concierge at the reception saves so much of time by using the Parcel Tracker, it's very simple to use and the service has been amazing. The system was very easy to install and the customer support has been 5 stars! Love using the Parcel Tracker and will highly recommend it to everyone!
Cons:
I wish the software was implement on many more buildings in UK so I can use one unique solution for everything.
Management Consulting, 2-10 Employees
Used the Software for: 2+ years
Alternatives Considered:
A complete game changer
Comments: I love it, it's been such a useful addition and an absolute gamer changer for our staff.
Pros:
Parcel Tracker has been amazing. It helped us save so much time all whilst improving how we log all the deliveries into our business. We've been able to free up the front of house staff time and they are now able to offer a better service to our visitors and better admin our site. The actual way the software works is also revolutionary, I didn't think this was possible. It's removed the need to record any of the parcel details manually. Parcel Tracker with a single scan detects the recipient name, the courier, barcode and tracking number. It also timestamps everything. Collecting parcels is also super easy! we can either collect via a QR code, a signature take a photo of where the parcels were dropped off for the collections.
Cons:
The software used to be a bit buggy (about 2 years ago) since then these issues have been addressed and the software has been super smooth.
Abbi
Community Assistant/Leasing Agent in US
Hospitality, 11-50 Employees
Used the Software for: 1-5 months
Could be Better
Pros:
Very easy to use, very user friendly. Captures an image of the package you are scanning in for later reference if you have a lot of packages on hand. Allows for a large number of users and recipients.
Cons:
Does not sync well between all users' devices and will show radically different numbers. No easy way to do any sort of package audit if you have packages in the system that were picked up but not scanned out of the app.
Marketing & Advertising, 11-50 Employees
Used the Software for: 6-12 months
Amazing Customer Support & Setup
Comments: Super! I've been using their platform for nearly a year and will 100% be renewing the contract so I can continue using it.
Pros:
The support team at Parcel Tracker are some of the most helpful people I've interacted with especially when relying on their product on a daily basis. The team helped me and guided me through their honestly very streamlined setup process to make sure I was happy and then whenever I have questions about features they are there to help (which are very few tbh).
Cons:
tbh there's not many cons about the software. it's very straight forwards to use and the teams doing a great job of rolling out and communicating new features
caroline
Housekeeping Manager in UK
Education Management, 11-50 Employees
Used the Software for: 1-5 months
Benefits our students Parcel deliveries
Comments: I love it. Having a secure system which has a relative low cost But we are able to process many student parcels in an efficient way.
The Students are happier knowing there parcel has arrived and they can come to reception at a convenient time which suites their needs
Pros:
simple process to use this ap to confirm parcel delivery to 270 international students in the accommodation. It makes our job simpler by securing parcels quickly and sending an automatic email to the student that they have a parcel at reception. easy to understand by our international students. and it makes them happier that they don't need to keep coming to reception looking for a parcel.
Cons:
The list of possible recipients on most parcels it goes directly On a few it goes to a default name. But its easy enough to search the correct name