Local product
What is PushFar?
PushFar is a world-leading mentoring and career progression platform, helping a wide-range of organisations to provide a highly effective, efficient and easily customisable mentoring scheme to their employees. With our data-driven matching algorithms, integration with existing LMS and single sign-on solutions, administrator panels and our iOS and Android apps, PushFar is a game changing mentoring solution.
Who Uses PushFar?
PushFar's world-leading mentoring platform is used by a wide-range of organisations across every sector, with clients from 20 employees, through to those with tens of thousands of employees, globally.
Where can PushFar be deployed?
Cloud, SaaS, Web-based, Android (Mobile), iPhone (Mobile), iPad (Mobile)
About the vendor
PushFar
Located in Childrey, UK
Founded in 2018
Phone Support
24/7 (Live rep)
Chat
Languages
English, French, German, Italian, Spanish
PushFar pricing
Starting Price:
Not provided by vendor
PushFar has a free version.
About the vendor
PushFar
Located in Childrey, UK
Founded in 2018
Phone Support
24/7 (Live rep)
Chat
Languages
English, French, German, Italian, Spanish
PushFar videos and images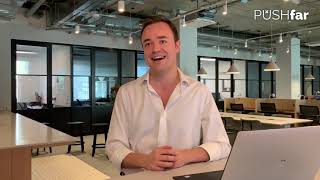 Features of PushFar
Action Item Tracking
Appointment Scheduling
Content Library
Enrollments/Onboarding
Goal Management
Mentor/Coach Matching
Mentoring Program Management
Participant Profiles
Program Evaluation
Progress Tracking
Reviews of PushFar
Reviews by company size (employees)
<50
51-200
201-1,000
>1,001
Stephen R.
Project Management Student in Trinidad & Tobago
Verified LinkedIn User
Professional Training & Coaching, Self Employed
Used the Software for: 1-5 months
Pushfar Review
Comments: I have solved issues in finding potential mentors and networking with like-minded people.
Pros:
Ease of use and simplicity. It follows a core model without the addition of fluff features that bring little to no value. The networking process is much easier in comparison to other platforms like LinkedIn. It also has an international presence so it is easy to seek out individuals from all over the world
Cons:
Lack of particular features that would enhance the overall site. Examples more badges to encourage user participation, a feature for group mentoring, and an online suggestion box instead of having to go to the creator directly. Last but not least, many users do not use the site as it is intended.
Anna C.
Member Engagement Supervisor in UK
Construction, 51-200 Employees
Used the Software for: 6-12 months
5* Definitely Recommend
Pros:
Pushfar is easy to manage as an administrator and easy for our users to use. As a growing service within the organisation the Pushfar team have been so helpful and quick to respond to any questions we may have regarding Pushfar. Pushfar has allowed our company to have a programme that allows our Members to have control over their career development and development to become chartered members without us having to be as involved as we have been previously.
Cons:
No there's not currently something that we feel is missing. As we progress with the platform some things may come up but the team are always open and transparent on what the system can do.
Verified Reviewer
People Partner & Development Manager in UK
Verified LinkedIn User
Aviation & Aerospace, 51-200 Employees
Used the Software for: 1-5 months
Why was this not done before?!
Comments: My experience so far has been excellent. I'm looking to introduce it across the business, when the time is right. Meanwhile I've used it for my own professional development and already recommended it to individuals seeking a personal mentor outside the business. Pushfar are open to feedback and seem to work collaboratively with their audience and key advisers to continue to improve the system. Its a competitively priced platform and the benefits within an organisation to enhance talent and leadership development programmes is sizeable.
Pros:
Its a simple yet effective platform. Powerful in that it can connect so many people actively seeking to mentor or be a mentee - so the experience starts as a positive one straight away. Its easy to set yourself up and I found a mentor quickly. The platform continues to improve but the functionality for the purpose is there and can only continue to get better.
Cons:
Initial navigation to setting up the meeting/goals but this has already improved.
Julie B.
Business owner and Leadership Coach in UK
Management Consulting, Self Employed
Used the Software for: 6-12 months
Volunteer Mentor adding value to others
Comments: Extremely positive in making connections with like-minded people and giving me a flexible volunteering opportunity. The international nature is especially wonderful for me because I love to make connections in other nations too.
Pros:
I have been able to establish very productive mentoring relationship with women from other countries who are not able to pay for a mentor, this allows me to have a flexible volunteering experience myself. As a professional coach and mentor and a business owner, I have some ideas and tools that I can share with them to add value to them while at the same time gaining experience with people from a wide range of sectors I would not usually be able to speak with.
Cons:
Training for incoming and experienced Mentors would be something to add in so that we can share knowledge on the platform, I feel quite disconnected from the PushFar team most of the time, I just use the platform but I do not feel part of the team. We could arrange workshops and share ideas and get to know the other mentors perhaps but this is not offered. Many many times, I message people asking for them to meet up (either as a mentor or mentee) but they ignore me, it can get a little demotivating to keep trying constantly
Rosie D.
Marketing Manager in UK
Hospitality, 11-50 Employees
Used the Software for: Free Trial
Mentoring made simple
Comments: I'm pleased with my experience so far. Over the last month, I've been able to make meaningful connections with other digital marketers. I have a mentor for my business and a mentee who I help with university challenges.
Pros:
Easy, simple and effective. My favourite feature at the moment is video calling, especially with virtual mentoring sessions!
Cons:
Can't really think of any, liked it all!