What Is QuickBooks Online Advanced?
QuickBooks Online Advanced (Save 50%) is a cloud-based, all-in-one, accounting and business hub solution, designed for growing, small to mid-sized businesses. Get performance reporting with highly customizable tracking tools, automated workflows, and real-time revenue and cash flow management dashboards. Seamlessly integrate best-in-class Premium Apps like Salesforce and HubSpot (CRM), Bill.com (accounts payable), DocuSign, LeanLaw & more to expand your capabilities as your business needs grow.
Who Uses QuickBooks Online Advanced?
The #1 Accounting and Financials software for Small Business.
QuickBooks Online Advanced Details
Intuit
Founded in 1983
QuickBooks Online Advanced videos and images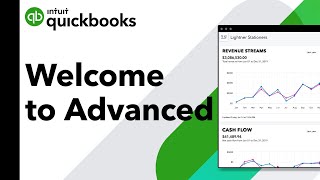 ▶︎
QuickBooks Online Advanced Details
Intuit
Founded in 1983
Compare QuickBooks Online Advanced with similar products
Starting price
N/A
N/A
US$499.00/month
US$20.00/month
QuickBooks Online Advanced deployment and support
Support
Email/Help Desk
FAQs/Forum
Knowledge Base
Phone Support
24/7 (Live rep)
Chat
Deployment
Cloud, SaaS, Web-based
Android (Mobile)
iPhone (Mobile)
iPad (Mobile)
Training
Live Online
Webinars
Documentation
Videos
QuickBooks Online Advanced Features
Bob T.
Online Radio Expert/Host; Podcast Host; Ordained Minister/Award Winning Author/Prof. Public Speaker in US
Verified LinkedIn User
Nonprofit Organization Management, Self Employed
Used the Software for: 2+ years
Over 10 years of complete satisfaction!
Comments: 100 percent satisfied. I have been approached with offers to switch. I turn every single one of them down. QuickBooks has proven to be to be the absolute best software for me to use in this area.
Pros:
I love QuickBooks for Non-Profits! I have used this software exclusively for the past 10 years with no problems at all. I have received numerous compliments from Board Members of the accuracy and detail I provide when it comes to our financial reports. I have been told I provide the best reports they have seen (many are members of other non-profit boards). It is all accomplished with just a few clicks and the reports printed out!
Cons:
It does take a bit of getting used to. Especially when you are first setting up the system. Once it is set up, it runs along fine. One thing to make sure of is the category of the items you are entering. Otherwise, your reports will contain mis-categorized information. Be sure to check over your reports for accuracy in that area. If identified, it is a simple fix - but you must check it over.
Intuit Response
2 years ago
Hearing that you've enjoyed using QuickBooks for so many years makes our day, Bob! We're thrilled to know that you're able to confidently present accurate data with the reports you've created without breaking a sweat. You can continue rely on us to have your back for years to come. It sounds like you're a pro, but if you ever need any assistance, we recommend checking out the Community. Here, you'll find detailed articles and advice from fellow users and QuickBooks Team members: https://community.intuit.com/ Thanks for an awesome review! Morgan, The QuickBooks Team
Karen S.
Accountant/Owner in US
Accounting, 2-10 Employees
Used the Software for: 2+ years
Alternatives Considered:
Non-Profit QBO simplifies donor & expense allocations for auditing purposes.
Comments: I have been using Quickbooks Non-Profit for years and all entries and creation of programs for a non-profit provides a visual presentation that provides Board Members and Financial Auditors the clarity and simplifies where the non-profit stands.
Pros:
Due to the complexities of non-profit financials. Quickbooks alleviates much of the work and assists with proper allocations of Donor Contribution, Grants and Foundation monies. Classifying expenses is also tricky without the easy to use features Quickbooks non-profit software provides.
Cons:
I cannot think of any downfalls. I have used other non-profit accounting softwares and Quickbooks is by the far the best.
Verified Reviewer
Business Owner in South Africa
Verified LinkedIn User
Transportation/Trucking/Railroad, 2-10 Employees
Used the Software for: 2+ years
Quickbooks Online Advanced
Comments: Great
Pros:
Depending on the size of your business you choose the option that is both suitable and affordable for your business. No need to buy complicated package of-which you are not going to use the bulk of functionality. The price is reasonable. Attractive for today's digital business environment, you can send an invoice from your phone on the go. No need to call the accountant in the office.
Cons:
Reporting need to improve allow more flexibility. Perhaps one need to be allowed to customise their own reports through a platform that you can drag and drop your data according to your requirements.
Chemicals, 2-10 Employees
Used the Software for: 2+ years
Adequate for simple product businesses
Comments: We run our business on it and have to work around all the limitations, it gets the job done, but we spend a lot of time having to use excel outside the product to get things completed. It is getting better but so slowly we have considered moving to another online software package.
Pros:
QBO is an easy to use intuitive accounting software package with generally reliable online access. It has the basic accounting features that you would expect for a small business, but lacks the detailed features necessary for a bundled product business (one where your product is composed of Bill of Materials and you need to track the details on the sub components - think of gift baskets with 10 items in it, and the basket has a single SKU.) QBO has been improving in many ways and priority circle is a welcome addition to getting support.
Cons:
The Reporting is really poor, you cannot simply build a report using any fields there are significant limitations of what fields you can include in a report. For instance you cannot write a report with customer and invoice information in it. IE. What customers have bought what products and when - this can't be done you need to export all the data and then do your own intersection to answer that question. There is really limited inventory tracking - as long as you stock and sell individual wigets your are ok, but if you sell bundles you are screwed. We have to do all inventory tracking outside of QBO because it is so lacking. You can't not do line item discounts. You cannot have negative product line items ( like volume discounts or returns, etc.) There are so many basic features in QBO Desktop that are totally lacking in the online version.
Veronica N.
Consultant Manager in US
Verified LinkedIn User
Food & Beverages, 11-50 Employees
Used the Software for: 2+ years
Alternatives Considered:
A powerful tool to track accounting and financial reporting
Comments: Overall my experience has been good with Quickbooks online advanced. The product has all the features needed to run a business, get the reporting and also connecting with useful apps developed by different partners. Especially during this unprecedented times when online presence is fundamental QBO Advances provides access to not the only an accounting platform but also easy integration to other partners like Third party delivery, PoS, e-commerce, ACH Payments, etc.
Pros:
The software is designed to simplify the journey by increasing the quality of the data input during the booking of the transactions and eliminating common mistakes during the process of bookkeeping. I like how the bank feed makes easier every bank reconciliation and provides a lot of information directly from the bank statement.
Cons:
I do not like that the migration from desktop to online is not easy and the online version has some missing features compared with the desktop version. I also do not like the Inventory module does not have all the information for food products, like expiration date or lot control