15 years helping British businesses
choose better software
What is ZeuZ?
ZeuZ All In One: AI Supported for Web, Android/iOS, Desktop, API, IoT, Performance, Load/Stress, Manual and Multimedia testing platform.
Our machine learning No Code or custom coding allows the fastest and easiest test case creation and maintenance in the market.
With JIRA, Slack, Jenkins, GitHub, Azure, CircleCI, and many other 3rd party integration ready for your CICD/DevOps releases!
Ask for FREE smoke test automation!
Who Uses ZeuZ?
Because ZeuZ is the easiest to use automated testing platform, anyone can create complex workflows in minutes. Our customers range from startups like Onloop to large enterprises like goeasy banking.
Where can ZeuZ be deployed?
Cloud-based
On-premise
---
About the vendor
ZeuZ Automation Testing
Founded in 2013
ZeuZ support
Phone Support
24/7 (Live rep)
Chat
ZeuZ pricing
Starting Price:
US$200.00/month
Yes, has free trial
No free version
ZeuZ does not have a free version but does offer a free trial. ZeuZ paid version starts at US$200.00/month.
About the vendor
ZeuZ Automation Testing
Founded in 2013
ZeuZ support
Phone Support
24/7 (Live rep)
Chat
ZeuZ videos and images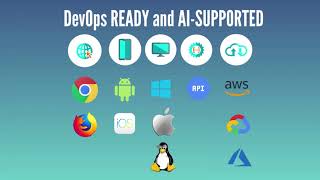 Features of ZeuZ
Audience Targeting
Audit Management
Collaboration Tools
Communications Management
Compliance Management
Continuous Integration
Data Visualisation
Document Coding & Control
Equipment Management
Hierarchical View
Load Scenarios
Load Testing
Maintenance Management
Move & Copy
Parameterised Testing
Performance Management
Quantitative Metrics
Reporting/Analytics
Requirements Management
Requirements-Based Testing
Risk Management
Software Testing Management
Supplier Quality Control
Supports Parallel Execution
Test Performance Metrics
Test Script Reviews
Testing Management
Testing Scripts
Training Management
Video recording/Transcriptions
Web Testing
Workflow Management
Zoheil
QA & Release Manager in UK
Verified LinkedIn User
Automotive, 51–200 Employees
Used the Software for: 1-5 months
Reviewer Source
Fantastic software at a great price
Comments: Zeuz has helped and is helping us transform our testing capabilities from a fully manual set up to an automated approach. This helped us improve the quality of our software and safe valuable resource time on other tasks.
Zeuz also provides fully trained testing experts at an additional cost that is definitely worth it as the resource is highly capable and provides great extra coverage to our testing needs.
The produce is very easy to use and best of all it can do so much - it really is a comprehensive tool that can cater to all possible testing needs of a company.
Pros:
- wide range of features/uses - built to be used in the most smart/efficient way - lots of integrations and possibilities - works for web, mobile and native apps - extremely competent staff
Cons:
The software keeps improving and I've seen several updates whilst working with Zeuz already.
Alternatives Considered: Kualitee, mabl, Applitools, TestProject and Perfecto
Reasons for Switching to ZeuZ: Wide range of coverage for platforms, devices, browsers Price Additional options
Computer Software, 51–200 Employees
Used the Software for: 1+ year
Reviewer Source
Very good and effective product
Comments: Intuitive and clever product that allowed us to convert most of our manual tests very quick and to add much more tests. When we were looking for a product for automated testing we selected ZeuZ after having few meetings with their Sales and MD, and we were convinced this is the product for us.We got a very good support for the ZeuZ team through the adoption of the product and we are very impressed with the results of what was achieved since we took onboard the product.Having identified small bugs and reported them to the support team, they were fixed within a day!We are using 2 resources from ZeuZ to build tests with our teams and they are very good.
Pros:
- Intuitive and user friendly- Robust- Versatile- Support team- Testing experts- Price
Cons:
The UX could be a bit better, but with the constant updates done by the ZeuZ team, we think it won't take long before it would be improved.
Alternatives Considered: Leapwork and Katalon Studio
Reasons for Choosing ZeuZ: No progress with the other tool while the pressure on the manual testers increased.
Switched From: Squish
Reasons for Switching to ZeuZ: After a proper vendor selection and testing all the rest, and this was the conclusion:Zeuz is an all-in-one test automation platform that can be implemented on Desktop, Cloud, Mobile and Web applications.It is a web based application with the test designs and executions stored on our own servers. Multiple users can write tests and login to the web portal at the same time and executions are on a per node basis.It is able to run tests in parallel across cloud,web,desktop and mobile whilst only having to create and build your test case once.It can integrate with CI pipelines in GIT, Jira and Jenkins and other tools.It has a robust inspection element for desktop application automation and a recording element tool for easier application.The recording tool will also review 20 levels of hierarchy to identify parent sibling relationships to ensure that there are no duplicates or potential of future duplication. In which case it will provide additional parameter to reduce the search condition and restrict the search condition within a specific boundary/hierarchy.Implementing this as a testing tool will tackle the issues detailed above from our objectives, with the main objective being to tackle the time and resources spent on regression.
Information Technology & Services, 2–10 Employees
Used the Software for: 1-5 months
Reviewer Source
Highly responsive
Pros:
NVP Software Solutions is in the business of evaulating Testing Life Cycles and managing large test projects. As such our main interest is in the ability to report progress and ensure stakeholders are kept informed of testing progress. Our interest in ZeuZ is to provide a platform to our clients to help them in their automation. The fact that everything is in a database (unlike some other products) means that almost any report can be generated.
Cons:
Interface is still evolving. Need to make sure that existing functionality is not lost.
Nii-Narh
Director in Canada
Telecommunications, 2–10 Employees
Used the Software for: 1+ year
Reviewer Source
Great fora range of people, those who are not technical all the way to expert/Dev teams.
Comments: We are a small company which is based online, our website and app was going through development slowly due to bugs and development issues. We asked some other companies about website and software testing but the price was astronomical. We came upon Automation Solutionz and had a demo with there team, at first it looked too complex and built for large corporations and enterprises. With very little training we realized how simple it was to use the software and even used their Project Management section. The ZeuZ software helped us save on cost and do things that a small company like ours would never have thought possible.
Pros:
- Tested our Android app, Apple app, and website using the same test cases - No coding was necessary for our testing needs - Easy to change test cases when we changed our process flow - Cut down our development time saving us on cost - Ran daily automated test sets - Streamlined our bug fixes - Very short ROI - Used the ZeuZ Project Management to run our development and daily company activities
Cons:
- As a small company, at first it was daunting to use ZeuZ, but within a matter of hours it was easy to use for even our non-technical people. - Moved our development over to the ZeuZ project management, for our small company at first the implementation was difficult but that was not because of the software.
Alternatives Considered: Ranorex Studio, Zephyr Enterprise and TestProject
Reasons for Switching to ZeuZ: Price, ease of use, great support, and highly competent staff.
Daniel
Automation Test Developer in Canada
Computer Software, 11–50 Employees
Used the Software for: 1-5 months
Reviewer Source
Effective Automation Software for Web Testing
Pros:
As a computer engineering intern working on a QA team, I had the pleasure of using ZeuZ for web testing automation. ZeuZ is a valuable tool that assisted me in creating and developing flexible test cases to meet the needs automated web testing. Over my time using ZeuZ, I found that it's a resource that excels in: ease of use, extensive and robust features, and a commitment to continuous improvement with regular addition of new features.As a first time user of Zeus, I found the learning curve to be minimal. The properties of ZeuZ are extremely intuitive, and within a week I was able to automate manual test cases and update existing testcases. I managed to grasp the power of this platform for core web testing features fairly quickly. The entire system provides users with great power, as its numerous actions allows one to cover testing for all parts of their product.The customer service of ZeuZ is also an asset of this product. I was able to rely on the ZeuZ team whenever I required clarification or further direction. They responded in a timely manner, answered questions succinctly and provided clear solutions for all of my concerns. ZeuZ also strives for continuous growth as they regularly update features to optimize user experience. They constantly seek feedback and willing to implement changes for improvement.
Cons:
One con of ZeuZ would be their search engine. In some instances, the searches failed to provide precise or accurate results for certain actions. The workaround for this issue can be resolved by implementing highly specific searches in the system, which is a tad bit inconvenient, but a simple solution nevertheless.Currently, as of writing, the ZeuZ team is actively working towards bridging this gap in their search engine, through code optimizations and the aid of external libraries, which again, shows their commitment to improving the product. I look forward to seeing this how this product evolves in my future endeavors.