Local product
What is NetSupport DNA?
Supporting up to 10,000 devices, NetSupport DNA provides organisations with the tools to manage technology across multiple platform while supporting staff and data protection. Easy to install and use, NetSupport DNA offers a wealth of network and IT management tools for network managers to track, monitor and manage IT assets and endpoints – all from one central point. Its features have been designed to save time, increase productivity, save money and boost security.
Who Uses NetSupport DNA?
IT teams in any type of organisation that needs to maintain a secure and reliable network, plan accurately for future IT spending and refresh cycles, and boost staff productivity.
Where can NetSupport DNA be deployed?
Mac (Desktop), Windows (Desktop), Windows (On-Premise), Chromebook (Desktop), Android (Mobile), iPhone (Mobile), iPad (Mobile)
About the vendor
NetSupport
Founded in 1989
Phone Support
Chat
Countries available
United Kingdom
Languages
English, French, German, Italian, Spanish
About the vendor
NetSupport
Founded in 1989
Phone Support
Chat
Countries available
United Kingdom
Languages
English, French, German, Italian, Spanish
NetSupport DNA videos and images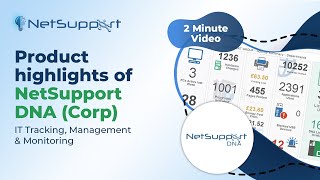 Compare NetSupport DNA pricing with similar products
Features of NetSupport DNA
Access Controls/Permissions
Activity Tracking
Alerts/Notifications
Asset Lifecycle Management
Asset Tracking
Audit Management
Audit Trail
Compliance Management
Compliance Tracking
Contract/License Management
Cost Tracking
Dashboard
Fixed Asset Management
IT Reporting
Inventory Auditing
Inventory Management
Inventory Optimisation
Inventory Tracking
License Inventory
License Tracking
Location Tracking
Maintenance Management
Maintenance Scheduling
Mobile Access
Real Time Notifications
Reporting/Analytics
Supplier Management
Trial License
User Management
Alternatives to NetSupport DNA
Reviews of NetSupport DNA
Gregg
Desktop Support in US
Verified LinkedIn User
Glass, Ceramics & Concrete, 201-500 Employees
Used the Software for: 6-12 months
Great tool
Comments: Data about my environment.
Pros:
I like that DNA gives me a lot of information that I need and not too much of the stuff I don't. Keep it simple. We are mostly using it to track inventory of hardware and software, easy to take a quick look of browsing activity (better than my firewall), The USB lockdown is simple to setup and use. This is one of the best tools in this category that I have found and used.
Cons:
Reports can be a little tricky to create or figure out, not as intuitive as the rest of the software. However this is my go-to tool for general data in my environment.
Government Administration, 501-1,000 Employees
Used the Software for: 1+ year
A great piece of software
Comments: It's a great companion software for any tech support shop. It's great to have all that information on your users at your fingertips.
Pros:
The ability to pull up any PC and get an in depth report on software, hardware, what they are browsing on the web and even what they are doing right now.
Cons:
Updates are little cumbersome on the server and client. Reporting is ok but not having the option to create a custom report with the data you want to see is a bit annoying, shouldn't be stuck with just the default reporting queries.
Verified Reviewer
IT Technician II in US
Verified LinkedIn User
Hospital & Health Care, 51-200 Employees
Used the Software for: 1+ year
An Asset Management System You Should Try
Comments: Overall, my experience has been good. Support has been quick to help when I've needed. We originally kept all of assets in a spreadsheet. Moving to this system was great because now we can see at a glance what we have and how its all running and gives you the options to drill down and run reports.
Pros:
What we liked most about the service was all of the information you get and you don't have to go to each individual machine. You can see logins and logouts, computer resources, lists of running applications, and you can even block USB drives from being plugged in and run on certain computers.
Cons:
Installation wasn't very straight forward. I had tried myself and failed and had to contact support so that they could remote in and set everything. The same also happened on the last update. One function that I would have loved to used but can't was the mobile app for scanning QR codes and bring up the computer info. It's been almost a year and the developers aren't sure why it's not working.
Riad
Director in Venezuela
Hospitality, 11-50 Employees
Used the Software for: 2+ years
Complete control of all your system
Comments: Hardware and Software inventory plus system alerts for any changes
Pros:
With this software is easy to control a lot of variables on your intranet clients such a internet traffic, USB port Control, software and hardware client inventory, alerts and much more. This is a much have software in any company no matter the size and especially when combined with Microsoft Active Directory.
Cons:
It has some lag due to the Database response when have too much time unattended. impossible to delete an registered PC client that don't belong to the organization anymore.
Tracie
IT Specialist in US
, 201-500 Employees
Used the Software for: 6-12 months
We love the product and it has made monitoring our network so much easier.
Comments: Hardware and software monitoring and alerts.
Pros:
I like the customization alerts on the product. It is not only easy to see the hardware that is on our network, but the software installed as well.
Cons:
The only thing I would like to see the product do is show a profile of a user while logged in. Mainly mapped drives.