Local product
What Is NetSupport Manager?
For over 32 years, NetSupport Manager has consistently led the way with remote PC management. Designed to operate over your LAN, WAN or the internet, securely and without the need for firewall configuration, NetSupport Manager provides a single, high speed solution for secure remote control and access of multi-platform computers in any location. Without the need for a third-party service or ongoing subscription costs, it's the perfect tool of choice for any IT team.
Who Uses NetSupport Manager?
Any organisation providing centralised technical support (secure remote control and access) across a range of platforms and locations.
NetSupport Manager Details
NetSupport
Founded in 1989
NetSupport Manager videos and images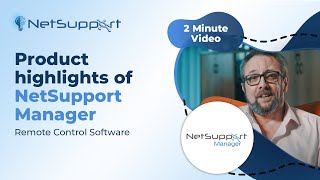 ▶︎
NetSupport Manager Details
NetSupport
Founded in 1989
Compare NetSupport Manager with similar products
Starting price
N/A
US$13.50/month
US$20.00/month
N/A
NetSupport Manager deployment and support
Support
Email/Help Desk
FAQs/Forum
Knowledge Base
Phone Support
Chat
Deployment
Mac (Desktop)
Windows (Desktop)
Windows (On-Premise)
Linux (On-Premise)
Chromebook (Desktop)
Android (Mobile)
iPhone (Mobile)
iPad (Mobile)
Training
In Person
Live Online
Webinars
Documentation
Videos
NetSupport Manager Features
Verified Reviewer
IT Manager in US
Verified LinkedIn User
Used the Software for: 1-5 months
Amazing and feature rich.
Pros:
The amount of features available is amazing. Made remote support a breeze for our environment. Easily the best.
Cons:
Deploying takes a bit to figure out. Support is very helpful but would love to see an easier way for the silent deploy.
Joel J.
Director of Managed Services in US
Information Technology & Services, 201-500 Employees
Used the Software for: 2+ years
NetSupport RULES!
Comments: I was introduced to NetSupport more than 15 years ago by a vendor we engaged to provide a new common-use platform for an airport ServiceTec was providing managed IT services for. I was immediately struck with the ease and amount of control NetSupport provided for the installation of the new platform. As we continued to add devices and eventually other mission-critical systems to our network, NetSupport proved its scale-ability again and again. When we had questions, their tech support was right there to give us answers. NetSupport cares about you as a partner. I've always been impressed that I do business with an individual as well as a valued partner. NetSupport makes my job easier to do!
Pros:
NetSupport is a complete suite of management tools for your network. NetSupport installs easily on individual clients giving you control and access from anywhere in the world. NetSupport will enable you to monitor and/or control individual devices or groups of devices depending on your setup. Technical support is world class, you really ARE important to them. As a client, you're not just a name, you're a partner.
Cons:
Honestly, this is a hard one for me, over the past 15 years I've used NetSupport, I've never had an occasion to be dissatisfied.
Wayne D.
Technical Systems Manager in UK
Plastics, 201-500 Employees
Used the Software for: 2+ years
Alternatives Considered:
NetSupport Manager 12.7
Comments: The ability to manage our entire UK SCADA system from the comfort of my office without the need to travel
Pros:
Being able to visualise the computers in real time
Cons:
Deployment of the software can be difficult to install if computers are located in a remote location.
Information Technology & Services, 2-10 Employees
Used the Software for: 2+ years
Still one of the best
Comments: It is in invaluable tool for me to remote into servers and desktops for IT management.
Pros:
I have used NSM for 10+ years, and school for several. I also use other remotes. Net Support consistently comes out as one of the best (if not THE best). It's ease of use is unparalleled. Reliability is very high; features like inventory and file transfer are easy and fast. Times when I have needed support, they have always been able to fix the issue. I plan to continue using it.
Cons:
Once in a blue moon, the manager will not connect to a client; it's not often, but enough that I remember it (to be fair, all others that I have used do the same thing). Again, once in a blue moon it randomly disconnects (and again, all the others that I have tested do the same thing). However, even with these issues, it seems to have as few or less bugs than it's competitors.
Alex F.
Lead Manager/IT Admin in Honduras
Construction, 51-200 Employees
Used the Software for: 2+ years
Alternatives Considered:
NetSupport: The Corporate Genius
Comments: Amazing corporate experience, a simple but robust solution for a big or small company. Its updates were amazing, improving and improving and the tutorials to install a hidden client inside the PC of people who have "issues" with IT Team.
Pros:
NetSupport is a robust corporate Remote support tool, it's amazing how you can deploy an install in the background without the person knowing they're getting an update to their company software, or in case you have a user that constantly forgets their password or are not tech-friendly you can access in a glimpse and take total control.
Cons:
The only con is that it's difficult to access other networks besides the internal one of the company. For Ex. how Teamviewer/Anydesk or other software work.