What is Google Classroom?
Collaboration tool that allows educators to create assignments, receive feedback, assess progress, share information, and more
Who Uses Google Classroom?
Learning management system designed for schools, non-profits, and private organizations that helps create virtual classrooms, manage calendars, communicate announcements, and more.
Where can Google Classroom be deployed?
Cloud, SaaS, Web-based, Mac (Desktop), Windows (Desktop), Android (Mobile), iPhone (Mobile), iPad (Mobile)
About the vendor
Google
Founded in 1998
Chat
About the vendor
Google
Founded in 1998
Chat
Google Classroom videos and images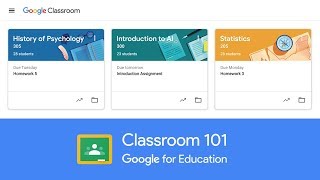 Compare Google Classroom pricing with similar products
Features of Google Classroom
Assignment Management
Certification Management
Communication Management
Content Library
Course Management
Course Publishing
File Sharing
For Schools
Gradebook
Learning Management
Learning Paths/Tracks
Media Import
Mobile Learning
Polls/Voting
Progress Tracking
Real-time Broadcasting
Reporting/Analytics
Screen Sharing
Session Recording
Storyboarding
Student Information/Records
Tests/Assessments
Third Party Integrations
Training Administration
Two Way Audio & Video
Virtual Classroom
Alternatives to Google Classroom
Reviews of Google Classroom
Faith N.
Leadership Development Intern in US
Verified LinkedIn User
Internet, 1,001-5,000 Employees
Used the Software for: 2+ years
Google Classroom is convienient.
Pros:
I love the fact that Google Classroom (like most Google products) integrate their other products with each other. For example, with Google Classroom, users (ranging from teachers and other faculty to students) can use Google Meet to conduct video calls for classes, lecturing, holding parent-teacher conferences, and other meetings. There's a seamless feeling I get from that and it's very convenient for users.
Cons:
There were no cons or what I liked least about this software.
Shazia F.
Biology Teacher, Co-ordinator in India
Higher Education, 51-200 Employees
Used the Software for: 2+ years
Alternatives Considered:
Google Classroom, with various integration options, is the top-notch product in the LMS industry
Comments: We have been using Google Classroom since 3 years due to the COVID pandemic and my experience with this product has been excellent so far. It has helped us a lot in keeping track of my students' progress and has become an essential tool for us in imparting education to my students due to this pandemic. It is an easy-to-use cloud-based LMS solution so one can access Google Classroom through the browser without downloading anything. Google Classroom has provided us with excellent ROI. With the implementation of Google Classroom, students' grades have improved a great deal.
Pros:
The feature of Google Classroom that I like the most is the easy-to-use, user-friendly and attractive user interface. Another favourable feature is that this platform is totally cloud-based and so it works on any browser. Google Classroom has various features for keeping my students interactive and engaged in my classes. The most helpful feature of Google Classroom is the ability to link a Google Doc or a Google Form to my assignment. Another helpful feature of Google Classroom is the in-built assignment grading feature to award marks and return the assignments to my students. The graphical user interface for students as well as teachers gives it a better look and makes it easy to use. Google Classroom gives detailed insights about students' assignment submissions. Google Classroom can be integrated with various other products like Hapara and Schoolytics which increases the capability of this product. I can start a Google Meet meeting with my students instantly through Google Classroom for hassle-free video conferencing.
Cons:
One feature that Google Classroom is missing is the attendance marking feature. This feature is available in most of the competitor's products and so it might be a downside for those who are considering this product. When the stream is updated from the teacher's side, it does not immediately show up on the students' side. They will have to reload the page to view the updated stream which is a bit painful somehow.
Andrya Q.
designer in Brazil
Design, 501-1,000 Employees
Used the Software for: 6-12 months
Google Classroom it's good depending on the case.
Pros:
- Class management; - Publish in a single place a task, a work and this will be distributed to the students; - Give the student grades automatically, makes the teacher's work easier.
Cons:
There are other software with the same functions that end up being better in terms of video quality and screen sharing.
Aniket P.
Student Researcher in India
Research, 51-200 Employees
Used the Software for: 1+ year
Google Classroom: The Modern Virtual Classroom
Comments: I have used Google Classroom both as a student and as a teaching assistant. The features I thought that lacked as a student, were in-fact present beforehand which the teachers were forgetting to do, such as properly labelling posts/assignments, and arranging every student's grade in the application in itself. This basically implies that there is a learning curve to the application and is not as straightforward, which is due to the multitude of features present in the application.
Pros:
Classroom makes it easy for teachers to create their classrooms and manage students in it. Counter-intuitively, it is extremely easy for students to register into their preferred classrooms. The administrators can add multiple teachers (teaching assistants) to help the main teacher help with managing the classroom. One can also sync the Classroom with a lot of apps from the Google Suite, such as Google Docs, Sheets, Slides and Meet.
Cons:
Google Classroom currently lacks a search bar to search for appropriate post/assignment. This makes it difficult to search through the timeline for a post, unless it is appropriately labelled, which is usually forgotten by the teacher/instructor.
Maribel J.
Comunity Manager in Ecuador
Verified LinkedIn User
Marketing & Advertising, Self Employed
Used the Software for: 1+ year
Alternatives Considered:
Virtual Classroom
Comments: Amazing! It is a valuable and productive application. I would prescribe it to individuals who haven't attempted it.
By and large, I love the capacity to assemble materials and tasks into one point of convergence, per class, since it tells understudies where to really look at data. Google concentrate on room worked out the quantity of tasks for each class of different subjects.
Pros:
It is moderately simple to set up a class and welcome understudies to join. You will probably have to watch an instructional exercise first, however from that point forward, it is really direct. I like that it time-stamps submitted work. I like the most about this stage is the association between online courses. Making tasks, taking tests, sharing declarations, contacting understudies exclusively, capacity of understudy task documents in the connected Google account in all around organized way, sharing of Google structures or connections to assets from outer sources help make instructing understudies extremely productive.
Cons:
Google Classroom at present misss the imprint on search bar to look for authentic post/task. This makes it hard to look through the arrangement for a post, beside if it is properly named, which is ordinarily forgotten by the teacher/instructor.