Local product
What is Wellyx?
Amazing businesses deserve amazing software. Wellyx is the next generation business management software for wellness and fitness industry. From Gyms to health clubs, Fitness Studios, Yoga Studio with live streaming option and more, Wellyx is the only platform you'll ever need to make informed decisions and grow your business. Available in the cloud, from any device, we've kept Wellyx simple, ensuring it is loved by millions of happy users.
Who Uses Wellyx?
Gyms ,Fitness studios, Yoga studios, Acupuncture, Clinics, Coaching, Physical Therapy, Martial Art Studio, Health Club, Salon, Spa, Dance Studio, Massage Center, Pilates Studio, Barbershop.
Where can Wellyx be deployed?
Cloud, SaaS, Web-based, Mac (Desktop), Windows (Desktop), Linux (Desktop), Windows (On-Premise), Linux (On-Premise), Chromebook (Desktop), Android (Mobile), iPhone (Mobile), iPad (Mobile)
About the vendor
Wellyx
Located in London, UK
Founded in 2016
Phone Support
24/7 (Live rep)
Chat
Wellyx pricing
Starting Price:
US$29.00/month
Yes, has free trial
No free version
Wellyx does not have a free version but does offer a free trial. Wellyx paid version starts at US$29.00/month.
About the vendor
Wellyx
Located in London, UK
Founded in 2016
Phone Support
24/7 (Live rep)
Chat
Wellyx videos and images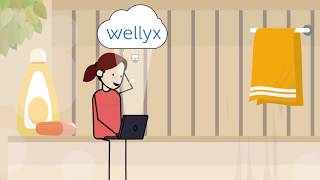 Features of Wellyx
Activity Dashboard
Alerts/Notifications
Appointment Management
Appointment Scheduling
Attendance Management
Attendance Tracking
Automated Scheduling
Availability Management
Billing & Invoicing
Booking Management
Calendar Management
Calendar Sync
Class Scheduling
Client Database
Client Management
Client Portal
Client Profiles
Communication Management
Confirmation/Reminders
Customer Database
Customisable Branding
Customisable Forms
Data Import/Export
Discount Management
Electronic Payments
Email Marketing
Employee Management
Employee Scheduling
Event Management
For Barbershops
For Salons and Spas
For Yoga/Pilates Studios
Gift Card Management
Group Scheduling
Inventory Management
Loyalty Program
Membership Management
Mobile Access
Multi-Location
Online Booking
Online Payments
Online Registration
Parent Portal
Payment Processing
Payroll & Commissions
Payroll Management
Performance Metrics
Point of Sale (POS)
Recurring Appointments
Registration Management
Reminders
Reporting & Statistics
Sales Reports
Scheduling
Self Service Portal
Student Management
Team Management
Third Party Integrations
Wait List Management
Website Integration
Reviews of Wellyx
Reviews by company size (employees)
<50
51-200
201-1,000
>1,001
Health, Wellness & Fitness, 11-50 Employees
Used the Software for: 1+ year
No chance of getting better software
Comments: I must say it is so far so good. It has a significant impact on the way I look at my business
right now. It is in the refined form to help me meet the vision I have set to achieve in the
long run. It has made my life easy and closer to my future.
Pros:
It provides a great user experience not only for businesses but also for customers. The experience of using it is more than utilizing a booking software.
Cons:
All the features of this software have provided numerous benefits to my business. But one thing I felt missing is that it doesn't give access to the recorded classes. I think there is a strong need to introduce this feature in this software.
Clive
General Manager in UK
Entertainment, 11-50 Employees
Used the Software for: 6-12 months
Fantastic Software, definately added significant value to our business.
Comments: Wellyx have increased our efficently and reduced our admin by around 25%.
Pros:
The features are very comprehensive and varied, from built in 2 way SMS and email to app notifications and prospect management. The greatest thing is the software is easy to setup and use, and the support is very good. I can call and speak to someone if needed at any time.
Cons:
I have looked at lots of softwares and have purchased several in the past, and i must say this is the best i have seen. There is not much i can say is negative about Wellyx. They are also adding more and more features which makes the software event better.
Alternatives Considered: Glofox, Vagaro and WellnessLiving
Reasons for Choosing Wellyx: Wellyx was more compreheive and at a lower price. It was a non-brainer to change to them. They aslo did the whole migration for me which made my life easier.
Reasons for Switching to Wellyx: simple backend, better price and more support.
Nicole
Director in Australia
Health, Wellness & Fitness, 2-10 Employees
Used the Software for: 2+ years
Great Support
Comments: I enjoy using Wellyx.
Pros:
There is always great tech support when I need help with something in the system or if I need something added. There is great membership management functionality options. It manages POS and attendance tracking very easily.
Cons:
The site could load faster. It would be good if trainers could change and book appointments on the Staff App. I am still waiting on some reporting to be improved and updated, and I am waiting on some improvements to the auto service SMS reminders. I would also like if Wellyx would integrate with Google Calendar for my trainers use.
Health, Wellness & Fitness, 11-50 Employees
Used the Software for: 6-12 months
Great product, that does it all.
Comments: A great product with a wide range of features that meet all our needs. Amazing customer support, any of our issues were resolved within hours.
Pros:
It wasn't just one feature it was the fact that this product had so many features, where before we using several products and paying several subscriptions we now only use Wellyx and it handles all our needs.
Cons:
Couldn't really find anything that I didn't like
Alternatives Considered: Glofox, Mindbody and PushPress
Reasons for Choosing Wellyx: Wellyx had all features we required in 1 product. So didn't need to use multiple other products.
Reasons for Switching to Wellyx: Much much better customer services, better pricing, and overall better and easier product to use
Atilla
Duty Manager in UK
Health, Wellness & Fitness, 11-50 Employees
Used the Software for: 1+ year
The CRM for health clubs!
Comments: Pleasantly surprised. Had soo many bad experiences before I have just shocked how easy & seamless it was to transfer our data across and my members never even noticed.
Pros:
Extensive features, support and flexibility. I get a clear picture of my members and my revenue. I'm really starting to love the leads module and how it has reduced our admin work by over 50%.
Cons:
The software has so many new features every few months I don't really have any. In would like WhatsApp integration but that I am told is coming soon!
Alternatives Considered: Glofox and Mindbody
Reasons for Choosing Wellyx: Lack of functionality. UI was not great. I just wanted my software to do so much more.
Reasons for Switching to Wellyx: Better UI. Better Functionality. Better Support.