What is BIC GRC?
BIC GRC offers a professional, sustainable, cost-effective solution to digitalize your GRC processes. Depending on your business model, you can choose from a pre-built solution that you can quickly implement out of the box or a BIC Custom GRC solution tailored to your unique needs. The use cases in BIC cover the entire GRC spectrum including the fields of risk management, internal control system (ICS) information security, data protection and BCM.
Who Uses BIC GRC?
BIC GRC is the ideal solution for all organizations – from midsize companies to international corporations of all industries – looking for a software solution in English or German.
Where can BIC GRC be deployed?
Cloud, SaaS, Web-based, Mac (Desktop), Windows (Desktop), Linux (Desktop), Windows (On-Premise), Chromebook (Desktop)
About the vendor
GBTEC
Located in Bochum, Germany
Founded in 2004
Phone Support
Chat
Languages
English, German
BIC GRC pricing
Starting Price:
Not provided by vendor
Yes, has free trial
No free version
BIC GRC does not have a free version but does offer a free trial.
get a free trial
About the vendor
GBTEC
Located in Bochum, Germany
Founded in 2004
Phone Support
Chat
Languages
English, German
BIC GRC videos and images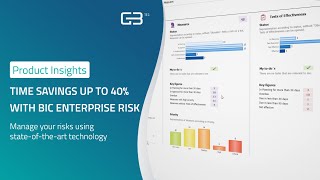 Features of BIC GRC
Action Management
Alerts/Notifications
Archiving & Retention
Audit Management
Audit Planning
Business Impact Analysis
Compliance Management
Controls Audit
Corrective and Preventive Actions (CAPA)
Crisis Management
Dashboard
Disaster Recovery
Emergency Notification
Exceptions Management
Financial Risk Reporting
Incident Management
KRI (Key Risk Indicator) Monitoring
Mobile Access
Plan Development
Process/Workflow Automation
Reporting/Analytics
Response Management
Risk Analytics
Risk Assessment
Risk Management
Risk Reporting
Risk Scoring
Secure Data Storage
Task Management
Training Management
Version Control
Workflow Management