What Is PayPal?
Over 26 million businesses choose PayPal to power their online payments both home and abroad. With easy setup, world-class fraud and seller protection tools, youll be able to reach more buyers and driver higher sales with PayPal. Whether youre selling on your own website or on marketplaces or via social media you can receive and send payments anywhere in the world with your all-in-one business account for online payments

24/7 Fraud Protection - Easy Integration - Global Expertise
Who Uses PayPal?
Whether you're a small business, ecommerce platform, marketplace, enterprise, or developer, PayPal Commerce Platform offers what you need to run your business and help it grow.
PayPal Details
PayPal
Founded in 1998
PayPal Details
PayPal
Founded in 1998
PayPal videos and images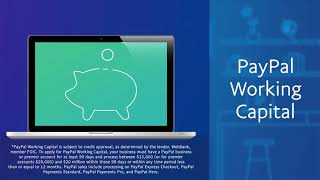 Compare PayPal pricing with similar products
Starting price
US$0.04/month
N/A
US$0.30
N/A
PayPal deployment and support
Support
Email/Help Desk
FAQs/Forum
Knowledge Base
Phone Support
Chat
Deployment
Cloud, SaaS, Web-based
Android (Mobile)
iPhone (Mobile)
iPad (Mobile)
Ogochukwu O.
Blogger, YouTuber, Crypto Enthusiast in Nigeria
Verified LinkedIn User
Marketing & Advertising, Self Employed
Used the Software for: 2+ years
PayPal Is The Best And The Quickest Digital Wallet Provider For Sending And Receiving Money Online
Comments: If you desire the fastest digital wallet for sending and receiving money online, I'd suggest you obtain a PayPal account like I did. Also, I could easily send money to my friends and family, by simply adding-in their PayPal email account and BOOM!
Pros:
I have the ability to send and receive money online, from both local and international funding sources, with no limit on my account, meaning that, I can receive any amount of money on my account and as well as withdraw same amount of money to my local bank account.
Cons:
PayPal does not support all countries in the world, making it hard for those countries to utilize PayPal for sending and receiving funds online. Also their customer support team is not a good gone, especially during your tough account situation.
Verified Reviewer
Marketing Lead in Germany
Verified LinkedIn User
Information Technology & Services, 11-50 Employees
Used the Software for: 2+ years
Market standard as purchasing method - a must for shops
Pros:
PayPal is a standard payment method for me when it comes to online payment transactions. It's easy, quick, and straightforward. The customer can choose between different payment methods (PayPal account with direct debit, credit card or purchase on account/installments). Dealers immediately get payment confirmation. In addition, all business payments are covered by buyer protection. This makes it a very convenient transaction method.
Cons:
Some points are rather negative. For instance, in the past PayPal has frozen higher incoming payments directly (suspicion of money laundering). Verification of your account is a must. I also find the fees that are charged occasionally very questionable. Therefore, as the operator of a digital payment, the amount of the order sums have to be questioned. Not all payments should be managed with Paypal as it can get very expensive.
Diane D.
president and ceo in US
Management Consulting, 2-10 Employees
Used the Software for: 2+ years
Misrepresentation and misinformation and inconvenience
Comments: The experience was horrible. I was on hold for a total of 2.5 hours with no solution. The conversation was redundant and there was no level of sensitivity to the damage that is being done to me with absolutely no options. I just wasn't a human and felt like all they wanted to do was tell me what was in the terms and conditions. I called 20 people and asked if they were aware of this 21 day delay and all but one said no. The one who knew said they Paypal released their 21 day hold in one day when they called.
Pros:
It was not too difficult to set up other than the validating of the bank account
Cons:
The 21 day delay for a customer who has been a member since 2008 is totally ridiculous. I am running in a special election and by the time the funds post my election will almost be over. [SENSITIVE CONTENT] in customer service told me it would be 7 days and now it is 21 days which defeats the purpose. Had I had known this I would have selected another way for donors to contribute. These funds are not tax deductible campaign contributions and are needed to run and finance my campaign. I use PayPal for all my ebay and amazon and other retail purchases. Just baffled that there seems to be no solution to release these funds especially since I was told in this circumstance they would release the funds. Second, the customer service agents were like robots who did not understand my situation and were repetitive and redundant and it was as if I was a number. I am so disappointed and frustrated. Even the donors are frustrated and are saying they have not requested that Paypal withhold these funds and they are not understanding this decision by Paypal. The monies raise to manage the campaign will be of little avail when they release this hold. We are not a charity like a 501c3 but a campaign committee
Sal P.
Manager/Bassist in US
Entertainment, 2-10 Employees
Used the Software for: 2+ years
Alternatives Considered:
The original and the essential.
Comments: Safe, secure, and reliable. I trust PayPal with my personal information and as my go-to payment processor to both send and receive payments. You can't ask for more, and it's easy to pull transaction data as necessary. It hasn't been often that I have needed to contact PayPal, but, when I do, they have always worked with me to resolve my concerns.
Pros:
I have been a long-time user of PayPal and have used it since the early 2000s. I have used PayPal for online sales through eBay, which how I was first introduced to the website. It was always a quick and safe way to process online payments. As I began to work on music and needed a method to accept payments, PayPal was my obvious choice. PayPal is instant and offers great security for both payer and payee. I see the essential information I need to send out merchandise or e-mail files and I can also rest assured that my payments that I both send and receive are secure. In addition, in this age of phishing scams, PayPal's security features help me feel more secure in sending money online. I can trust PayPal with my account and card information and have never had an issue in the nearly 20 years of using the platform.
Cons:
Like all payment processing companies, PayPal does charge fees for their services. While I expect and accept that fees are essentially inevitable, it's always nice if fees can be lowered so that creators can keep more of the funds they work so hard to earn. It's unfortunate when prices need to be raised to account for percentages. Generally, though, PayPal's fees are amongst the lowest that I have seen, so this is a very minor complaint.
Charlene D.
business owner in Canada
Retail, Self Employed
Used the Software for: 2+ years
Very Fair When Handling Disputes
Comments: I had a customer put through a dispute that was totally unfair. What the customer was saying to Paypal wasn't true, he basically wanted his product for free and his money back. I was worried they may just favor this customer and not read the evidence I sent it. It took some time to go through it all but they obviously read all the evidence I sent them and the case was in my favor. I was so happy they took the time to do a thorough investigation and didn't just assume a customer is always right because in this case, they were not. PayPal's Customer services overall are great, they are there when you need them and very fair! Thanks PayPal!!!
Pros:
Easy integration into my WordPress site and easy setup.
Cons:
When I have a sale on my WP Site, the totals never come through showing the fees attached as they do with the Stripe payment system. It makes bookkeeping a little longer as I have to go into PP to see the fees. Maybe there is a setting or something that I'm just not seeing.