What is Google Slides?
Cloud-based office suite by Google that helps create, edit, and collaborate presentations sorted by date and are saved automatically.
Who Uses Google Slides?
Presentation solution for all enterprises that helps manage presentations with features such as themes, fonts, embedded video, and animations.
Where can Google Slides be deployed?
Cloud, SaaS, Web-based, Mac (Desktop), Windows (Desktop), Android (Mobile), iPhone (Mobile), iPad (Mobile)
About the vendor
Google
Founded in 1998
24/7 (Live rep)
Chat
Countries available
United States
Google Slides pricing
Starting Price:
US$6.00/month
Yes, has free trial
Yes, has free version
Google Slides has a free version and offers a free trial. Google Slides paid version starts at US$6.00/month.
About the vendor
Google
Founded in 1998
24/7 (Live rep)
Chat
Countries available
United States
Google Slides videos and images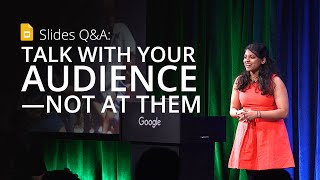 Compare Google Slides pricing with similar products
Features of Google Slides
Animation
Audio File Management
Collaboration Tools
Customisable Templates
Media Library
Offline Presenting
Screen Sharing
Video Support
Alternatives to Google Slides
Gregor T.
Senior Operations Executive in UK
Information Technology & Services, 1,001-5,000 Employees
Used the Software for: 1+ year
It's good, but I do prefer Powerpoint
Comments: We do a weekly company-wide presentation which I regularly contribute my own slides too. Additionally, I use it for team presentations, and also as a mechanism to collate my own thoughts and research on work projects into something more stream-lined.
Pros:
As with all of Google's software, it's so easy to use Google Slides across teams, across countries and across companies. We can work independently on the slides we will present, and then someone else can go in and tidy the whole thing up. It saves so much time compared to Powerpoint, which is great. It's also easy to duplicate and copy slides, including from other presentations, which is super helpful. I also like how easy it is to add comments and to tag people. We integrate it very nicely into Slack, making the process of making presentations hugely stream-lined and efficient. I also like that the red lines appear to show you when you have lined up a picture or text box correctly with the rest of the slide.
Cons:
I find it really difficult to create the style of slide that I want - I feel that Powerpoint has a broader selection of templates and it is easier to design a slick and stylish slide through Powerpoint. I often revert to copying templates made by colleagues, and I honestly cannot work out how they made them, despite being proficient in Powerpoint. There's not great support online with this in my opinion. Also, I find it frustrating that my formatting jumps around so much when I change the template. Finally, it's annoying that the layout doesn't appear the same when I run a presentation as when I look at the slide while editing it.
Megan G.
Marketing Coordinator in US
Verified LinkedIn User
Information Technology & Services, 501-1,000 Employees
Used the Software for: 1+ year
A free alternative to PowerPoint
Comments: Google slide has the advantage that it is based on the web, in this way it can be accessed from any device and from anywhere, the mobile version is good and its interface is intuitive, I like that the integration with other Google apps works very well , such as drive, maps, and calendars. I can also make a meeting and share my presentations.
Pros:
Slides is the best alternative to Microsoft power point, I like that you can make presentations and save them automatically in the cloud, what I like about slide and the entire Google Workspace platform is that you can share a file with just a link and collaborate with other people in real time, Google slide is ideal for people who work in teams and are constantly collaborating.
Cons:
What I do not like is that the margins are sometimes misaligned when it is a power point file, it does not have 100% compatibility
Verified Reviewer
Coordinator in Panama
Verified LinkedIn User
Education Management, 1,001-5,000 Employees
Used the Software for: 2+ years
Best option for virtual classes
Pros:
What I like the most about Google Slides is that it can be accessed from any computer and it does not require any program to be installed to open it. In a class setting, Google Slides can be used within Google Classroom allowing teachers to project the content of their class in a clear way and also allows students to answer questions within the Slides in a fun format.
Cons:
I love Google Slides and I use it daily with my students. Google Slides allows me to create interactive content in which I can type, drag and match information while explaining a lesson. However, when I project my slides in class I lose access to the functionality of dragging, matching and writing because it becomes a presentation. I work around it by not presenting the Slides as a slideshow. -As an educator sometimes I need to change the size of an individual slide in the page setup to present a larger text. Google Slides does not allow that since any changes made in one slide will be reflected in all the other slides. It would be beneficial to have that option.
Jessica G.
Curriculum Director in US
Verified LinkedIn User
Education Management, 51-200 Employees
Used the Software for: 2+ years
Student Collaboration at Its Best
Pros:
I enjoy how Google Slides allows individuals of any age to work collaboratively. Multiple people can edit and add to the same slideshow, from different devices, asynchronously. Students who are "virtual" can still complete partner or group projects using Google Slides online, without ever physically meeting each other. Also, Google slides shows the history of edits, so educators can see which students produced which slides or materials, and which students may not have contributed to a group project.
Cons:
My least favorite thing about Google Slides is that it does not have the same presentation features as Nearpod slides. I wish, when presenting in Google Slides, I could control which slides the participants were viewing on their individual devices, without having to make the presentation a Zoom with screen-sharing.
Angela R.
Online Teacher in US
E-Learning, 1,001-5,000 Employees
Used the Software for: 2+ years
Works Well for Online Teachers
Comments: I have had an extremely positive experience with Google Slides. My students enjoy using it for presenting, and I enjoy using it to lay out my lessons and tasks for students each week.
Pros:
I really like the fact that I can easily put together lessons for my students in less time than it would take me to use PowerPoint. I have made multiple lessons for my students over the past two years and used them frequently during our Zoom lessons. It is easy to copy information covered in one lesson to the next lesson, add pictures, and even make the slides interactive. The colors are bright and the slides can really pop with just a bit of creative effort and time. My students have also used Google Slides for presentations to their classmates.
Cons:
I would like to see a few more design templates geared towards those of us in education. I would also like to see sound bites added to the slides in an easier manner. I can do it, but it's more complicated than I would like it to be.