What Is Ahrefs?
Ahrefs is trusted by SEOs and marketing professionals worldwide as the ultimate toolset for SEO, powered by industry-leading data. Ahrefs crawls the web, stores tons of data and makes it easily accessible via a simple user interface. The data can be used to aid keyword research, link building, content marketing, competitive research, website audits and rank tracking. Ultimately, the tool helps to accelerate the growth of organic search traffic to a website.
Who Uses Ahrefs?
Website owners, SEOs, marketers, agencies, in-house marketing teams, enterprises
Where can Ahrefs be deployed?
Cloud, SaaS, Web-based
About the vendor
by Ahrefs
Founded in 2010
Phone Support
Chat
Languages
Chinese, English, Japanese, Russian
About the vendor
by Ahrefs
Founded in 2010
Phone Support
Chat
Languages
Chinese, English, Japanese, Russian
Ahrefs videos and images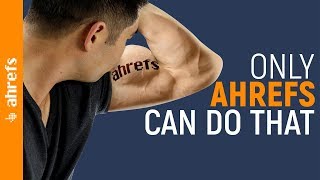 Compare Ahrefs pricing with similar products
Starting price
US$99.00/month
US$119.95/month
US$99.00/month
N/A
Tayyab S.
Administrator in Pakistan
Verified LinkedIn User
Writing & Editing, 2-10 Employees
Used the Software for: 6-12 months
All Resources to Grow Search Traffic
Comments: I found it useful and beneficial in Keyword Research and Analyze Competitor Details.
Pros:
Ahrefs is a complete SEO tool that holds multiple tools like Link building Keyword research Competitor analysis Rank tracking Site audits I usually use Ahref for keyword Research which is important to grab the traffic to your site as well as analyze the top rank keywords.
Cons:
Little bit Complex Interface Many filters on referring domains Not 100% accurate Stats less Internal link opportunities
Verified Reviewer
CMO in Singapore
Verified LinkedIn User
Marketing & Advertising, 2-10 Employees
Used the Software for: 1-5 months
Alternatives Considered:
This may be the only tool you would need for SEO
Comments: I really enjoyed using the tool, it has all the features one can ever ask for.
Pros:
This platform is so feature-rich, offers the top of line features and functionality in the field of SEO. This is the go-to tool for most of seasoned SEO experts. They have definitely been improving over the years. They do also offer FREE online courses for SEO and to get you started with the platform which is great.
Cons:
Their pricing is on the higher end of the spectrum which is not bad always but if you are looking for an affordable option to get started, this might not be for you.
Bed prakash B.
Engineer in Nepal
Electrical/Electronic Manufacturing, 11-50 Employees
Used the Software for: 2+ years
Best Tools to Grow Fast on Digital Fields
Comments: Initially, while I am starting my blogs, I have no money to pay for SEO tools. At that time I use free SEO tools but after some time I manage my funds and buy the Ahrefs Lite plan at $99. After using Ahrefs I get the unbelievable result and continue using it.
Pros:
There are various things that I like about Ahrefs. I usually use Ahrefs to track my websites and blogs ranks. Analyze ranked keywords and current position. I do a competitor analysis and check the link profiles of my websites and competitors' websites. Which gives clear knowledge of the content gap between me and my competitor.
Cons:
Though it is the best tool for publishers I found it is a little bit expensive for the new publishers but it deserves it according to its services. Site explorer data is not in real-time and needs time to update and at the same time, Keyword explorer data is also not up to the mark, sometime we need to update to get current data.
Kenny H.
Victim in US
Verified LinkedIn User
Computer Hardware, Self Employed
Used the Software for: 2+ years
Are these reviews for real??
Comments: The hits all come from 54.x.x.x and apparently have a fetish for using the bible in repetitive succession that just swamps our logs. Sometimes we just use iptables to get rid of the rogue site but aside from being a pest I see no other damage. The hits look like this: 54.x.x.x "Get /bible/18_028.HTM http/1.1" 404
However our associate that also gets hit by the rogue ahrefs site is being hit with non-biblical hits (go figure).
Don't bother getting messed up with ahrefs, it's just another bad affiliation that will come back to bite you sooner or later in my opinion.
Pros:
I like how ahrefs disregards a cease and desist notice.
Cons:
This is just another hacker site. They've been hitting our server for over 2 years now (and not just us).
Paul O.
Technical Director in South Africa
Verified LinkedIn User
Information Technology & Services, 2-10 Employees
Used the Software for: 6-12 months
Ahrefs cannot be beaten.
Comments: We have tried most of the big players and none of them come close to the ease of use and functionality of Ahrefs.
Pros:
The amount of power and functionality you need without charging ridiculous prices.
Cons:
To have an increased crawl rate you need to increase the paid plan. This gets really expensive.