What Is ContentStudio?
ContentStudio is a multi-use social media management and content marketing tool that allows you to discover, compose and share the best content. It has a suite of products for content discovery, publishing, planning, analytics and automation to help marketing teams work and collaborate efficiently.
It is the perfect tool for discovering trending content, managing multiple social media networks, recycling evergreen posts, analyzing performance, collaborating with the team and a lot more.
Who Uses ContentStudio?
ContentStudio is used by businesses of all sizes for efficient management of their content on social and other channels. Ideal for SMBs, Enterprises, Ecommerce Stores, Bloggers and Solopreneuers
ContentStudio Details
ContentStudio
Founded in 2016
ContentStudio videos and images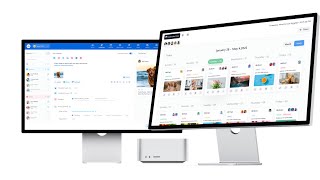 ▶︎
ContentStudio Details
ContentStudio
Founded in 2016
Compare ContentStudio pricing with similar products
Starting price
US$49.00/month
US$49.00/month
US$15.00/month
US$49.00/month
ContentStudio deployment and support
Support
Email/Help Desk
FAQs/Forum
Knowledge Base
24/7 (Live rep)
Chat
Deployment
Cloud, SaaS, Web-based
Android (Mobile)
iPhone (Mobile)
iPad (Mobile)
Training
Live Online
Documentation
Videos
Features of ContentStudio
Tim h. D.
Owner and Grand High Mucky Muck in Canada
Verified LinkedIn User
Media Production, Self Employed
Used the Software for: 1-5 months
Better than I knew!
Comments: After an initial disappointing experience a long time ago, I've returned to ContentStudio and am pleased that I have. All of my social media accounts for different brands are now under one virtual roof.
Pros:
I was looking for a substitute for Buffer; while I loved the platform, I was reaching the limits of my current subscription tier, and I needed a solution that had as many of Buffer's features as possible, while not being as prohibitively expensive. Enter ContentStudio (CS). I bought a lifetime subscription through AppSumo a few years ago, used it for a while, then abandoned it, probably because at that time it wasn't as feature-rich as it is now. Then I recently remembered I had it, and tried it again. So far, any feature I loved or needed that Buffer had, showed up in CS as I used it.
Cons:
Sometimes, it's difficult to come from another platform where you're used to finding things in certain places, and while CS has good onboarding, it wasn't always easy to figure out what I wanted to do. Thankfully, support was very responsive, getting back to me within a couple of hours at most.
Rasmus bernt K.
External Senior Management Consultant (Time Limited Assignment) in US
Verified LinkedIn User
Management Consulting, 2-10 Employees
Used the Software for: 1+ year
Alternatives Considered:
A solid platform and a rising star
Comments: Overall I'm happy with my weekly use of CS, and recommend it, not only due to their above average features, but also due to their ambitious road map and the team behind.
Pros:
I love how ambitious the team is, and how solid and well thought out new features are, when they are rolled out. The CS content planner give you a nice and easy to use overview. While the system has a very strong 'Content Discovery and Insights' feature, it also post to several social channels (9 at the moment if I remember right). Their 'Automation Recipes' module is quite unique and let you find, schedule and post relevant content on autopilot, based on the rules you setup. As any serious tools it is also important that CS include 'approval features', so wrong content don't go online
Cons:
As for almost every tool who have entered the market within the last years, Content Studio don't allow direct posting to Instagram. It has nothing to with the tool or the team behind, as they have worked extremely hard to make this happen. IG have simply 'closed the door' temporary, and don't let relative new tools get the needed access to their API. However I know the team continue to work with IG, but also look for any legit alternative. I would love you could post the same posts in more than 1 language (so your followers can read your post in their own language), and as far as I understand, this is already on their road map.
Kwan H.
Founder & CEO in Indonesia
Verified LinkedIn User
Marketing & Advertising, 11-50 Employees
Used the Software for: 1-5 months
Deliver its Promise
Comments: After Hootsuite, Content studio can be a great contender for content management and posting.
95% scheduled posting delivered. 5% error mostly on Instagram account.
Expecting more refined and richer tools without keeping paying additional add-on services.
Pros:
- One tool for all your collaboration, content management, and posting. - Pick Content trending or most shared articles and easily add them to post. - There is an add on new influencer tool and analytics reporting - Multiple Workspace for client
Cons:
- Mobile app lacks robust features like on desktop. - failed to shorten links even already connected. - need wider integration with newer apps and tools: glorify, ocoya, pabbly...etc - article summarizes the need to be better. - branding for each workspace with client logo dn theme.
Russell A.
ICT Mentor in Australia
Education Management, 2-10 Employees
Used the Software for: Free Trial
Alternatives Considered:
Buggy, features not working, slow support services
Pros:
The potential. It promises a lot. For the services promised, it should be amazing. It is not.
Cons:
feature do not deliver. Couldn't get Twitter analysis, support was very slow to acknowledge, did not correct quickly. There is no easy cancel option to get your money back if you don't like the product. Evergreen is clunky and slow. You're better off writing your own posts and scheduling them on free software. The automatic tools can be confusing and the 'help' videos are their YouTube channel, which makes help hard to find.
Construction, 2-10 Employees
Used the Software for: 1-5 months
Love these guys over at ContentStudio.
Comments: Other than the ONE con.....we love ContentStudio.
Pros:
ContentStudio was easy to get set up on and we love that we can now "tag" on our Facebook Posts. The dashboard is easy to navigate around and we like the influencer section. We are new to the platform and haven't really "opened it up yet.
Cons:
CONS would be not being able to set a default on how we schedule out content. We prefer to schedule out via a calendar not a list- it makes it easier for us to follow 4 brands. Every-time we schedule a post we have to click 3 to 4 different buttons to get back to where we left off . It would also be easier if ContentStudio separated the brands in calendar view too.