What is Adobe Creative Cloud Express?
Adobe Creative Cloud Express (formerly Adobe Spark) is a unified task-based, web and mobile product designed to make it easy to create and share beautiful rich multimedia content – from social media posts and stories to invitations to marketing materials like logos, flyers and banners. Creative Cloud Express enables drag-and-drop content creation, to empower users to express their creativity with just a few clicks.
Who Uses Adobe Creative Cloud Express?
Not provided by vendor
Where can Adobe Creative Cloud Express be deployed?
Cloud, SaaS, Web-based, Android (Mobile), iPhone (Mobile), iPad (Mobile)
About the vendor
Adobe
Founded in 1967
Chat
About the vendor
Adobe
Founded in 1967
Chat
Adobe Creative Cloud Express videos and images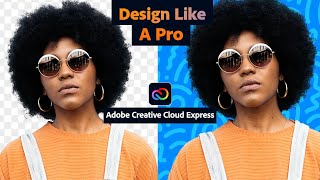 Compare Adobe Creative Cloud Express pricing with similar products
Features of Adobe Creative Cloud Express
Communication Management
Content Management
Design Templates
File Sharing
Image Editing
Template Management
Video Editing
Alternatives to Adobe Creative Cloud Express
Reviews of Adobe Creative Cloud Express
Youssif
Marketing Manager in Egypt
Verified LinkedIn User
Marketing & Advertising, Self Employed
Used the Software for: 2+ years
Adobe Incredible EcoSystem
Pros:
great system to include all the amazing softwares inside one big software. I love the free trial option to go and try new software and dive more into the ecosystem. I've been using adobe softwares for +8 years and I don't think I'll need to switch to any other company
Cons:
the template library prices are so expensive.
Media Production, Self Employed
Used the Software for: 6-12 months
Adobe Creative Cloud Express (Formerly Adobe Spark) is Better than Canva
Comments: Frankly, I've quite enjoyed it. I recommend them over their competitor, Canva. Both Express and Canva do virtually the same thing, but Express has a few integrations with other Adobe products that makes it worth using instead of Canva (if you have the CC subscription). Plus, if you don't have the CC subscription, a subscription to Express is cheaper than Canva. Express is a powerful, browser-based image (and I guess video, though that's not it's best feature) editor capable of producing professional-style images for business cards, social media, graphics, and more.
Pros:
The software is simple, and easy to use. Upon logging in, I was able to go through a bunch of prebuilt templates, establish my brand identity (colors, upload fonts, logos, etc.) and begin creating graphics. I am a huge fan of the interface, and I enjoy the extraordinarily powerful background-remover tool. It is almost always accurate, and causes graphic creation to be quite simple. There's a button called, "Brandify" which will automatically insert your colors, logo, and fonts into the picture you've created (or the template you've grabbed) which makes for very quick creation/editing of graphics. I primarily use CC Express for social media graphics, and I'll say that I personally think that they're better than their competitor, Canva. Both offer nearly the same tools, and Canva is just a little bit simpler, but CC Express is cheaper by a bit ($100 for a year subscription vs. Canva's $120). But the reason I prefer CC Express to Canva is that it integrates with the Adobe suite in small quality of life things that make using this software with other products very easy and compatible.
Cons:
There's really only two things I dislike about this software. First off, it has video editing capabilities. The video editing is primarily for social media graphics, though you can do some full-blown video editing. The thing is, most people likely have this product through the Adobe Creative Cloud subscription. If you do, you might as well use Premiere Rush or Premiere Pro, which are Adobe's video editors. Rush is a more powerful version than the one within Express, yet a simpler version of Pro. I don't see a use for the video editing when it's already in it's other products. The load times can be horrendous. Most of the time I have no issues, but when I do have a loading issue, it can take minutes (the longest I've waited is 10 minutes to log in). This is rare, but it's always extremely inconvenient when it does happen. Also, if you're editing something and then your internet "hiccups" and connection changes for any reason, a popup will occur and tell you to refresh the page. Since the software saves automatically as you make edits, this generally isn't an issue. Though, occasionally, it will lose progress after a refresh, and you'll have to redo some work.
Heather
Social Media Director in US
Marketing & Advertising, 2-10 Employees
Used the Software for: 1+ year
Adobe Spark vs. Canva
Comments: I started using Adobe Spark as an alternative to Canva. But I found the whole experience not as user friendly as what I can create with Canva. My team ended up going back to using Canva for simple graphics.
Pros:
As a Social Media Director I often need to create quick graphics myself rather than bog down a graphic designer with a simple task. I found Adobe Spark, and it's great for just that, simple graphics. You can choose from a large assortment of stock images because they are attached to Adobe Stock, as well as other free stock images on the web.
Cons:
I felt it was too hard to make the graphic the exact way I wanted it too. You could change the font only by using a sliding scale, in order to make changes to the text you had to click on the word box and it opens in a new screen. Additionally, the variety and of "shapes" they offer is not as vast as Canva's selection.
Verified Reviewer
Digital Marketing Consultant in UK
Verified LinkedIn User
Marketing & Advertising, Self Employed
Used the Software for: 2+ years
Alternatives Considered:
Adobe puts the creative into this nice compact package
Comments: I used a well know desktop / app editing suite when I first started as a consultant but because I got express in with my main package, at no extra cost, I started to try it out and moved completely to express within a month. Been using this now for over 2 years.
Pros:
I've been with this package for a number of years - almost from the start. I've seen a number of great features added and only recently they have brought in direct scheduling to social media. I particularly like the predesigned sizes for posts and the ability to take a design you have made and convert it to a template. Working for different clients, I can also set up their brand colours, fonts and styles and quickly switch between or or another. The app version is also great for taking posts you have created and animating them quicker than using the desktop version. I use this across mac, windows and ipad. Great facebook support group too.
Cons:
I have the full desktop package for adobe which is how I got into using express however my only issue is that I have to pay extra to access it on the ipad. A pity that isn't included by I get that it's a different platform.
Primary/Secondary Education, 5,001-10,000 Employees
Used the Software for: 1-5 months
easy adobe express
Comments: I have only used a few times but the first time was easier than other programs.
Pros:
The fact that it was very easy to use. The free use for educators.
Cons:
The cost but then I found out that educators can get a free account.