What Is Nifty?
Nifty is a new-wave project management tool that reduces project development cycles and improves team productivity by combining all of the important features of project management into one software. The end result is milestone-driven progress that keep teams aligned, insuring organizational goals remain on schedule. Nifty's software allows you to manage tasks through both Kanban or list view, has a built in calendar that can be integrated with Google, along with file and document sharing.
Who Uses Nifty?
Nifty is geared towards companies of all sizes from SMB's and medium-sized business, to large enterprise organizations.
Where can Nifty be deployed?
Cloud, SaaS, Web-based, Mac (Desktop), Windows (Desktop), Android (Mobile), iPhone (Mobile), iPad (Mobile)
About the vendor
by Nifty Technologies
Founded in 2017
Phone Support
24/7 (Live rep)
Chat
About the vendor
by Nifty Technologies
Founded in 2017
Phone Support
24/7 (Live rep)
Chat
Nifty videos and images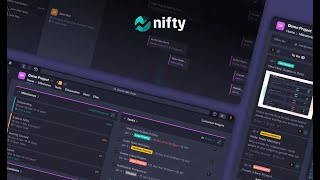 Compare Nifty pricing with similar products
Starting price
US$39.00/month
US$9.49/month
US$99.00/month
US$5.00/year
Mheljon P.
Co-Partner in US
Verified LinkedIn User
Marketing & Advertising, 2-10 Employees
Used the Software for: 1-5 months
Alternatives Considered:
Congratulations! You Found The Best PM Software Available!
Comments: I had the pleasure of talking with the [SENSITIVE CONTENT HIDDEN]! Not only is the software itself extremely value-based, but the customer support that is included also goes beyond expectations. I am happy to support his company, and recommend you do the same!
Pros:
Luckily, my team and I were able to find Nifty right before we committed to a competitor which would have increased our overhead substantially. Compared to the 3,000 Dollar Annual Fee + the 7,000 Dollar overhead, it was really a tough pill for us to swallow. Before we bit the bullet, Nifty found it's way to me and let me tell you as a Project Manager and Operations Officer, Nifty lives up to its name. I could go on about the features, but the best part of the software is its multitude of integrations. Softwares like Trello, Basecamp, and Zoom are already integrated. This isn't a PM software your team will just refer to once a day, it's a platform from which your team can not only communicate, but work together and collaborate to complete projects, tasks, and goals.
Cons:
The only problem with project management is getting a team to utilize new PM Software. Luckily, the support team is there to make sure your company's transition is as smooth as possible.
Alberto O.
Founder in US
Verified LinkedIn User
E-Learning, 11-50 Employees
Used the Software for: 6-12 months
After Trying a Few PM Tools; This One Stuck
Comments: Nifty has been an awesome PM tool for the price point. When compared to other cloud based PM tools such as basecamp, asana, and others this one is the way to go and the many things they have been improving on.
Pros:
Nifty makes Project Management so simple for our team. It provides multiple views either Kanban, List, or others to properly manage a team. Also, the learning curve is very small compared to other robust PM software. The collaborative ability within projects and tasks with Google integration (doc, sheets, etc) is a game-changer. I really like the ease of seeing everything going on and the easy manner in which moving tasks are. The UX and ease of use for this software is top of the line. Especially in dark mode.
Cons:
The cloud-based software can be slow sometimes but definitely nothing to go crazy fussing about. Either way, I believe the Nifty team is working hard to improve it. Also, it would be great to have a CSV upload of tasks/projects.
Verified Reviewer
President & Founder in US
Verified LinkedIn User
Arts & Crafts, 2-10 Employees
Used the Software for: 6-12 months
Manage Projects, Workflow, and Stay in Touch Easily
Comments: This business was founded about a year ago. We needed an intuitive tool to manage projects, share files, and communicate in real-time. We have found Nifty to be an excellent choice and a piece of our ability to achieve goals over the past year.
Pros:
Nifty allows a great deal of automation at high levels. As a creative business it's important to be able to use our terminology, with the bonus of being able to create our own icons allowing easy at a glance location of projects. Workflow is simple to set up, yet allows for a great deal of detail, and most importantly when updated will automatically inform those affected. Finally there's real time chat right in the tool. Makes quick check-ins, questions, etc. effortless.
Cons:
The highest level on the left hand side menu is a Project. Right now Projects are only indicated by a name. There are no colors, icons, etc. to differentiate them. I would love to have this be customizable. I would also like to see an improvement on the in-house document capability. We don't want to use Google Docs. Yet at times the lack of functionality within the program is frustrating.
Nav B.
Director in Greece
Publishing, 11-50 Employees
Used the Software for: 1+ year
Bloated software with poor performance and user experience
Comments: Overall experience was very poor. Once you start using the product, the performance will degrade gradually till a point it becomes completely useless. Even worse, Nifty doesn't give any option to export you data out for migration to other products. Their support will pitch you higher plans as a solution to improve performance rather than addressing the core issue which is clearly poor software implementation.
Pros:
Nifty worked well initially. However, recent updates have degraded the performance of the product significantly.
Cons:
Poor user experience and lack of proper support
Viktor N.
CEO in Canada
Verified LinkedIn User
Marketing & Advertising, 2-10 Employees
Used the Software for: 1-5 months
Intuitive, feature-packed project management app!
Comments: Nifty is already helping improve productivity since switching from the previous, slower app. As we're working on pivoting our business, it's nice being able to track everything and know what we need to work on now. Plus, support is helpful when I need them without long delays.
Pros:
Nifty has a very intuitive UI/UX, so it was easy to jump in and start using it right away. Only a few things required me to look it up in documentation or contact support. And support is fast and helpful. It also has almost everything one needs to manage projects, with more stuff on the roadmap for this year. Compared to the previous project management app, Nifty is fast. So it's a lot easier to manage everything without waiting seconds for the data to load. I hated waiting on task info to load previously, and now with a click, it opens the panel and data is already there. I also like how the task panel is organized, with an easy way to add custom fields as needed. I can easily add files (including Google Docs) to tasks, add comments, and change all other info on the fly. One, somewhat hidden, feature I like is markdown parsing in task descriptions and comments.
Cons:
My biggest con is that Nifty isn't accessible as of this writing. You can't tab navigate and the color contrast in the light and dark themes is low, doesn't meet WCAG AA standard. So people with certain disabilities won't be able to use Nifty. I've already told support about this, so hopefully, they'll improve/fix this. Other cons are temporary since they are on the roadmap - API, annual recurring tasks, integration with GitLab, CSV import. Should be all implemented by end of 2020.