ProWritingAid
by Orpheus Technology
Who Uses ProWritingAid?
Companies that care about the quality of the content they present to the world, whether that is emails, reports, web-content, technical documentation or other communications.
What Is ProWritingAid?
Companies using ProWritingAid produce higher quality content, comms, reports, bids and other documents with fewer mistakes, faster.
ProWritingAid eliminates common error types, inconsistent terminology, contextual spelling errors, grammar mistakes, and poor writing style.
A wide range of integration options, including API and on-premise solutions, supports all sizes of organization, including those with high-level security and privacy requirements.
ProWritingAid Details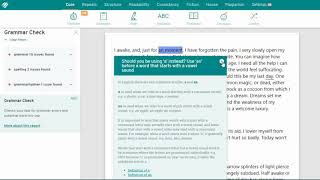 Play
ProWritingAid has a free version and offers a free trial. ProWritingAid paid version starts at US$70.00/year.
---
ProWritingAid deployment and support
Support
Email/Help Desk
FAQs/Forum
Knowledge Base
Chat
Deployment
Cloud, SaaS, Web-based
Mac (Desktop)
Windows (Desktop)
Training
Live Online
Documentation
ProWritingAid Features
@mentions
API
Access Controls/Permissions
Activity Dashboard
Activity Tracking
Alerts/Notifications
Assignment Management
Business Process Automation
Calendar Management
Chat/Messaging
Collaboration Tools
Commenting/Notes
Customisable Templates
Data Import/Export
Database Creation
Document Generation
Document Management
Document Storage
Drag & Drop
Email Management
File Management
File Sharing
File Transfer
Multiple Projects
Notes Management
Office Suite
Presentation Tools
Prioritisation
Progress Tracking
Project Management
Project Planning
Project Time Tracking
Project Tracking
Projections
Real Time Notifications
Real-time Updates
Reminders
Reporting & Statistics
SSL Security
Scheduling
Search/Filter
Secure Data Storage
Single Sign On
Tagging
Task Management
Task Planning
Task Progress Tracking
Task Scheduling
Team Chat
Third Party Integrations
To-Do List
Workflow Management
API
Activity Dashboard
Alerts/Notifications
Collaboration Tools
Content Library
Content Management
Contextual Guidance
Customisable Branding
Customisable Categories
Customisable Reports
Customisable Templates
Data Import/Export
Data Visualisation
Dictionary / Thesaurus
Document Review
Document Templates
Duplicate Detection
Filtering
Full Text Search
Grammar Check
Mobile Access
Mobile Alerts
Monitoring
Multi-Language
Multiple Data Sources
Multiple Format Support
Multiple User Accounts
Natural Language Search
Plagiarism Detection
Problem Area Alerts
Punctuation Check
Real Time Analytics
Real Time Comparisons
Real Time Monitoring
Real Time Reporting
Real-time Updates
Reporting & Statistics
Reporting/Analytics
Rich Text Editor
Sentiment Analysis
Single Sign On
Spell Check
Style Check
Summary Reports
Synchronous Editing
Template Management
Text Editing
Text Review
Third Party Integrations
User Management
Eugene O.
Software Engineer
Information Technology & Services, 501-1,000 Employees
Used the Software for: 6-12 months
Overall Rating

Ease of Use

Features & Functionality

Customer Support

Value for Money

Likelihood to Recommend
Reviewer Source

Reviewed on 20/05/2020
"Must have if you are a writer"
Comments: I'm using this tool mostly when I'm writing posts for my personal blog. It helps me to do all kinds of analysis over my text and make it better. Although, it is good for every day usage, when it highlights common errors in real-time.
Pros: It has a simple to use widget that can highlight your grammatic errors in real time. Though, when you want to open a detailed view, you can do that by tapping on the widget and it will open a full-featured editor with a lot of data about your writing.
Cons: Sometimes, the widget does not work for some of the text editors on websites. Hell, it even didn't work on the website where I'm writing the review now.
Reviewer Source

Reviewed on 20/05/2020
Bethany D.
Editor
Publishing, 2-10 Employees
Used the Software for: 1+ year
Overall Rating

Ease of Use

Features & Functionality

Customer Support

Value for Money

Likelihood to Recommend
Reviewer Source

Reviewed on 20/04/2021
"The best software of its kind"
Comments: I personally find the Grammar and Spelling filters on the ProWritingAid checker to be most relevant to my personal needs. I would love to see ProWritingAid keep expanding and refining those particular checks! Right now, I feel that the software focuses more on passive voice and optional stylistic refinements than necessary while failing to catch some fairly obvious typos, but I have confidence that the software will just keep improving over time.
Pros: As a full-time editor, I get the editing software question almost weekly. I like to think of editing software as Microsoft Word's spelling and grammar check on steroids—it's a very similar process, but much more thorough. ProWritingAid is a fantastic last line of defense against rogue typos and subtle style errors.
Cons: Many users don't understand that editing software can't be used as a substitute for human eyes on their manuscript. Accepting all of ProWritingAid's changes without reviewing them will result in a stilted, strange manuscript! Instead, for best results, review changes individually, evaluating whether you feel that each change is relevant and necessary for your manuscript. This is also a great way to identify areas for improvement in your writing and improve over time!
I would love to see ProWritingAid one day check for errors while users type or underline errors within the body of a Word document (as they do on their online interface) but I understand that their MS Word integration is new and features along those lines may be coming in the future!
Alternatives Considered: Grammarly Business
Reasons for Choosing ProWritingAid: I personally prefer the one-time fee to a subscription model and feel that ProWritingAid is much more thorough, with much more accurate suggestions, than Grammarly. ProWritingAid also has a stronger MS Word integration and is able to check longer documents without requiring them to be split into multiple parts.
Switched From: Grammarly Business
Reasons for Switching to ProWritingAid: I compared the two and determined that ProWritingAid was a much better fit for my needs.
Reviewer Source

Reviewed on 20/04/2021
Gabriel P.
Web Developer
Computer Software, 501-1,000 Employees
Used the Software for: 1-5 months
Overall Rating

Ease of Use

Features & Functionality

Customer Support

Value for Money

Likelihood to Recommend
Reviewer Source

Reviewed on 23/09/2021
"My best grammarly alternative"
Pros: I like all about ProWritingAid... Easy to use. Really useful and free.
Cons: I have not found currently one. I've used it for some weeks.
Reviewer Source

Reviewed on 23/09/2021
Peter M.
Content Creator
Gambling & Casinos, Self Employed
Used the Software for: 1-5 months
Overall Rating

Ease of Use

Features & Functionality

Customer Support

Value for Money

Likelihood to Recommend
Reviewer Source

Reviewed on 12/06/2020
"Great Tool for Extremely Short Texts, Monumental Fail Otherwise"
Comments: Sharing my two cents about ProWritingAid that I purchased a lifetime licence for: If you're reviewing texts about 300 - 400 words in length at maximum, you'll be happy with the tool. Otherwise, it's not worth the money. If you need a short-term solution, then by all means go for it but don't pay a buck for actually using the SW. I've been using the Word add-on for over three months now and if you want to use most of the tools on more than 800 words, the tool simply can't handle the 'load.' Usually, it breaks off after a minute or so and you can run the check again which normally doesn't help. You end up wasting a ton of your time and accomplish nothing at all. While the language advice and the correction improvements you get recommended are helpful, you're better off using Grammarly or another alternative if you're reviewing long chunks of text in one go and don't want to constantly copy-paste from Word to their interface and back which is a pain if you have to do that daily like myself.
Pros: Totally intuitive. If you know anything about how English, grammar and vocabulary alike, finding your way through the options and how they work will be a breeze.
No learning curve. The tool as well as the report are perfectly self-explanatory.
Easy-to-use online interface.
Cons: Useless add-on when dealing with texts of 800+ words.
Constant copy-pasting to and from the online interface wasting your time.
Reviewer Source

Reviewed on 12/06/2020
Jeremy B.
Writer
Writing & Editing, Self Employed
Used the Software for: 1+ year
Overall Rating

Ease of Use

Features & Functionality

Customer Support

Value for Money

Likelihood to Recommend
Reviewer Source

Reviewed on 31/05/2021
"Perfect Your Language Perfectly (but this program might tell you not to phrase it that way)"
Comments: Writing is a process that requires many disciplines, from planning, to drafting, to editing. One component of that final phase is proofreading, which is essentially the wax to a washed car, if a car were a piece of writing (and a metaphor). Without a solid examination of the final product, statements become questions without notice? See what I did there. Okay, now see what I did there? Yes, knowing the rules of grammar is necessary if you want to proofread well because bad knowledge leads to worse presentation. Fortunately, a tool like ProWritingAid shortcuts the learning and application process by making suggestions wherever it detects a problem with your mechanics. And it's true that no program can ever replace a human proofreader (or your own proofreading eyes), as no machine understands every context in which your writing may demonstrate. But ProWritingAid and its 20+ categories for examination and recommendation sure gets pretty close. The fact that it can scrutinize your work both online and off makes it even more versatile and necessary if you care even a little about your writing professionalism.
Pros: Besides the fact that it covers basic grammar checks like style, punctuation, and sentence construction, etc., it also checks for sentence length (for variety), clichés (because everyone says they're bad for some reason), quotes and dialogue, telling versus showing, sensory language, and more. If you've ever needed a solid compass to see how ready you are to hit "publish" on your blog or Amazon KDP sales page, or whatever your reason is for writing, ProWritingAid doesn't get more stable. With very few exceptions, it examines your writing for just about any mistake you can make and gives you a report on your strengths, weaknesses, and consistencies (or lack thereof). This reporting feature is also good to show you your writing habits, in case you need to change any. The program also links you to grammar rules if you ever need to know why it's making a particular suggestion. This reduces the need for prior knowledge, though you'll still want some grammar knowledge to make up for the rules that the program overlooks or doesn't accurately detect. After all, no grammar-checking software is perfect. Not even this one. But it massages its lack into a faux perfection pretty well.
Cons: The amount of checks that ProWritingAid offers is not only its strength, but also, potentially, its downfall. To put it mildly, using ProWritingAid is a mental exercise that can sap your energy if you insist on using every feature for every instance. For example, I can spend anywhere from one to three hours examining a single piece of writing if I go through every category. By the end, I'm ready for a nap, or a change in procedure. Likewise, by paring down your editing process to the essentials and leaving out the extras (do you really care about clichés?), you run the risk of missing out on a valuable sensory suggestion or a misused homonym if that falls out of your routine. For short works of 1000 words or less, you probably won't feel that slow agonizing sap of energy by the time you get to the 22nd category (Pacing), but if you're writing a book (as I sometimes do), you'll feel your brain go numb by Chapter 3, and by that point, you're only an eighth of the way finished. So, you'll want to pace yourself (hopefully better than what the 22nd category may reveal about your writing). There also seems to be a slight difference in features between the desktop and online versions. The online version plays better with style guides than the desktop version does. For those who work offline only, it's important to know that.
Reviewer Source

Reviewed on 31/05/2021