Local product
What Is ProWritingAid?
Companies using ProWritingAid produce higher quality content, comms, reports, bids and other documents with fewer mistakes, faster.
ProWritingAid eliminates common error types, inconsistent terminology, contextual spelling errors, grammar mistakes, and poor writing style.
A wide range of integration options, including API and on-premise solutions, supports all sizes of organization, including those with high-level security and privacy requirements.
Who Uses ProWritingAid?
Companies that care about the quality of the content they present to the world, whether that is emails, reports, web-content, technical documentation or other communications.
ProWritingAid Details
Orpheus Technology
Founded in 2011
ProWritingAid videos and images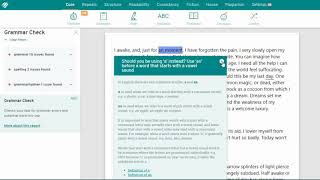 ▶︎
ProWritingAid Details
Orpheus Technology
Founded in 2011
Compare ProWritingAid pricing with similar products
Starting price
US$70.00/year
US$12.50/month
US$19.99/month
N/A
ProWritingAid deployment and support
Support
Email/Help Desk
FAQs/Forum
Knowledge Base
Chat
Deployment
Cloud, SaaS, Web-based
Mac (Desktop)
Windows (Desktop)
Training
Live Online
Documentation
Features of ProWritingAid
API
Activity Dashboard
Activity Tracking
Alerts/Notifications
Assignment Management
Business Process Automation
Calendar Management
Chat/Messaging
Collaboration Tools
Commenting/Notes
Customisable Templates
Data Import/Export
Database Creation
Document Generation
Document Management
Document Storage
Drag & Drop
Email Management
File Management
File Sharing
File Transfer
Notes Management
Office Suite
Presentation Tools
Prioritisation
Progress Tracking
Project Management
Project Planning
Project Time Tracking
Project Tracking
Projections
Real Time Notifications
Real-time Updates
Reminders
Reporting & Statistics
SSL Security
Scheduling
Search/Filter
Secure Data Storage
Single Sign On
Tagging
Task Management
Task Planning
Task Progress Tracking
Task Scheduling
Team Chat
Third Party Integrations
To-Do List
Workflow Management
API
Activity Dashboard
Alerts/Notifications
Collaboration Tools
Content Library
Content Management
Contextual Guidance
Customisable Branding
Customisable Categories
Customisable Reports
Customisable Templates
Data Import/Export
Data Visualisation
Dictionary / Thesaurus
Document Review
Document Templates
Duplicate Detection
Filtering
Full Text Search
Grammar Check
Mobile Access
Mobile Alerts
Monitoring
Multi-Language
Multiple Data Sources
Multiple Format Support
Multiple User Accounts
Natural Language Search
Plagiarism Detection
Problem Area Alerts
Punctuation Check
Real Time Analytics
Real Time Comparisons
Real Time Monitoring
Real Time Reporting
Real-time Updates
Reporting & Statistics
Reporting/Analytics
Rich Text Editor
Sentiment Analysis
Single Sign On
Spell Check
Style Check
Summary Reports
Synchronous Editing
Template Management
Text Editing
Text Review
Third Party Integrations
User Management
Eugene O.
Software Engineer in Ukraine
Verified LinkedIn User
Information Technology & Services, 501-1,000 Employees
Used the Software for: 6-12 months
Must have if you are a writer
Comments: I'm using this tool mostly when I'm writing posts for my personal blog. It helps me to do all kinds of analysis over my text and make it better. Although, it is good for every day usage, when it highlights common errors in real-time.
Pros:
It has a simple to use widget that can highlight your grammatic errors in real time. Though, when you want to open a detailed view, you can do that by tapping on the widget and it will open a full-featured editor with a lot of data about your writing.
Cons:
Sometimes, the widget does not work for some of the text editors on websites. Hell, it even didn't work on the website where I'm writing the review now.
Publishing, 2-10 Employees
Used the Software for: 1+ year
Alternatives Considered:
The best software of its kind
Comments: I personally find the Grammar and Spelling filters on the ProWritingAid checker to be most relevant to my personal needs. I would love to see ProWritingAid keep expanding and refining those particular checks! Right now, I feel that the software focuses more on passive voice and optional stylistic refinements than necessary while failing to catch some fairly obvious typos, but I have confidence that the software will just keep improving over time.
Pros:
As a full-time editor, I get the editing software question almost weekly. I like to think of editing software as Microsoft Word's spelling and grammar check on steroids—it's a very similar process, but much more thorough. ProWritingAid is a fantastic last line of defense against rogue typos and subtle style errors.
Cons:
Many users don't understand that editing software can't be used as a substitute for human eyes on their manuscript. Accepting all of ProWritingAid's changes without reviewing them will result in a stilted, strange manuscript! Instead, for best results, review changes individually, evaluating whether you feel that each change is relevant and necessary for your manuscript. This is also a great way to identify areas for improvement in your writing and improve over time! I would love to see ProWritingAid one day check for errors while users type or underline errors within the body of a Word document (as they do on their online interface) but I understand that their MS Word integration is new and features along those lines may be coming in the future!
Verified Reviewer
Project Manager in Canada
Verified LinkedIn User
Publishing, Self Employed
Used the Software for: 2+ years
Peace of mind that follows you around
Pros:
First of all, contrary to other similar software I used in the past, this one doesn't slow my computers to a crawl. It does everything it says, does it well, and offers a web version as well as an installable version which can be conjured to use within most windows applications. Great for my Scrivener workflow.
Cons:
Bit bare-bone and the windows app seems bulky and clumsy to use at times but under the hood it packs a lot of powerful features and quality tools
Peter M.
Content Creator in Slovakia
Gambling & Casinos, Self Employed
Used the Software for: 1-5 months
Great Tool for Extremely Short Texts, Monumental Fail Otherwise
Comments: Sharing my two cents about ProWritingAid that I purchased a lifetime licence for: If you're reviewing texts about 300 - 400 words in length at maximum, you'll be happy with the tool. Otherwise, it's not worth the money. If you need a short-term solution, then by all means go for it but don't pay a buck for actually using the SW. I've been using the Word add-on for over three months now and if you want to use most of the tools on more than 800 words, the tool simply can't handle the 'load.' Usually, it breaks off after a minute or so and you can run the check again which normally doesn't help. You end up wasting a ton of your time and accomplish nothing at all. While the language advice and the correction improvements you get recommended are helpful, you're better off using Grammarly or another alternative if you're reviewing long chunks of text in one go and don't want to constantly copy-paste from Word to their interface and back which is a pain if you have to do that daily like myself.
Pros:
Totally intuitive. If you know anything about how English, grammar and vocabulary alike, finding your way through the options and how they work will be a breeze. No learning curve. The tool as well as the report are perfectly self-explanatory. Easy-to-use online interface.
Cons:
Useless add-on when dealing with texts of 800+ words. Constant copy-pasting to and from the online interface wasting your time.
Gabriel P.
Web Developer in Colombia
Verified LinkedIn User
Computer Software, 501-1,000 Employees
Used the Software for: 1-5 months
My best grammarly alternative
Pros:
I like all about ProWritingAid... Easy to use. Really useful and free.
Cons:
I have not found currently one. I've used it for some weeks.