What is ProPresenter?
ProPresenter is the industry-leading worship presentation tool for churches of all sizes. Features include rock solid stability, volunteer-friendly ease of use, the ability to display worship lyrics and scripture verses, video playback, PDF chord charts, and more on a projection or LED screen. Built for Mac & Windows, ProPresenter is used by churches including North Point Community Church, Willow Creek Community Church, Saddleback Church, and many others. Download our free demo today!
Who Uses ProPresenter?
Worship and presentation software for churches of all sizes which enables users to show videos, display lyrics and Scripture, make high-quality live production, integrate with social media and more.
Where can ProPresenter be deployed?
Cloud, SaaS, Web-based, Mac (Desktop), Windows (Desktop), Windows (On-Premise), Linux (On-Premise), Android (Mobile), iPhone (Mobile), iPad (Mobile)
About the vendor
Renewed Vision
Located in Alpharetta, US
Founded in 2000
Phone Support
Chat
Languages
English, Korean, Portuguese, Spanish
About the vendor
Renewed Vision
Located in Alpharetta, US
Founded in 2000
Phone Support
Chat
Languages
English, Korean, Portuguese, Spanish
ProPresenter videos and images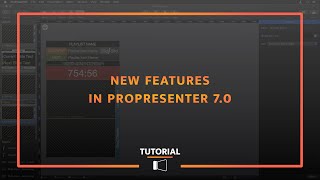 Compare ProPresenter pricing with similar products
Features of ProPresenter
Customisable Templates
Digital Signage
Drag & Drop
Dual Monitor
Event Management
For Religious Organizations
Layout & Design
Media Library
Mobile App
Presentation Streaming
Alternatives to ProPresenter
Simon M.
Chief Creator in India
Verified LinkedIn User
Media Production, 2-10 Employees
Used the Software for: 2+ years
Alternatives Considered:
Whether you're a gathering of 6 or 60,000 people, ProPresenter scales very well!
Comments: From the time we decided to take the plunge to having used it for years now, working on ProPresenter has been such a great delight. Given that most services depend on volunteers, it was becoming increasingly difficult to have the manpower required to run these different systems. Using ProPresenter to integrate into our current production rig, saves us both time and resources.
Pros:
The biggest advantage of using ProPresenter for us was the ability to have multiple outputs to multiple displays. Having the ability to add and subtract layers on the fly is another great advantage of using this great software. The ability to integrate it with our present music production software (Ableton Live) is what made it possible to automate our audio and lighting scenes. This is far ahead of what the competition offers at the moment.
Cons:
The barrier to entry is probably the price and yearly subscription. While it may not be a lot, the possibility of a very small congregation or international audiences not being able to afford it, is a likelihood.
Erik B.
Director of Young Adults and Connections in US
Religious Institutions, 11-50 Employees
Used the Software for: 2+ years
Alternatives Considered:
Next Level Presentations
Comments: We use this software at our church to structure our service. What I love about this entire thing is that its relatively pretty easy to use and also to load any type of media into the presentation. The features on this program are well worth it, and enable our church to communicate visually in a professional and powerful way.
Pros:
This software can do just about anything you need it to do for small and big presentations. I love how easy it is to drag and drop whatever I need into how I want to structure our services. I enjoy how even the little things like "go to logo" are able to be displayed at the click of a button. The ability for it to link up with ccli is also amazing. Song lyrics just pop right into the program at ease.
Cons:
There are times when the program can seem rather overwhelming. I forget at times where certain things are located or which buttons do what even though I use the software quite often. I wish the layout was a bit simpler. At times certain functionalities can be a bit buggy, however its usually solved by restarting the program.
Gagan K.
Student in India
Education Management, Self Employed
Used the Software for: 1-5 months
Experience of Pre Presenter
Pros:
My most favorite thing about this application is layout and representation, it's like everything we need at any time , it's already there and we can find it very easy, and the animations are quite amazing.
Cons:
The worst thing about this is it stuck too much sometimes while typing, applying forts and many other time, rest is good
Religious Institutions, 2-10 Employees
Used the Software for: 6-12 months
The Next Level of Presentation
Comments: My overall experience has been nothing but positive. For the price point you get an amazing product that will meet most if not all of your presentation needs. The video tutorials are excellent and I have been able to get support via chat and talking to a live person as well, which is fantastic it today's world. I am still discovering new capabilities and how to implement them and the constant improvements and updates are well received.
Pros:
ProPresenter 7 enables our relatively small church to present professional looking graphics to our online and in house worshipers. Even though the initial learning curve is relatively steep, there are plenty of tutorials and videos available to make the learning detailed and easy. Once I learned the basics, I was astounded at the simplicity and complexity of the program. You can do basic presentation with ease and quickly master more complicated ways of utilizing the capabilities of ProPresenter more fully. One of the best and most helpful features is the ability to create different themes that can be applied to text. This saves you so much time. Separating media, slides, announcements, video input etc. into different layers that can be selected or cleared gives you many different options and features in using the product. Being able to send the same text to a display in house on a full screen and at the same time as a lower third on a live stream is a very useful feature. Another great feature is that your work is immediately saved as you work on a presentation. No need to worry that you will lose your work if you forget to save. This is also not a stagnant one time buy, but a product which evolves and improves all the time with new features and the latest ideas for application.
Cons:
For whatever reason the program takes a while to load on a computer. More so than most other software programs. Even though there is an app available that can serve as a remote to control the program from a phone or tablet, as apposed to a computer, the design is poor and the functionality is limited. Propresenter recently released a plug in for stream deck, which is also available as an app, which will probably make up for the lack of a good remote. As far as I am aware of, there is no physical remote that will work well with ProPresenter.
Cornell J.
Lead Pastor in US
Religious Institutions, 51-200 Employees
Used the Software for: 2+ years
Alternatives Considered:
Great, But Pricy
Comments: Proprsenter is great, but the cost is a bit concerning for me. When it is properly set up and functioning well, you will be pleased by its performance. So be sure to compare its features and nuances before you fully commit to purchasing it.
Pros:
ProPresenter is the industry standard for churches when it comes to church presentation software solutions. There are many features to learn and make use of. There are also many Bible translations to select from as well. And lastly, there are solutions for online and live presentations as well.
Cons:
Though Propresenter is the industry standard, I can be cost prohibitive for smaller churches. In addition, there is a learning curve to learning this software, especially as it pertains to conducting live broadcasts. Therefore it is critical that you (1) know what you want from this software, (2) have the necessary funds for the additional equipment that may be needed and (3) have capable individuals operating the software.