What is Google Sheets?
Online spreadsheet making tool that helps in creating, editing & sharing spreadsheets in real-time through any PC, mobile or tablet.
Who Uses Google Sheets?
Designed for businesses of all sizes, it is a spreadsheet making & editing tool with built-in templates, pivot tables, conditional formatting & more.
Where can Google Sheets be deployed?
Cloud, SaaS, Web-based, Mac (Desktop), Windows (Desktop), Android (Mobile), iPhone (Mobile), iPad (Mobile)
About the vendor
Google
Founded in 1998
Phone Support
Chat
Countries available
United States
Google Sheets pricing
Starting Price:
Not provided by vendor
Yes, has free trial
Yes, has free version
Google Sheets has a free version and offers a free trial. Google Sheets paid version starts at N/A.
About the vendor
Google
Founded in 1998
Phone Support
Chat
Countries available
United States
Google Sheets videos and images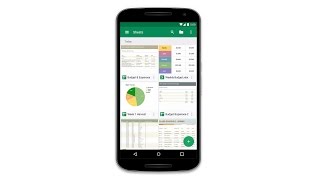 Compare Google Sheets pricing with similar products
Features of Google Sheets
Access Controls/Permissions
Collaboration Tools
Commenting/Notes
Data Import/Export
Reporting/Analytics
Search/Filter
Templates
Alternatives to Google Sheets
Joseph G.
Manager in US
Verified LinkedIn User
Marketing & Advertising, 51-200 Employees
Used the Software for: 2+ years
Great replacement for Excel
Comments: Overall, I much prefer Google Sheets over Excel for the cost effective side of the software. The automatic data backup is great and restoring sheets is a breeze. I would highly recommend
Pros:
It's free to use cloud based software that offers basically the same features and functionality as Microsoft Excel. It's been great working in teams as everyone has access and can communicate through Google sheets. All data is automatically backup to our Google account
Cons:
It is slightly more limited compared to Microsoft Excel, but the basic functions for 99.9% of all business uses are available and work as it should
Gregor T.
Senior Operations Executive in UK
Information Technology & Services, 1,001-5,000 Employees
Used the Software for: 1+ year
Alternatives Considered:
For the most part, an excellent platform
Comments: I do so much with Google Sheets! I run a very large volume of payments every week through google sheets, which involves running data from a sheet filled out by other employees through an SQL script, adding this back to my google sheet, and then downloading it as a CSV to process the payment through our portal. On a daily basis, I add data from CSVs derived through SQL to Google Sheets in order to convert the data into something more legible and readable. This may involve linking it to data in other sheets through VLookups, or creating graphs of my data. I also frequently collate postcodes and locations through Google Sheets and then download the CSV and upload to My Maps in Google Maps to produce a map of pinned locations. I use Google Sheets to manage a calendar of events that are important to our company's demand. I do it to keep lists of employees, customers, bookings and more. I spend almost my entire working day on Google Sheets, working both on my own and collaboratively with my own team and teams in other countries. It's generally excellent!
Pros:
The thing I like most is the fairly obvious feature - how easy it is for multiple people to edit a document simultaneously, across not only our company, but also with partners. It is fantastic how easy it is to control access to a particular sheet, and that we can integrate this with Slack to facilitate multiple access requests. There is a fantastic array of formulae and functions available within Google Sheets, improved yet further by an impressive selection of add-ons. I feel like every week I find out something new that I can do with sheets! The formulae are generally very clear and easy to understand and the Google Sheets support online helps massively if I ever have an issue. I really like the conditional formatting feature. I really like that I can download a specific tab as a CSV file. I really like being able to carry out VLookups across multiple sheets. The Concatenate function is immensely helpful. Honestly I could go on forever - Google Sheets is fantastic!
Cons:
I really have very few complaints about Google Sheets. Occasionally, sheets can become slightly glitchy when I edit a formula, but it's ok. It's annoying that columns have to be in the correct order for a VLookup function to work - this really confused me for a while and continues to occasionally cause some frustrations. I would like a duplicate checker to be more easy to implement. Finally, I also find that Google Sheets glitches a lot around the 'format' section. I often have to manually change plain text to 'number', and then the settings to 'Germany' in order for the formatting to be correct when uploading details of payments stored in Google Sheets, but every single time I do this there is some form of glitch, with not all data points immediately becoming of German formatting, and then it appears to be a fairly random process of repeatedly changing the formatting to plain text and back until all of them seem to become German format (e.g. 1,00). I really don't understand what's happening so I usually have to revert to doing this manually. I would also like to be able to do a reverse concatenate/split based on the number of characters, rather than some defining character like a comma.
Einat M.
Director of Supply Chain in Israel
Electrical/Electronic Manufacturing, 51-200 Employees
Used the Software for: 2+ years
Not good enough replacement to Excel
Pros:
Easy to share files between multiple users
Cons:
Many functions that exist in Excel are missing here. If you need to use relatively complicated functions - it won't be easy to do it with Google sheets
Retail, 2-10 Employees
Used the Software for: 2+ years
Alternatives Considered:
A better and more cost-efficient option to Excel
Comments: We use Sheets daily to track inventory, track incoming-outgoing orders, as well as general organization.
Pros:
Google Sheets functions almost exactly like Excel for a fraction of the price. The best part is that Sheets is sharable and multiple users can update in real-time.
Cons:
A few formulas differ from those of Excel, but not a deal breaker.
E-Learning, 2-10 Employees
Used the Software for: 2+ years
Alternatives Considered:
Most convenient and universal spreadsheet platform, great product evolution
Comments: All prior advantages other spreadsheet programs had like more robust formulas and being able to edit locally have now been incorporated into Google Sheets as well so Google Sheets is the leader. The collaboration among Google Sheets is the easiest of all platform since everyone already has Google accounts and the links are easily sharable where everyone can edit the document at the same time.
Pros:
Real-time collaboration with any number of peers, built-in chat, easy access from other Google Workspace products as a new feature.
Cons:
Very few issues, Google Sheets can be accessed locally now as well even without internet. All prior issues with complexity of formulas have been solved now as well, Google Sheets is great.