What Is Clockify?
Project management solution for tracking productivity and work hours across projects.
- Track time across device (web, mobile, desktop)
- See time breakdown across tasks and employees
- Generate, share, and export reports
- Control budgets and hourly rates
- Track leaves and holidays
- Schedule employees and projects
- Create invoices and track expenses
Who Uses Clockify?
Freelancers, consultants, remote workers, small and medium business, digital agencies, NGOs, universities, and enterprises
Clockify Details
Clockify
Founded in 2017
Clockify Details
Clockify
Founded in 2017
Clockify videos and images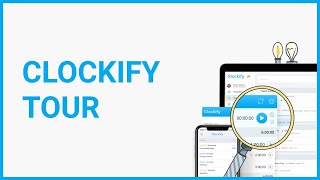 Compare Clockify pricing with similar products
Starting price
US$3.99/month
US$9.00/month
US$12.00/month
US$5.25/month
Clockify deployment and support
Support
Email/Help Desk
FAQs/Forum
Knowledge Base
Phone Support
24/7 (Live rep)
Chat
Deployment
Cloud, SaaS, Web-based
Mac (Desktop)
Windows (Desktop)
Linux (Desktop)
Windows (On-Premise)
Linux (On-Premise)
Chromebook (Desktop)
Android (Mobile)
iPhone (Mobile)
iPad (Mobile)
Training
Live Online
Webinars
Documentation
Videos
Features of Clockify
Activity Dashboard
Approval Process Control
Budget Management
Calendar Management
Collaboration Tools
Customisable Templates
For Nonprofits
Gantt/Timeline View
Kanban Board
Mobile Access
Project Planning/Scheduling
Reporting/Project Tracking
Resource Allocation & Planning
Task Management
API
Access Controls/Permissions
Activity Dashboard
Activity Tracking
Agile Methodologies
Alerts/Notifications
Billing & Invoicing
Budget Management
Calendar Management
Client Portal
Collaboration Tools
Commenting/Notes
Cost-to-Completion Tracking
Customisable Templates
Document Management
Document Storage
Drag & Drop
File Sharing
Gantt/Timeline View
Idea Management
Issue Management
Kanban Board
Milestone Tracking
Multiple Projects
Percent-Complete Tracking
Portfolio Management
Prioritisation
Progress Tracking
Project Planning
Project Planning/Scheduling
Project Templates
Project Time Tracking
Project Tracking
Project Workflow
Projections
Real-time Updates
Reporting & Statistics
Reporting/Project Tracking
Resource Management
Risk Management
Status Tracking
Task Management
Task Planning
Task Progress Tracking
Task Scheduling
Testing/QA Management
Third Party Integrations
Time & Expense Tracking
Traditional Methodologies
Workflow Management
API
Access Controls/Permissions
Accounting Integration
Activity Dashboard
Activity Tracking
Alerts/Notifications
Approval Process Control
Attendance Management
Attendance Tracking
Automatic Time Capture
Billable & Non-Billable Hours
Billable Items Tracking
Billing & Invoicing
Calendar Management
Clock In / Out
Customisable Reports
Employee Database
Employee Management
Employee Scheduling
Employee Time Tracking
Invoice Management
Leave Tracking
Mobile Time Tracking
Monitoring
Multiple Billing Rates
Offline Time Tracking
Online Time Tracking Software
Overtime Calculation
Payroll Management
Project Management
Project Time Tracking
Project Tracking
Projections
Real Time Data
Real Time Notifications
Real Time Reporting
Real-time Updates
Reminders
Reporting & Statistics
Reporting/Analytics
Sick Leave Tracking
Summary Reports
Task Management
Task Progress Tracking
Third Party Integrations
Time & Expense Tracking
Time Off Requests
Timesheet Management
Vacation/Leave Tracking
Workflow Management
Silvia T.
Technical innovation coach in Romania
Verified LinkedIn User
Information Technology & Services, 51-200 Employees
Used the Software for: Free Trial
Helped me organize my projects better and time tracking
Pros:
I used clockify to track the time spent on different projects and activities. It helped a lot to have an awareness on how I spend my time every week and how I can improve the way I organize my projects, my meetings, my activities.
Cons:
As it has the browser widget to start tracking a task for eg working on a google document, it would he great to have the option to select the project where you want to assign it. So you not have to do this manually afterwards
Stephen brent M.
Founder in US
Verified LinkedIn User
Marketing & Advertising, 2-10 Employees
Used the Software for: 1+ year
Alternatives Considered:
An easy-to-use tool for growing businesses
Comments: Overall, I am extremely happy with Clockify.
Pros:
As a growing agency, we spent a lot of time researching time tracking tools and software that was simple to use and did the job without too many bells and whistles. We simply needed to track time for specific clients and tag what kind of work we were doing. We didn't need the ability to invoice from it, so we were also looking for something that was affordable.
Cons:
The reporting feature is not the most user-friendly. I am always able to pull the information I need, but it can take multiple steps to get there. I wish there was better integration with ClickUp.
Clockify Response
4 weeks ago
Thanks for your review, Stephen! If you have any specific ideas for improving reports, feel free to email us at [email protected], or use this feedback form https://clockify.me/feedback Cheers!
Chavez H.
Software Developer in Guyana
Computer Software, 11-50 Employees
Used the Software for: 2+ years
My Overall Experience
Comments: Clockify makes it easier for folks at the company I work for and myself to generate a timesheet report for any specific period. Normally payroll would ask us for a monthly time report before they pay us so this comes in handy plus it's very simple to generate with just a few clicks.
Pros:
As an end-user who uses this software every day, I'd say it's pretty simple to use and makes time tracking easy. My company decided to replace our previous time tracking software with Clockify just over two years ago and it didn't take long before the rest of the employees began using it. Credit should be given to its easy UI compared to the previous software we used which looked complicated and took some training. So overall I'd recommend this to business owners looking to make time tracking easy for their employees and themselves.
Cons:
The only problem I have with software lol is that when I forgot to stop the timer before I sign off for the day it kept running all through the night until I manually stop it the next day. As a Sofware developer, my suggestion would be to learn how the user tracks time through some kind of pattern and show some a notification to let the user know that the timer was left running and silently pause it for them.
Clockify Response
3 months ago
Hi Chavez, thank you for your review! While the web version cannot stop the timer automatically, you can opt in to receive the email if you have a long-running timer. To enable this, click on your icon in the top right corner and enable the option in Email settings. Additionally, the Chrome extension has the option to stop the timer when you close the browser, and also, the macOS app has the option to stop the timer when you shut down the Macbook. We are also working on implementing this feature on the Windows (Beta) app.
Jesse K.
Business Owner in US
Online Media, Self Employed
Used the Software for: 2+ years
Alternatives Considered:
Clockify is a great free tracker
Comments: I have used Clockify for close to two years and I have yet to find a time tracker that is as functional and straightforward. Other apps have more modern designs, but at the expense of usability.
Pros:
The basics of any time tracking app is, of course, tracking time. Reports are also very helpful, along with tasks for a project. Clockify is the one app I've found that is free for all those features. It's well designed and thought out. Every feature you need is within quick access and simple to find.
Cons:
The interface is as modern as some other trackers (Toggl, Harvest, etc). I occasionally look at other apps just to see if there's a better looking one. But they all either lack the features I need at the free level, or aren't as intuitive to use.
Joseph S.
Designer/Producer/Digital Marketing in US
Online Media, Self Employed
Used the Software for: 2+ years
Clockify is a crucial tool for managing your business easily and efficiently!
Comments: I cannot emphasize enough what a great tool this is for running my business efficiently, especially as an independent contractor! It saves time and improves my workflow all around! While there might be other software out there, Clockify is perfect for me.
Pros:
I can't emphasize enough how crucial and how helpful Clockify is for running my business! As a self-employed independent contractor managing multiple clients, this software allows for easy and accurate time tracking and billing - all at no cost. I can track my time by the hour, with automatic calculations for rates, or add and edit items retroactively. This software also allows for clear reporting with varying filters and levels of detail, along with visual illustrations, helping me easily invoice clients and better manage my workflow along the way. Being an online-based platform, I can also use this software seamlessly anywhere - whether working on my desktop, or on-site with a client using the mobile app, or back and forth between the two as needed.
Cons:
For my needs, this software really doesn't have any cons. For someone managing multiple employees and varying project needs, this software might stand some room for improvement or become less cost effective. For me, however, there isn't a single issue - it's exactly what I need.